6 Things You Didn't Know About Amanda Redman
Find out more about the star of new TV drama, The Good Karma Hospital...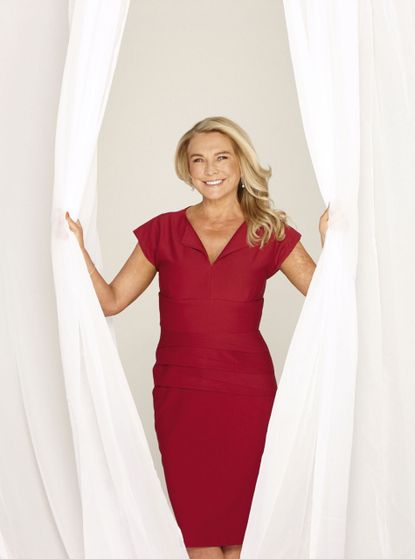 Raised in Brighton, where her father was salesman and her mother a housewife, Amanda Redman, 58, first came to television viewers' attention in the 2000 comedy-drama, At Home With The Braithwaites. She is now best known for her role as DSI Sandra Pullman in the long-running BBC series, New Tricks.
She has one daughter, Emily, 29, with her first husband, actor Robert Glenister. She now lives in London with her second husband, Damian Schnabel, a graphic designer. She started the Artists Theatre School, a drama school in West London, 20 years ago. In 2012, she received an MBE for her services to drama and charity. Read on for some surprising facts about the star...
1. Amanda owes her fabulous figure to walking "I've stopped driving myself around locally and walk absolutely everywhere. I have a pedometer and try to do between 15,000 and 20,000 steps a day. It works out about an hour and a half to two hours of walking a day. I've dropped a lot of weight." 2. She's looking forward to becoming a grandparent
"I've gone from going, 'Don't you dare make me a grandmother yet!' to 'Well, I hope you do in a few years' time...' But Emily's still too young and needs to have a life first."
3. Amanda was on the rebound when she met her second husband, Damian Schnabel "We met through a mutual friend, Sandy, who was coming down to see me - I was depressed because I'd just split up with somebody. While she was down she said, 'Do you mind if I see my daughter's boyfriend because she's just dumped him and he's feeling very miserable and I love him' - and that was Damian!"
4. She's a big fan of Come Dine With Me "Mainly because when I'm on the rowing machine at the gym, it's what gets me through. Damian hates it - 'Those horrible people being so rude about people's food!' - but I love it."
5. She thinks the menopause shouldn't be so taboo "I was filming on New Tricks when mine started. They would have to stop shooting because my face would suddenly go bright red and the sweat would pour off - and it was December. It was horrible and embarrassing because, of course, I was working with the old men, as I called them, and they all knew what was going on because they all have wives. But there are lots of wonderful, funny stories about the menopause that any woman could share with you."
6. Her role model is Glenda Jackson "I love her as an actress but as a strong woman too. Giving it all up to do what she wanted - politics. She knows her own mind."
Catherine has a career in women's lifestyle journalism that spans almost thirty years. Since 2020 she has been the Editor-in-Chief of women's lifestyle magazines at Future Publishing, where her remit includes the print editions of woman&home, Woman's Own, Woman, and Woman's Weekly. In this role, she is responsible for the strategic direction, content creation, and brand extensions for each publication.
Prior to this position, she held several senior roles within the organization, including Editorial Director and Group Editor. She was also Chair of the British Society of Magazine Editors in 2017, and editor of Wedding Magazine from 2006-2012.