Catherine Zeta-Jones Is Launching a Clothing Line
The actress shared details about her new clothing line while on vacation in spain.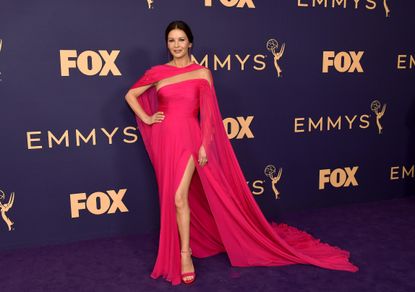 (Image credit: Getty)
Catherine Zeta-Jones is launching an active wear and vegan sneaker collection as part of her homeware line Casa Zeta-Jones.
The actress announced the clothing line through an Instagram post. First, she revealed a video teasing the line last Friday, then revealed the collection through a series of photos.
"Both of these collections are perfect for my ladies who want elegant comfort and versatility without sacrificing style," she said in a post. "I hope you all love these collections as much as I have loved creating them! From my Casa to yours."
Catherine has been living in Valldemossa, Spain with her husband Michael Douglas and children for the past few months. The launch photos were taken at the 11,000-square-foot house.
The clothing line is available now on Casa Zeta-Jones. It includes sports bras, leggings, athleisure pants, a zip-up jacket, shorts, workout tops and more.
Catherine has performed in numerous Broadway and movie musicals and calls herself a "dancer at heart." She partnered with dancewear company Bodywrappers on the activewear line to create "go-to essentials and unique designs that are useful, luxurious and tantalizing."
Prices range from about $36 for mesh tops, $45 for sports bras and $72 for mesh leggings.
Rebecca Holland is a travel and food writer based in Chicago. She has written for the Guardian, New York Times, Architectural Digest, Food & Wine, Wine Enthusiast and more. She is currently a graduate student at Northwestern's Medill School of Journalism. When not working, you can find her eating her way through Chicago's neighborhoods, or in non-pandemic times, traveling around the world.