Charming ideas for homemade gifts, that are just as fun to make as they are to give
Pop something personal under the tree thanks to these thoughtful homemade gifts.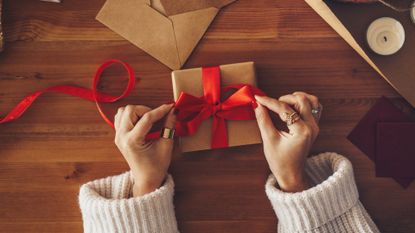 (Image credit: Getty Images)
woman&home newsletter
Sign up to our free daily email for the latest royal and entertainment news, interesting opinion, expert advice on styling and beauty trends, and no-nonsense guides to the health and wellness questions you want answered.
Thank you for signing up to Woman & Home. You will receive a verification email shortly.
There was a problem. Please refresh the page and try again.
For unique gifts that don't involve long lines and hours shopping in a store, try your hand at a creative, handmade gift. Each one is easy to make, and you can have fun personalizing your gifts for each person on your list, like with jewellery making kits. Break out the craft supplies and get inspired with these inventive ideas.
1. Customized charm bracelets
Put your designer skills to the test and create a beautiful, custom accessory that anyone would love to receive.
You'll need:
• a chain
• a lobster claw clasp
• jump links
• personalized charms, for the person receiving your gift
Directions:
1. Cut the chain to the desired length and attach the clasp
2. Add the charms in the order you prefer
3. Attach the jump rings to both the charm and the chain
4. Your charm bracelet is finished
If you're looking for ideas on which charms to include, visit your local craft store where you'll find hundreds of options. Go nautical with shell and ocean-coloured jewel charms or perhaps some stars and their zodiac sign. For charms that show some love, add hearts, and lock-and-key combinations.
READ MORE:
2. Homemade heating pads
Give the gift of warmth and comfort with a homemade heating pad. This easy sewing project can be customized to different sizes, so you can get creative with what your receiver might like most. A pair of mini hand-warmers, a square pad for monthly cramps, or a long rectangle for wrapping around an achy neck are all popular choices.
Directions:
1. Start with the fabric of your choice and cut two identical squares or rectangles that are the appropriate size of the heating pad you are making.
2. Hem one edge on each square or rectangle, then sew the other edges together, with the fabric inside out to create a pocket.
3. Pull the pocket through so it is no longer inside-out and fill about two-thirds full with dry, uncooked white rice.
4. Sew up the hemmed edge, and you're finished.
5. Gift wrap with a ribbon and include a small card with instructions (to microwave for 60 seconds, to enjoy approximately 45 minutes of warmth)
3. Hot chocolate mix
As the weather turns chilly, a nice cup of hot cocoa is the perfect comforting drink. Create a fail-proof hot chocolate mix and gift in a pretty mason jar.
Directions:
1. Combine two cups of powdered sugar, half cup dry milk, one cup cocoa powder, and one teaspoon salt.
2. Stir together and pour into a mason jar.
3. Add some chocolate chips or mini marshmallows that look and taste great.
4. Gift wrap and include a card with instructions (to stir three tablespoons of hot chocolate mix with one cup of hot water or milk)
4. Instagram coasters
Create a set of coasters from your Instagram images using a collection of 4x4 in printed photos and 4x4 in ceramic tiles.
Directions:
1. Paint a thin layer of Mod Podge craft glue on one of the tiles and press a photo down firmly to attach, letting it sit for a few minutes
2. Next, paint a layer of Mod Podge over the photo and let dry for 20 minutes
3. Repeat this layer of Mod Podge three more times, allowing for 20 minutes of drying between each layer
4. Let your coaster sit overnight to dry completely
5. To make your coasters extra waterproof, spray with a waterproof sealant
6. Wrap with a pretty ribbon, and you're done
For a fun gift idea, treat grandparents with a coaster set featuring each grandchild, or use holiday photos. For the botanical lover on your list, take close-ups of the beautiful blooms growing around your home and make a set of floral coasters.
5. Stovetop potpourri
Simple ingredients make this aromatic potpourri a wonderful gift. Make several packages, and do make sure to keep one for yourself.
Dry ingredients are easy to find, such as cinnamon, allspice, cloves, nutmeg, dried citrus fruits, dried cranberries, and dried rosemary. If you have a dehydrator, make your own mix with fruits and herbs.
Directions:
1. Use a mason jar and arrange the dried ingredients in layers, to show off a beautiful pattern of textures, or combine for a colourful medley
2. Attach a card with instructions (to mix 1 part potpourri with 1 part water and simmer on the stove until fragrant)
3. If you don't have a mason jar, use a clear plastic gift bag and tie the top with twine.
6. Gardening gift bag
Treat the gardener on your list with a fun gift bag of their favourite tools.
Directions:
1. In a small clay pot, add gardening gloves, a mini trowel, mini rake, seed packets, and a flower mister.
2. For a little extra style, paint the clay pot with a pattern or a solid colour.
3. Wrap with a bow, and you're ready to go.
Homemade crafts are a fun way to make thoughtful, personalized gifts. Once you begin, it's hard to stop. Tie your gifts up in pretty ribbons, and give them with a smile. Your creative effort will make the person receiving them feel extra-special.
Sign up to our free daily email for the latest royal and entertainment news, interesting opinion, expert advice on styling and beauty trends, and no-nonsense guides to the health and wellness questions you want answered.