5 good sewing machines according to professional sewers
Want to buy a sewing machine but don't know where to start? Sewing experts share their go-to models and wish-list brands to help you decide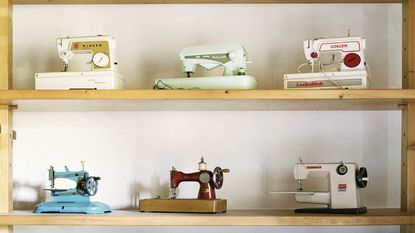 (Image credit: Getty)
With a recent rise in popularity as a hobby, sewing has captured the interest of many wanting to tweak their wardrobes or add some handmade accessories to their home.
If you're just starting out on your stitching journey or looking to upgrade an old model, you'll be on the hunt for the best sewing machines (opens in new tab) you can buy.
After you've scoured the customer reviews and looked at the star ratings, however, you're probably more confused about what sewing machine to buy than you were before you started your research. Fear not! The pros are here to help you out. Having quizzed our go-to sewing experts about their favourite sewing machines, the results are in – these are the brands and models they'd add to their virtual shopping baskets.
Good sewing machines according to professional sewers
1. PFAFF Passport 3.0
First up, it's the PFAFF Passport 3.0. We've already reviewed the PFAFF Creative 1.5 (opens in new tab) and, of the sewing machines we tested to find the best models out there, it's one of our favourites. So when we heard that Rosie Scott and Hannah Silvani, the duo behind The New Craft House, had this model at home, we knew it must be good.
The duo's love for the Pfaff brand doesn't stop there, though. "We are huge fans of PFAFF machines. We use the Quilt Ambition 630 in our workshops along with the brand's Hobbylock and Coverlock models. One day we'd love to own a state-of-the-art Creative Icon too. We couldn't sew without our PFAFFs now!"
The mid-range cost of a PFAFF Passport 3.0 is worth the small investment at £579. If your budget can stretch to some of its high-end models, do take a look at the PFAFF Quilt Ambition 630 for £849, the PFAFF Creative 1.5 ( £1,399) or, if you really want to blow that budget, then the lust-worthy Creative Icon (£8,499). Basically, whatever you want to spend, there's a PFAFF model that you can afford. If you'd rather move away from a computerised model in favour of a mechanical version, the affordable PFAFF Smarter 140s is a good option, and costs a reasonable £219.
Settled on the idea of a PFAFF model but want to know more? There are plenty of reasons why this brand has developed a big following. "The machines sew so smoothly and never mess up. They're super well made and a true joy to sew on," Rosie and Hannah tell us. "Almost all of the PFAFF models have what's called the IDT system, which is basically a built-in walking foot. It makes sewing fine or slippery (as well as heavy or bulky) fabrics a breeze."
With such a rave review from two of our fave stitchers, there's no doubt that a PFAFF model is high on our shopping list.
2. Bernina 325
Talk about popular demand – we had to feature a Bernina (opens in new tab) model because so many of our experts recommended them. It seems that it's a brand whose machines stand the test of time. "My beloved Bernina sewing machine is nearly thirty-five years old," says Cheryl Owen, sewing expert and author. "I've had it since new and use it most days." For a reliable machine that will last a lifetime, a Bernina is the way to go.
Admittedly, Bernina is a costly brand with prices starting at £749 (that's for the Bernina 325). If your budget allows though, it's worth investing in a sewing machine that will last. "Personally I love a Bernina," say Lisa Comfort, from Sew Over It. "They aren't necessarily entry level sewing machines as they can be quite expensive, but they are the best on the market. I have had my Bernina for over 20 years and it's still working beautifully. They are long-lasting, very smooth and quiet.'
The Bernina 325 doesn't have a lot of gadgets and gizmos to wow, but it is a computerised machine with all the features that you could need. It's small and lightweight, but still boasts all the time-saving benefits of a start/ stop button, semi-automatic needle threader and slide speed control. It's speedy too, producing 900 stitches per minute for when fast-stitching is a must.
It comes with 97 stitch patterns including an alphabet, so it's not short on creative possibilities. "My Bernina doesn't have lots of fancy stitches but will turn a neat buttonhole and can race along a straight seam or stitch slowly when working intricate shapes," Cheryl tells us. At the end of the day, that's what most of us use our sewing machines for anyway.
If you can't afford to buy new, consider a vintage model at a cheaper price. Colour and crafts expert, Momtaz Begum-Hossain agrees, 'I believe that the more a machine is used the happier it is. My own antique, second-hand Bernina is testament to that.'
3. Janome M50 QDC
A staple among keen stitchers, Janome (opens in new tab) comes up trumps as a reliable brand with a large range of sewing machines to suit all your stitching needs. For the sewing experts we spoke to, its mid-price models seem to be the most popular. "Many of the machines come with hundreds of decorative stitches, which is lovely if you'll use them, but if you don't, why pay more for a machine that has this feature?" says Kate Underdown from The Fold Line. "My current machine is a Janome M50 QDC – it's a mid-level machine in terms of price and has some great features."
At £579, it's easy to see why the Janome M50 QDC is Kate's go-to model. It has 50 built-in stitches, including three buttonholes, a speed slider and a good selection of presser feet for working on advanced sewing projects. Plus, it comes with an extension table; "If you are working on a big project, like a coat or quilt, it makes sewing so much easier," says Kate.
If you're looking to spend a little less, Tree from YouTube's Stitchless TV suggests the Janome Sewist 740DC at £549. "My favourite sewing machine, it has an effortless, automatic, keyhole buttonhole that glides, hands-free as you sip your cup of tea." Who said the sewing experts were any different to us? They also want a machine that's easy to use with simple and practical features. And, on that, a Janome will deliver.
Want more stitches? Check out our review of the Janome 780DC (opens in new tab) where we put the sewing machine through its paces against the best sewing machines you can buy.
4. Singer Heavy Duty 4423
Another tried-and-tested brand, Singer is a stalwart manufacturer of sewing machines. A household name, many families will have had a Singer machine at some point, be it a vintage hand-crank model passed down through the generations or one of the later (just as dependable) machines.
Momtaz Begum-Hossain recalls how her mum's treadle Singer sewing machine was her most treasured possession. "It's been in the family for more than 40 years," she says. "Memories of my childhood are wound up in the bobbin, hearing the whirring of it being turned on, and trundling in the background was the soundtrack to my weekends."
Sewers who learnt their craft on a Singer, with help from an older relative, are often reluctant to depart from the brand when seeking a new sewing machine. If that's you, take a look at our review of the Singer Heavy Duty 4423 (opens in new tab); it's a mechanical machine, so won't be a huge leap from a vintage version and, with a metal frame and steel bedplate, this machine will definitely live up to its heavy duty title.
5. Janome DKS100
As it turns out, Janome is so popular with our sewing experts, that we had to feature its sewing machines twice! This time it's Tilly Walnes, of Tilly and the Buttons fame, sharing her favourite model.
"I love the Janome DKS100, which is the machine I use both at home and in the Tilly and the Buttons studio," she says. "This mid-range, computerised model has a wide range of stitch options, strong guts to get through heavy fabrics, plus handy features like an automatic thread cutter."
But it's not just the practical components that make this model a must-have. "It has a pretty turquoise face, which brightens up my sewing space,' Tilly tells us. If you want a sewing machine that's as stylish as it is useful, this Janome option has got to be at the top of your list.
More top tips from the sewing experts
When you're parting with a substantial amount of money, it's best to weigh up the options carefully. How do you make that decision about the best sewing machine brand and model for you? The sewing experts shared some more of their wisdom to help with this part of the process too.
Before deciding on her Bernina machine, Cheryl Owen recalls taking some denim and floaty chiffon to the shop to try them out before making the purchase. She suggests you do the same if you can. "Test the machine with your own fabric samples and try out a few techniques before buying."
Take a look at what other people are sewing with, too. The sewing industry has a lot of experts to take inspiration from, so see what sewing machines people are using on their YouTube channels or latest sewing tutorials to give you a guide. "My advice would be to go into a shop, try out a couple and see what suits you," says Kate from The Fold Line. "I have always used Janome machines, they are a really reliable brand and often used in sewing studios to teach beginners."
Lastly, think about what you want to use your sewing machine for. If you want to stitch up small toys, you won't need a massive machine, whereas a quilting enthusiast might want the largest machine they can find. For YouTuber Tree, it's all about having a machine she can stash in her suitcase for stitching on holiday. She is often drawn to mini vintage manual machines – "The joy of being able to pop a mini sewing machine into my case, knowing that finally I will get time to sew something that's just for me."
So whether you plan to save or splurge on your next sewing machine purchase, go old-school or ultra modern, mechanical or computerised, the choice is yours.
Our in-house craft expert, Esme Clemo, has been working within the craft magazine industry for eight years, having turned a sewing hobby into her career. She's adept in a number of crafts, including sewing, papercraft, calligraphy, embroidery and printing and has also completed an interior design course with the University of Arts London,
There's nothing she doesn't know about DIY and interiors. Everything in her home and wardrobe has a DIY twist and she knows all the tools needed for getting the job done - meaning she has a very hands-on approach when it comes to testing out products for our reviews.