Sleeping on the floor - the health benefits, risks and best positions for your back
Sleeping on the floor can be just as comfortable as sleeping on a bed, if you get it right...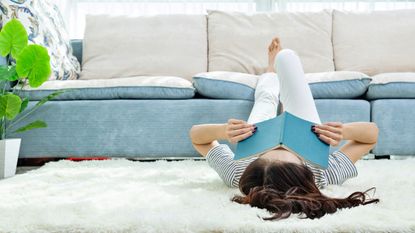 (Image credit: Getty Images / baona)
Want to change up your sleep routine? While sleeping on the floor may seem an unusual choice for some, this could depend on where you are from. In Japan, for example, it's a tradition that goes back centuries. But is it good for your health?
Before you discard your best pillows, throw away your comfortable mattress and dismantle your bed, we asked expert chiropractor Andrea Coote to tell us how sleeping on the floor can work for you and when you should avoid it.
Here's everything you need to know about sleeping on the floor...
Is sleeping on the floor good for you?
Thinking about sleeping on the floor? Here's the good news. It can be good for you, especially if you take pain relief for everyday aches.
"I have mixed feelings about sleeping on the floor but, in some cases, it can be good for you," says Andrea (opens in new tab), who runs Tidal Health. "If your mattress is too soft or too old, then your ligaments and joints will be under strain and become painful. By sleeping on the floor, the hard surface forces your spine to keep in line."
And, if you've ever had lower back pain, you'll know how sometimes lying on a hard surface can be just the relief you're after. "If you have back pain some patients find moving to the floor more comfortable," says Andrea.
What are the benefits of sleeping on the floor?
"Although there isn't much evidence for the benefits of sleeping on the floor, many people say that it reduces their back pain, improves their posture, and results in a good night's sleep," says Andrea.
The reason for this is simple. "Movement is medicine, so sleeping on the floor allows the body to move more during the night, rather than sinking into a mattress," says Andrea. "It is said you feel energised and ready to get up in the morning."
The best position for sleeping on the floor
Whether you're thinking about sleeping on the floor for back pain, because you're waiting for a new mattress to arrive or are just keen to try it out, you need to make sure you protect yourself and your health. Firstly, you need to consider the temperature of the room and the floor.
"It's going to be colder on the floor," says Andrea. "So, it's important to have warmth such as blankets, or matting or a thin mattress, such as a futon."
The best position for sleeping on the floor is usually the same sleeping position you you find yourself in while in bed, but with some slight adjustments according to Andrea.
If you usually sleep on your side
"Place a pillow between your knees to help align the spine."
If you usually sleep on your back
"Put a pillow under your knees. This will help reduce the pressure on your lower back."
Should you use a pillow if you sleep on the floor?
It's no wonder you'll want some of the usual comforts of your bed when sleeping on the floor, but can pillows do more harm than good? Even if they are the best pillows for back pain?
"Sleeping for several hours with limited movement can cause the neck to feel stiff," warns Andrea. "Your neck should be an extension of your spine. It shouldn't be too high or too low, so use just one pillow on the floor. Try a flatter airplane travel pillow, as it will fit more snugly, supporting you in a neutral position."
What are the health risks of sleeping on the floor?
Don't ditch your bed just yet, though. Sleeping on the floor is not always right for you.
"Sleep can be disrupted as the body will naturally want to turn from side to side," says Andrea. "You may strain your back while turning awkwardly at night when sleeping on the floor."
Things can also get worse if you try to sleep on the floor long term. "Sleeping on an unforgiving surface over time can lead to back pain and strain as the spine isn't able to naturally curve," says Andrea. "Long term, it can compress your joints because the floor has no give. Mature bodies are less resilient. It's very normal to experience increased aches, pains and joint stiffness as we get older and these can be amplified on a hard surface."
And, for some people, sleeping on the floor is never advised at all. "Taking out the biomechanics of sleeping on the floor, if you have a medical condition, such as high blood pressure, then it's not advisable. Plus, if you are an allergy sufferer bear in mind there are far more mites and dust lurking on the floor and a pet's dander will amplify this!"
So if you're looking to change up your sleeping style but don't want to spend too much and would rather avoid the floor, try w&h's top mattress pick, the Emma Original Mattress, which can usually be found for cheaper during one the brand's Emma mattress sales that take place throughout the year. Or you can even find Simba mattress sales throughout the year too, which can save you from spending over the odds.
If you are suffering from back pain or unsure if sleeping on the floor is safe for you, speak to your doctor for advice.
Faye M Smith is an award-winning journalist with over 15 years experience in the magazine industry. Her continued work in the area of natural health won her the coveted title of the Health Food Manufacturers' Association (HFMA) Journalist of the Year Award 2021. Currently Health Editor across several brands including woman&home, Woman and Woman's Own, Faye specialises in writing about mental health, the menopause, and sex and relationships.