17 of the best sex books to improve your sex life
Meet the best sex books that feature thoughtful insights to help you learn more about yourself and your partner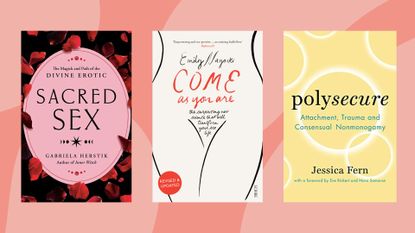 (Image credit: Amazon)
The best sex books might not take pride of place on your living room bookshelf normally, but these top picks from psychologists, sexologists and intimacy experts shouldn't be kept hidden away. Ranging from research on the female orgasm to a guide on improving intimacy with a new partner, there's a read for everyone on our list.
There's no shame in wanting to read expert insights and useful advice to improve your relationship, both with yourself and your partner. After all, we're learning more about what we do and don't like sexually as the years go by and being able to have open and honest conversations about it all is essential.
While investing in a great sex toy or spending time trying out new positions can help with this, delving deeper into your own relationship and learning how to spice up your relationship with the help of the best self-help books allows you to explore how you feel about sex and intimacy on a whole new level.
Best sex books for singles
Whether you want to start exploring your sexuality with one of the best sex apps or learn all the top female masturbation techniques, these sex books are for you. As recommended by the team of sexperts, they're mainly written for single people and those in casual relationships who are looking to learn more about themselves and their sexual desires, but anyone can benefit from these insights.
Best sex books for couples
No matter what kind of relationship or situationship you're in, our sexperts have recommended a number the best sex books for those in some kind of partnership. So whether you want to know all about the best sex toys for couples or how to have better sex overall, one of these will be for you.
How can I improve my sex life?
Communicate: The best way, all our experts agree, to improve your sex life is to talk to your partner. "Talking is so undervalued in relationships," says Kotziamani. "Take some time to communicate with your partner about what's going right in your love life and what could be improved. Go forward with a non-critical approach and stay open to their thoughts."
Try new things: From new sex positions to different dynamics, try switching things up in the bedroom to reignite the spark. For more tips on improving your sex life, take a look at our guide on how to spice things up in the bedroom.
Remove stress from the bedroom: Making your sexual space as low-stress as possible will be the key to improving your romantic setting, she adds. "Remove technology like laptops, phones, and the television from your bedroom. Try to take any distractions away so you can focus on each other."
Prioritize non-sexual intimacy: It's entirely possible to learn how to be intimate without sex and doing so could help improve your sex life. "Intimacy that's non-sexual, like cuddling, spooning, holding each other, and doing things that fit in with each other's love languages can really help show your partner you love them and want to be intimate. It's also a great way to build tension before the main event," says Kotziamani.
A digital health journalist with over five years experience writing and editing for UK publications, Grace has covered the world of health and wellbeing extensively for Cosmopolitan, The i Paper and more.
She started her career writing about the complexities of sex and relationships, before combining personal hobbies with professional and writing about fitness. Everything from the best protein powder to sleep technology, the latest health trend to nutrition essentials, Grace has a huge spectrum of interests in the wellness sphere. Having reported on the coronavirus pandemic since the very first swab, she now also counts public health among them.