11 of the best sex books to improve your sex life
Meet the best sex books that feature thoughtful insights to help you learn more about yourself and your partner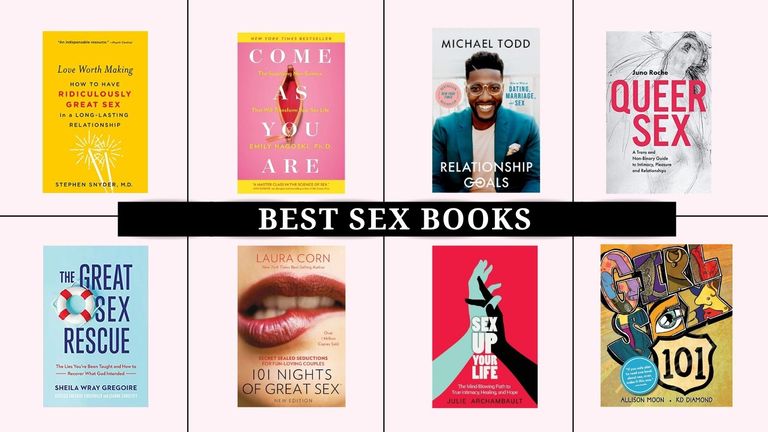 (Image credit: Future and Amazon)
While filling your bookshelf with the best sex books might seem a little outrageous, there's no shame in wanting to read expert insights and useful advice to improve your sex life and relationship. In fact, it's something we should all be doing more of.
While investing in the best vibrators or spending time trying out the latest sex positions can do wonders for your sex life, delving deeper into your relationship with the help of the best sex books allows you to explore your own relationship with sex and your relationship with your partner on a whole new level. Becoming equipped with the knowledge of renowned sex therapists will help you learn more about your own sexuality, improve your sex life, and could even relight the passion in a sexless marriage, or help you seduce a man you've been married to for years in a whole new way.
Best sex books for heterosexual couples
Whether want to know how to have an orgasm, want sex ideas to incorporate into your next date night, or fancy learning more about female masturbation, there are plenty of sex books out there for you. Ready to delve in?
1. Come as You Are (The Surprising New Science that Will Transform Your Sex Life) By Emily Nagoski, Ph.D.
Come As You Are explores women's sexuality, dissecting exactly how it works with evidence backed up by Dr Emily Nagoski's research. It focuses on the idea that every woman is different and sexuality is like a fingerprint: totally unique. How women engage with desire and sex is dependant on so many factors, from their sexual response mechanisms to their current experience. For women, sex is so much more than the physical, and if you want to have better sex it's not just about how you do it, but rather how you feel about it. Sharing real-life stories and practical advice, Dr Nagoski will help you better understand what sexuality and desire mean and help you harness the confidence to take your pleasure into your own hands and build intimacy with your partner.
---
2. 101 Nights of Great Sex: Secret Sealed Seductions for Fun-Loving Couples by Laura Corn
The New York Times bestseller 101 Nights of Great Sex is a must-have if you want to try something new and mix things up in the bedroom. Described as "not a book you read, but a book you 'do' while you do your partner", it's full of 101 fun 'seductions', with prompts to help you live out your sexual fantasies (opens in new tab) and discover new ones. Naturally, over one million readers have snapped up this book and many credit this read as the key to boosting their sex drive (opens in new tab) and firing up their sex lives, alone and with their partner. Expect to gain useful tools from one of the most detailed sex books around.
---
3. The Great Sex Rescue: The Lies You've Been Taught and How to Recover What God Intended By Sheila Wray Gregoire
Through a Christian lens, The Great Sex Rescue dispels problematic misconceptions and long-held beliefs surrounding sex, helping partners develop "a truly biblical view of sex where mutuality, intimacy, and passion reign." Author Sheila Wray Gregoire explores the messages men and women internalize about sex and the problematic teachings about sex in the Christian community, with the aim of helping readers develop their own views on sex and grant them the agency to have fulfilling sex lives that feel great for both partners. Nothing is taboo or off limits in this incredibly insightful and practical read.
---
4. The Big Black Book of Sex Positions By Jennifer Baritchi
For couples looking to switch things up in the bedroom, The Big Black Book of Sex Positions is one of the best sex books for reading together. It illustrates steamy new positions to try at home, for both penetrative and oral sex and has 'sexy challenges' to help couples create intimacy and try something new like bondage for beginners (opens in new tab). It's a fun read and a great way to introduce the idea of mixing things up with your partner. With these tips and tricks, you can even shake things up and have sex outside (opens in new tab). Physical intimacy aside, this read will ultimately help you understand how to have good sex (opens in new tab), whether you're in a long-term relationship, a situationship, or dating casually.
---
5. Relationship Goals: How to Win at Dating, Marriage, and Sex By Michael Todd
Relationship Goals chronicles author Michael Todd's journey of heartache, healing, and redemption. Expect everything from refreshing relationship advice to top tips for dating in the age of social media and useful tips for handling break-ups. Whether you're single, dating or married, if you want to build a healthy relationship with a partner or future love interest, you'll want to read this book. Unquestionably, healthy relationships bring better, more intimate and fulfilling sex—and balancing love and lust is crucial. This easy-to-read memoir will help you nail that balance and more.
---
6. Love Worth Making: How to Have Ridiculously Great Sex in a Long-Lasting Relationship By Stephen Snyder, M.D.
How to have sex that's still great in a long-term relationship is a question Dr Stephen Snyder has been answering for decades in his thirty years as a sex therapist (opens in new tab), and now he}s compiled all his knowledge into this book, Love Worth Making: How to Have Ridiculously Great Sex in a Long-Lasting Relationship. The book explores how to have really great sex in a committed relationship, by understanding the challenges of sex in a long-term relationship and finding ways to keep the spark alive in the bedroom. The bottom line: you can still enjoy sex and build intimacy, even when you've been with your partner for years, when you understand your and your partner's sexual feelings.
---
7. Sex Up Your Life: The Mind-Blowing Path to True Intimacy, Healing, and Hope By Julie Archambault
Great sex is far deeper than replicating porn for women (opens in new tab) and mastering physical techniques. It requires self-actualization and exploration, topics that author Julie Archambault touches on in her work, Sex Up Your Life. As an in-depth exploration of sexuality, the book looks at how our sexuality influences our personal growth and inner peace. For author Julie Archambault, relationships, sex and personal development go hand-in-hand, playing off each other. A collection of personal stories and interviews encourages readers to explore their preconceived notions of sexuality and undo harmful beliefs for a sex-positive mindset, greater intimacy and ultimately, a more fulfilling sex life.
---
Best sex books for Queer Couples—same sex, trans, and non-binary
Our edit of the most useful sex books also features non-fiction bestsellers for heterosexual, queer, and non-binary couples. Beyond bedroom intimacy tips, these great reads examine gender, identity, dating culture, empowerment, and other important topics.
8. Lesbian Sex Bible: The Complete Guide to Sexual Love for Same-Sex Couples by Diana Cage
The Lesbian Sex Bible takes a fresh, witty, and inclusive approach to lesbian sexuality, encouraging discussion, education and empowerment. Whether you've just started your sexual journey or are looking to build your knowledge and confidence, it's the ultimate guidebook. With tips and tricks for your best sex yet to detailed and honest advice on lesbian dating and relationships, gender, identity and sexual culture, it's a must-read for lesbian, bisexual and bicurious women, or anyone who wants to expand their knowledge of women's sexuality.
---
9. Lesbian Couples: A Guide to Creating Healthy Relationships by D. Merilee Cluni, Ph.D. and G. Dorsey Green, Ph.D.
Lesbian Couples covers a range of topics to help you better your relationship and sex life. It explores marriage and commitment ceremonies, work, money, coming out, resolving conflict, and understanding your partner. Written by lesbian therapists, who run private practices and lead workshops for couples, you can rest assured that the information in this book is credible. The book acknowledges the differences of race, class, age and physical ability in lesbian relationships, and addresses issues where one or both partners are recovering from trauma, such as alcohol or substance addiction or sexual abuse.
---
10. Girl Sex 101 by Allison Moon
Girl Sex 101 reimagines sex education as an inclusive, non-taboo topic for all genders and identities. It offers tools and tips for understanding sex, and ultimately having a more fulfilling sex life. Featuring more than 100 voices, this guide offers perspectives from all genders and identities, plus sound guidance from well-regarded sex educators, such Nina Hartley, Sex Nerd Sandra, Dirty Lola, and more. You'll learn more about female sexual anatomy and how to please yourself and your partner. The book also explores safe sex and STIs, strap-on sex, gender identity and more.
---
11. Queer Sex: A Trans and Non-Binary Guide to Intimacy, Pleasure and Relationships by Juno Roche
Written by transgender activist Juno Roche, this poignant read explores sex, desire, and dating with insights from the trans and non-binary community. Juno underscores prejudices and emboldens readers to explore their ideas of intimacy and sexuality for better sex, relationships and overall personal exploration. Through first-person accounts, this book challenges binary thinking and societal views on gender, sexuality and relationships.
---
Dominique worked as a shopping writer at Woman & Home and while with the brand she covered products, sales and deals, and market news across categories. Before joining the team, she penned stories as an editorial fellow at Insider Reviews, the affiliate commerce team at Insider Inc./Business Insider. The bespectacled NJ transplant specializes in commerce journalism, women's lifestyle content, and hoarding makeup—much to her mother's dismay.