The Mobvoi TicWatch C2+ fitness tracker review
The Mobvoi TicWatch C2+ is a fitness tracker with plenty of big surprises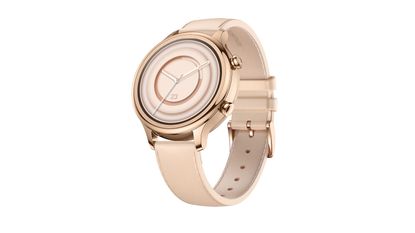 (Image credit: TicWatch)
The Mobvoi TicWatch C2+ is an investment buy that will really go the distance.
Reasons to buy
+

Stunning design

+

Colour screen

+

Endless functions

+

Waterproof

+

Built-in GPS
Reasons to avoid
-

Multiple apps

-

Heavy

-

Takes time to set up
Why you can trust Woman & Home Our expert reviewers spend hours testing and comparing products and services so you can choose the best for you. Find out more about how we test.
woman&home newsletter
Sign up to our free daily email for the latest royal and entertainment news, interesting opinion, expert advice on styling and beauty trends, and no-nonsense guides to the health and wellness questions you want answered.
Thank you for signing up to . You will receive a verification email shortly.
There was a problem. Please refresh the page and try again.
Looking for a fitness tracker to help boost your health and wellbeing? The Mobvoi TicWatch C2+ – which has built-in GPS and a 24-hour heart monitor – could be for you. How to be sure? We've put it through its paces from the moment it was unboxed, so you can see if you think it's worth the investment.
I tested a wide selection of the best fitness trackers (opens in new tab) and considered how user-friendly they were, and whether the results they give are useful to boost your health and wellbeing. All fitness trackers tested were worn for at least three different workouts for varying lengths of time, and overnight. Each fitness tracker was also reconnected several times afterwards to check reliability.
Keep scrolling for the full review to see if this fitness tracker is the one for you.
Mobvoi TicWatch C2+ specifications
Heart rate sensor: Yes
Watch face dimensions: 42.8mm diameter
Charge time: 100 mins
Battery lasts: 1.5 days
GPS: Yes
Water-resistant: Yes, up to 1.5m for 30 mins
Storage: No
Extra strap: Yes
Warranty: 2 years
Compatible with: Android 6.0+ and iOS 10.0+
Who does the Mobvoi TicWatch C2+ suit?
The Mobvoi TicWatch C2+ is best suited to someone who wants to incorporate their fitness tracker into every part of their life.
What is the Mobvoi TicWatch C2+ like to use?
Despite coming with instructions on how to set up and use the Mobvoi TicWatch C2+, you'll need to take time to go through each option on the fitness tracker, and choose how you'd like to use it. Although choices can be changed and updated along the way, the more time you dedicate at this stage, the more you'll get out of the Mobvoi TicWatch C2+.
After opening the box, and charging the Mobvoi TicWatch C2+ fitness tracker in its circular docking device (which connects to a power source via USB), you select your chosen language and then have to download the Wear OS by Google app. Syncing your TicWatch C2+ to your smartphone should be easy via Bluetooth, but this took me around 10 attempts as mine just wouldn't pair.
From the Wear OS by Google app, you can select the watch face you want and which "tiles" appear on your Mobvoi TicWatch C2+. This is essentially live data that is constantly updating, such as your heart rate, the weather forecast, exercise goals or the steps you have taken. Connecting to the Wear OS by Google app also gives your TicWatch C2+ fitness tracker access to your Strava app, Spotify account and Google Pay - so you can use it for contactless payments.
Scroll the other direction from the home screen and you will see Google Assistant. Once you've tapped the screen, you can talk into the watch and ask Google any question you like. However, there is no speaker on the Mobvoi TicWatch C2+, so the answer will only appear on the screen.
You can also access notifications for your social media accounts (such as Instagram), SMS and even doorbell apps (such as Ring), although you have to give the Mobvoi TicWatch C2+ permission for all of these. In fact, the number of privacy settings that pop up is slightly off-putting about this tracker. It feels like you're losing control of some of your data along the way, plus the messages clog up the screen. I also felt the screen didn't always respond that quickly to my tapping and swiping, but this could have been user error.
For most fitness trackers, being able to track your steps, length of exercise, activity levels, calories burned and distance travelled, and create personal goals for all of these things, would be more than enough, but the Mobvoi TicWatch C2+ has endless extra options. I found it took several hours (if not days) to find how it would work best for me and, even having worn it for a while now, I am still learning and finding new ways to use the fitness tracker. For this reason, the Mobvoi TicWatch C2+ is definitely worth the money. You won't get bored, as there are always more functions to discover to really personalise it to you, if you swipe in different ways.
The Mobvoi TicWatch C2+ design
The Mobvoi TicWatch C2+ is, quite simply, stunning. It's available in onyx, platinum and rose gold, all of which wouldn't look out of place on the smartest occasions. In fact, the Mobvoi TicWatch C2+ comes with both a leather strap and a silicone strap (they can be easily clipped on and off), so you can use the fitness tracker both day and night.
The downside is the watch face itself is quite chunky and heavy, and investing a lot of money in it means you won't really want to get it scratched during your workouts. I also found that the back of the Mobvoi TicWatch C2+ became quite hot at times.
With a colour screen, you can really personalise the Mobvoi TicWatch C2+ to suit your taste. There are 20 different watch face designs to choose from – I loved Marble – but the choice is extensive and includes a Valentine's Day special, Classic Black, which is a traditional analogue watch face, and Playful, one that has so many elements it looks like the dashboard of a car. You can change depending on how you exercise, your mood or simply what outfit you are wearing.
How the Mobvoi TicWatch C2+ can help your fitness
Tracking your fitness levels and watching them improve is easy with the Mobvoi TicWatch C2+, as you have access to Fit Workout to track your workouts and set yourself challenges. It also has a special function to track swimming sessions, too.
Also, while it has all the same abilities of standard fitness trackers (such as counting steps, monitoring heart rate etc), the best thing about the Mobvoi TicWatch C2+ is that you don't have to keep relying on an app to see all this data. All your scores and info can be easily seen on the Mobvoi TicWatch C2+ screen itself, although I'd also recommend downloading the free Mobvoi app.
How the Mobvoi TicWatch C2+ can help your health and wellbeing
The Mobvoi TicWatch C2+ is mainly for fitness, but there are a couple of health and wellbeing features that are worth mentioning. The first is a very simple reminder to wash your hands for 40 seconds – essential with everything that's going on in the world at the moment.
Plus, if you press the top button and then scroll through the options on the Mobvoi TicWatch C2+, you will find Fit Breathe. Here, you can go through a two-minute breathing exercise to help calm your mind, which is very similar to the function on the Fitbit Charge 4 (opens in new tab). You can also check your pulse.
Is the Mobvoi TicWatch C2+ designed for women?
While the functions of all three colourways of the Mobvoi TicWatch C2+ are the same, it's worth noting that if you go for the rose gold variety the strap is 18mm, compared with 20mm. This small difference may be vital if you have smaller wrists, but with 10 holes to choose from on the 20mm version, I still had several more options if I needed to make it any smaller.
The rose gold design is very feminine and will appeal to many women. The variety of clock face designs are also an appealing element. However, the Mobvoi TicWatch C2+ does feel quite chunky on your wrists, which some women may find off-putting.
Battery use and charging the Mobvoi TicWatch C2+
The battery on the Mobvoi TicWatch C2+ is meant to last around 1.5 days, although I found mine was a lot shorter than that. This is most likely due to the built-in GPS, which does tend to use up the battery.
If you are using the Mobvoi TicWatch C2+ to its full potential, you'll probably have to charge it each night.
Mobvoi TicWatch C2+ reviews: How does it rate online?
The Mobvoi TicWatch C2+ has good reviews online, with many people happy with the extra RAM storage compared with the previous Mobvoi TicWatch C2 incarnation, plus the quality and design is highly rated by many reviewers.
Most negative issues seem to be around the battery not lasting very long and Google Pay being a bit glitchy to use at times.
Is the Mobvoi TicWatch C2+ worth buying?
Yes, the bottom line is that the Mobvoi TicWatch C2+ is cost-effective and stylish – and worth spending your money on. You'll definitely get plenty of use from it, although if you're not particularly interested in tech, it may seem a bit too fiddly at times.
Faye M Smith is an award-winning journalist with over 15 years experience in the magazine industry. Her continued work in the area of natural health won her the coveted title of the Health Food Manufacturers' Association (HFMA) Journalist of the Year Award 2021. Currently Health Editor across several brands including woman&home, Woman and Woman's Own, Faye specialises in writing about mental health, the menopause, and sex and relationships.