Could a spring clean improve your sex life? Sexologists reveal all
Sexologists and therapists reveal how to improve your sex life with a spring clean in 2023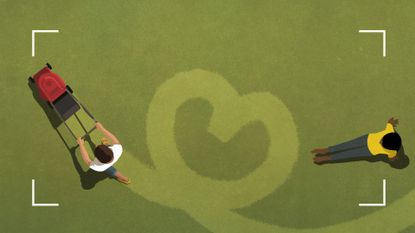 (Image credit: Getty )
When we think of spring cleaning, we often think of household chores and (finally) cutting the grass - being able to improve our sex life is probably the last thing on the list. But if you're stuck in a rut or looking to totally revitalize your sex life, the new season could be just the time to do it.
Better sex means different things to different people and it can mean changing many things over time, but one thing's for sure, to improve your sex life in any way, you have to be ready for change. With the weather getting better, summer vacations on the horizon, and nature's natural cycles showing off what's new in the trees and animals, spring seems like the perfect time to learn how to have better sex.
But don't just take our word for it, the experts agree. "Springtime reminds us that we not only know how to adapt to naturally-occurring changes but also that we can rejoice in them," says Ceara Corry, a sexual wellness educator and therapist. "Everything in nature goes through cycles that include periods of more or less activity, humans are not exempt. As we age, hormonal changes, lifestyle, illness, medications, and other factors may contribute to a decrease in sexual desire. But as seasons change, we can make modifications that keep sex safe and pleasurable, while appreciating the simple beauties that accompany each day."
Whether you want to bring sex back into the relationship or learn how to spice things up in the bedroom this year, here at woman&home we've spoken to a selection of highly qualified sexologists, educators, and therapists to discover how the change in seasons can help you improve your sex life.
How to improve your sex life this spring
1. Prioritize outdoor activities
Make the most of the weather, suggests certified sex therapist Kendra Capalbo, whether that's by having a picnic in your local park, going for a hike, gardening together, or eating outside at a restaurant. "Studies have shown the positive correlation between sunlight and mood, and now that there's more of it, harness the impact it can have on the mood of your relationship," she says, pointing to research by the University of Alabama and Keio University School of Medicine.
"In fact, one study from Tel Aviv University showed that increased exposure to sunlight can enhance romantic passion," Capalbo adds.
Moving around outside won't only improve your mood and possible mental approach to sex though, clinical sexologist Megwyn White says, it has physical benefits too. "It increases libido by releasing endorphins and improving self-confidence, and it brings more blood flow to the genitals."
2. Try something new
If you want to learn how to spice things up in a relationship, try something new in the bedroom, the experts say. "It could be trying a new position, role-playing, watching ethical porn together, reading erotica together, buying and trying new sex toys together, or committing to one of the many couples challenges, games, books on the market," says Capalbo. Not everything may work for you but you're bound to find something you didn't know you liked before.
"Just a spring brings new life, bring some new ideas to your intimate life together," suggests couples and sex therapist Wendi Dumbroff. "Expand your sexual menu with each other and get creative. It may be spending time just kissing each other, taking a bath together, or massaging each other, you get to decide what is intimate and makes you feel close to each other."
3. Find the time to talk
But to try new things, you need to be willing to be open with your partner and talk about what you want. As beneficial as trying one of the many best sex positions can be, building up intimacy without sex might be what you need this season to get back on track.
"Being vulnerable with your partner is part of what creates deeper emotional intimacy," Dumbroff reminds us. "Remember, no one can read minds, so we really do have to ask for what we need. It may feel uncomfortable for couples to talk about sex with each other, but the good thing is, we can honor and talk about our discomfort and still have the conversations."
4. Flirt
When relationships have been going on for years, if not decades, simple pleasures like flirting tend to naturally fall by the wayside. But to improve your sex life, Capalbo recommends going back to the early days and dusting off those sexting skills - or if that's not for you, something a little more subtle. It could be as simple as a small gift of appreciation, a light touch, or a knowing glance.
"While the details may look different from one couple to the next, the goal is the same," she says. "Build up intrigue, anticipation, and sexual energy. I'm personally a fan of a certain level of subtleness around flirting. Sending a photo of lingerie on the bed for example instead of a photo in it. I'm also not opposed to the more direct 'let's have sex tonight' approach, but for me, I like the coy, playfulness aspect of the more elusive type of flirting."
5. Make a sex bucket list
Just as the new year is a good time to think about what lies ahead, the changes that come with the spring season make April and May the perfect time to consider what you want in the next few months, so make a bucket list.
"What's something, or somewhere, you've always wanted to try but haven't done yet? Creating a solo or partnered bucket list is a fun way to bring your fantasies to life and your list can be as mild or wild as you like," says Corry, anything from trying sex on the sofa to something a little kinkier.
"If you like a challenge, add a deadline like before the end of summer, end of the year, before you turn 60, etc, to your bucket list. Once you've completed the list, start a new one."
6. Take a trip
It won't be an option for everyone but a holiday or getaway of some kind - even if it's just for the day - can go a long way to help improve your sex life in the short term. Not only do we tend to forget, or at least put aside, daily stresses when we're away from our regular lives, we tend to feel freer on holiday and less inhibited, which makes for a great energy to bring into the bedroom.
Capalbo, who runs Esclusiva Retreats, says she sees couples do this regularly and knows herself the positive impact it can have on a relationship. "I absolutely believe couples benefit from a holiday together when they are experiencing this lull. A break from reality, a decrease in stress, and some beautiful weather or exhilarating experiences can reinvigorate a relationship," she says. "I believe in this so much that I incorporated the idea as part of my couples retreats. Taking the time to simply focus on each other and the relationship is a great way to reconnect and rebuild momentum, including in terms of sex."
7. Take the time to clean
When it comes to spring cleaning your sex life, there comes a point where you may actually need to get the duster out. "If you're using this time of year to reorganize your closets or pantry, don't forget about the pleasure aids you use," says Corry.
"Ideally toys are cleaned before and after every use but if you've fallen a bit behind schedule, this is a great time to get caught up. Check toys, lube, condoms, and other products for cleanliness, damage, and expiration dates. Anything expired should be thrown away. Silicone toys with any tears or rips should also be discarded."
If you don't know how to clean sex toys, the therapist recommends using "a gentle toy cleanser according to directions provided by the manufacturer or seller and storing them in a clean, dry place."
8. Check in with a professional
As you're checking off the spring cleaning to-do list, it's worth checking in with yourself medically too, the experts agree. With all the socializing around the holidays, and dark mornings and evenings clouding our brains over winter, it's easy to forget to do regular tasks - like booking a doctor's appointment.
"When was the last time you talked to a primary care provider, urologist, gynecologist, or pelvic floor physical therapist about your sex life? If you can't remember, now is the time," urges Corry. "Medical providers can be a great source of information and problem-solving support for physical and hormonal aspects of sex. If you're looking for something more on the mental and emotional side of things, consider seeing a sex therapist. Sites like aasect.org and psychologytoday.com can be a great starting point."
Why do I have a low sex drive?
There are several reasons why you might be experiencing a low sex drive post-winter, the experts say. Firstly, the greyer months tend to trigger feelings like despondency, irritability and sadness, which can lead to issues like sexual anxiety, fatigue, and even relationship burnout, which are hardly compatible with a healthy sex life.
White, who is also Satisfyer's director of education, points out that rates of seasonal affective disorder (SAD) are statistically higher in winter as well. "The symptoms associated with this disorder can also decrease libido and sex drive, with the state of dejection leading to reduced physical and social activity, which in turn further contributes to a lack of sex drive."
But it could be more long-term issues, says Capalbo. "I believe complacency starts to play a role as well. Couples stop flirting, they stop dating each other. They can get into a routine and start existing as more business partners than lovers. The focus of communication becomes task-oriented instead of a way of connecting."
But if your sex life has waned in recent years, this is also totally normal, she reminds us. "I do believe [complacency] may be more related to the amount of time a couple has been together. A newly dating couple in their 40s or 50s would not suffer from this problem in the same way as a couple would who had been together since they were 25." The key is to think of ways you'd both like to reinject the spark and improve your sex life.
A digital health journalist with over five years experience writing and editing for UK publications, Grace has covered the world of health and wellbeing extensively for Cosmopolitan, The i Paper and more.
She started her career writing about the complexities of sex and relationships, before combining personal hobbies with professional and writing about fitness. Everything from the best protein powder to sleep technology, the latest health trend to nutrition essentials, Grace has a huge spectrum of interests in the wellness sphere. Having reported on the coronavirus pandemic since the very first swab, she now also counts public health among them.