Holland & Barrett's CBD range is about to shake up your daily routine
Holland and Barrett CBD has something to offer everyone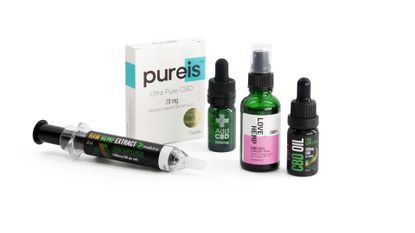 (Image credit: Holland & Barratt)
We're calling it. 2021 is the year of self-care, with a recent survey (opens in new tab) revealing that almost seven out of ten respondents (69%) who hadn't considered self-care pre-pandemic would now be more likely to do so in the future.
If the above resonates with you, then you'll no doubt have already started putting a selection of your favourite wellness items together to form a go-to self-care toolkit.
From balms to supplements, and everything in-between, it's all about looking and feeling your best from the inside out and vice versa.
And if you haven't considered adding CBD (cannabidiol) - an ingredient naturally sourced from hemp plants that are grown for nutritional purposes - to your routine, then Holland and Barrett's new CBD ranges could be about to change all that.
The famed high street chain is probably already on your radar as the UK's leading one-stop destination for all things wellness. And the sight of shoppers leaving its doors with paper bags filled with everything from traditional herbal remedies to large tubs of nut butter is a familiar one.
But did you know that Holland & Barrett was also the first major retailer to bring high-quality CBD products to the high street?
Yep, a closer look at its shelves will reveal they truly are the home of CBD, with a product line up that really does have something for everyone.
Holland and Barrett CBD range: a focus on quality, purity and safety
Each brand in Holland & Barrett's CBD range undergoes checks to ensure that no matter which CBD product you try, it will always be of the highest quality.
THC - the psychoactive element of the hemp plant from which CBD is extracted - can be a concern for those considering CBD. But it's reassuring to know that high-quality CBD products run no risk of getting you 'high', or addicted.
Holland & Barrett's expertly trained in-store staff are also always on hand to offer advice and guidance on choosing the right strengths and formats to suit you.
It's recommended that 'newbies' start at a lower level and build up to the recommended daily dosage. You'll notice different strengths on the packaging (e.g. sometimes there's a percentage, while at other times it's shown as milligrams), something the team at Holland & Barrett can also help you make sense of. You'll also find more information about CBD, as well as a host of other products, at Holland & Barrett's Health Hub (opens in new tab).
CBD: where it fits into your day
You're probably wondering where CBD fits into your already busy daily health and beauty routine. The good news is, is that it will take no more time to say yes to CBD then it does to sweep your much-loved shade of blusher over the apples of your cheeks or add a generous handful of bath salts to your night-time soak.
From morning to night it's never been easier to incorporate CBD into your lifestyle. Add a couple of drops of CBD oil to your breakfast, whether it's a warming bowl of porridge or a fresh fruit platter, or take a CBD capsule during the day. You could also try one of our handy portable formats specially designed to give you a measured dose of CBD, whatever the time of day and whatever your location - whether that's in the comfort of your own home or enjoying a day out. There really are no limits to how inventive you can be.
Holland and Barrett CBD range: what's on offer
If you thought that CBD was restricted to CBD oil, just as it comes, then it's time to think again.
Sprays, flavoured oils and food drops are just some of the exciting CBD incarnations on offer at Holland & Barrett. Let's take a look at the range in more detail.
Reakiro
Always on-the-go and want something that fits neatly into your handbag? Then the Reakiro Raw Hemp Extract RxPen (opens in new tab) could be just what you're looking for. With just one click this expertly designed, and fuss-free applicator gives you 25mg of CBD Hemp Extract, without a single drop of wastage. The range also includes oils, sprays and capsules in various strengths, like the Reakiro 500mg Full Spectrum Tincture (opens in new tab).
Love Hemp
If you love experimenting with flavours, then Love Hemp's range of flavoured sprays and oils will not only wake up your taste buds but also add a unique element to your journey with CBD. The all natural flavourings on offer include Valencia Orange, Peppermint and Raspberry (opens in new tab), which come in a variety of strengths. And if you're more of a CBD purist, you'll be glad to know that Love Hemp also comes in unflavoured capsules and sprays.
AddCBD
Introducing CBD into your favourite foods or cosmetics couldn't be simpler thanks to AddCBD. The AddCBD Food Enhancer is perfect for adding CBD to anything from your pre-gym protein shakes to your mid-morning cup of coffee. AddCBD's cosmetic enhancer range, including its 1000mg variety (opens in new tab), can be used to offer an added dimension to your favourite skin-care products, from foundations to cold creams.
Pureis
The Pureis range uses a form of CBD, produced in a lab, Pureis is an ultra-pure product, and the entire range has 0% THC. It's available as capsules, sprays and drops in a variety of strengths. There are also spearmint and orange flavour options available. Try Pureis CBD Capsules advanced absorption 20mg (opens in new tab).
Love hemp CBD, AddCBD and Pureis synthetic CBD are all suitable for vegans. Shop the full range in-store, on the app (opens in new tab) or online at hollandandbarrett.com (opens in new tab).
Not suitable for use during pregnancy, breastfeeding or by persons under the age of 18. Food supplements must not be used as a substitute for a varied and balanced diet. Always read the label.
Miriam worked for woman&home for over five years and previously worked on the women's lifestyle magazines Woman and Woman's Own.