Struggling with rosacea or acne? The problem may be in your gut according to a skin expert and nutritionist
Gut health has been linked to rosacea and acne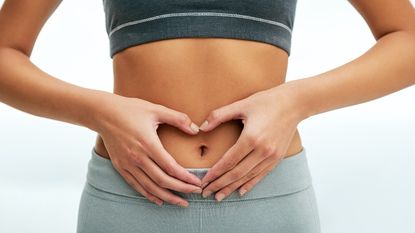 (Image credit: Getty Images)
Many of us at some point in our lives will struggle with skin conditions, whether that's adult acne, pigmentation or rosacea.
And while the best face cream is often touted as the secret to fabulously glowing skin, experts and nutritionists have another theory.
Nicola Russell, also known as The Skin Geek (opens in new tab), is an award-winning celebrity facialist with over 18-years experience. She's also the woman who bought the practice of dermaplaning (an exfoliating treatment that uses a scalpel to remove dead skin) to the UK.
On the topic of rosacea and acne, Nicola told woman&home, "People think that my time is mostly made up of anti-aging facials to turn back the clock with my clients. But in actual fact the biggest skin concern I treat is acne. I'm also seeing a rise in clients with Rosacea."
With recent research by the National Library of Medicine (opens in new tab) showing that people with acne and rosacea are more likely to have gut issues, Nicola has changed the way she treats these conditions, "I really believe it's a synergy of tactics that help, so it's not all about topical treatments, you need to look into internal issues as well."
Her go-to clinic treatments for rosacea and acne are chemical peels, Nd:YAG laser treatments, and Intense Pulsed Light therapy (IPL, better known as laser hair removal) but she'd also recommend a 2% Salicylic Acid cleanser as part of the best skincare routine for rosacea, to dissolve oil and dead skin once out of the clinic.
---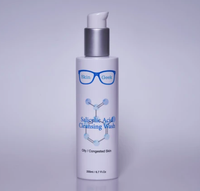 (opens in new tab)
Salicylic Acid Cleansing Wash, £29 | The Skin Geek (opens in new tab)
This cleanser contains 2% Salicylic Acid and works well for people with oily or congested skin. Work a small amount into damp skin, massage in, and rinse. Suitable for daily use.
But the secret to clearing up acne and rosacea isn't just topical, "if I feel like they need some nutritional advice or testing for things like food intolerances then I refer them to the professionals and I find working alongside a nutritionist massively helps the results I get with clients." Nicola shared.
She also notes that alcohol and sugary food can also be bad for our skin, "Refined carbohydrates trigger a surge of insulin and this can lead to hormonal imbalances that can exacerbate breakouts and inflammation in the skin, while excess alcohol dehydrates and reduces the blood flow to the skin, leaving you with a dull and unhealthy complexion."
This is something Nutritionist and Colon Hydrotherapist, Amanda Loughney from The Clinic Glasgow (opens in new tab) agrees with, "A diet high in refined carbohydrates and foods cooked in inflammatory seed oils will have a negative impact causing inflammation and possibly lead to a leaky gut and dehydration and lack of exercise will slow down transit time which will encourage bad bacteria to grow and overwhelm the good bacteria" she told us.
But stress can also cause an unhealthy gut environment, with chronic levels of stress caused by work or lack of sleep impacting the whole body negatively.
Why does gut health impact our skin?
"I see instantly after cleaning the gut, how different my clients skin looks; redness and inflammation is lessened, the skin appears glowing and even the whites of the eyes are brighter" Amanda told woman&home.
This is because our skin is the largest organ in the body and one of its functions is to eliminate a portion of the body's toxic waste through the pores. If the gut microbiome is out of balance and producing more toxins than the kidneys and liver can process, the skin takes over, becoming a visual barometer of your gut health.
"Science is becoming more aware of gut inflammation causing many different symptoms in many different organs, but as skin is our biggest organ it can bear the brunt. People with acne and rosacea, for example, have been proven to be more likely to have gut issues and even dull ageing skin can be linked to a sluggish digestive system" Amanda revealed.
How to treat rosacea naturally?
The good news is that some small changes to our diets will have very positive effects on the gut, these can be anything as simple as reducing caffeine and alcohol intake or adding a prebiotic and probiotic to your diet to feed and encourage good gut bacteria and help rosacea stressed skin.
Amanda advises speaking to a specialist to check for food intolerances and allergies as well as eating "bitter greens, turmeric root or apple cider vinegar in water before meals."
She also suggests eating plenty of different colored vegetables and fermented foods such as kimchi and sauerkraut to feed different good bacterias in the gut. And to eliminate the effects of stress she says "relax, and consider the Wim Hoff breathing technique to reduce stress and alkalize the body by increasing oxygen levels and strengthening the immune system.
Tackling skin issues like rosacea and acne has never proved simple, but it seems starting from the inside out might just be the way forward.
Lydia is woman&home's Lifestyle News Editor and a freelance travel writer. Day-to-day she manages an international team of nine news writers and oversees all news content on woman&home.com. Her travel writing has been published in BBC Good Food, Oh magazine, Harper's Bazaar, Town&Country, ELLE, MailOnline, Woman, and woman&home.