The best foam rollers to boost recovery so you get more out of every workout
We put the best foam rollers through their paces—here's what we found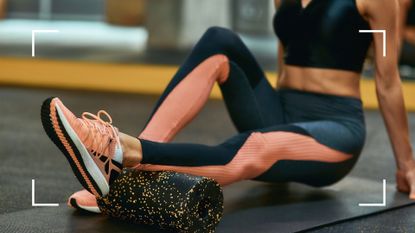 (Image credit: Getty Images)
woman&home newsletter
Sign up to our free daily email for the latest royal and entertainment news, interesting opinion, expert advice on styling and beauty trends, and no-nonsense guides to the health and wellness questions you want answered.
Thank you for signing up to . You will receive a verification email shortly.
There was a problem. Please refresh the page and try again.
Choosing one of the best foam rollers will enhance your workouts. A roller helps with warm-up and recovery alike, helping your body to release tension in the muscles and lowering your risk of injury.
We've called on the experts to explain how foam rolling pre and post-workout can help you move better—whether you are doing low-impact yoga or hardcore strength training—as well as what to consider when purchasing a foam roller. There are top options for both fitness newbies and veterans, as well as choices to suit every budget. We're certain that, just like sourcing the best running shoes or one of the highest-rated fitness trackers, this is a fitness buy that will make all the difference to your workouts.
How can the best foam rollers help you achieve your health goals?
Why you can trust Woman & Home Our expert reviewers spend hours testing and comparing products and services so you can choose the best for you. Find out more about how we test.
"Everybody thinks that exercise is the main thing that contributes to improved fitness," says personal trainer Aimee Victoria Long. "However, if you aren't well recovered then your performance in sessions will decrease and the likelihood of you picking up an injury will increase." This is where a foam roller can come in. "They can be used to help with recovery by releasing tension in your worked muscles—like your hamstrings, quads, glutes, and back," she explains.
So, how exactly does foam rolling work? "It targets the fascia, which is the connective tissue that holds the structures of the body together," says Antonietta Vicario, the vice-president of talent and training at fitness brand P.volve. "Fascia can get really tight and restrictive, which may interfere with the movement of muscle as well as the range of motion, and if not released it can also cause pain and potential musculoskeletal issues. Foam rolling can help counter this, promoting blood circulation and allowing for overall mobility and strength."
However, they're not just useful for recovery—but also for prepping your body pre-workout too. "I would recommend foam rolling as a vital part of your warm-up before exercise," notes Rebecca Myers, a personal trainer and founder of health and lifestyle app Live Happy. "For example, using the foam roller on your quad and hamstring muscles before a run will really help warm up your muscles before you start and help to avoid injury." She adds that many different muscle groups can be warmed up using a foam roller, including all the way down your back and along the outside of your thigh, known as the IT band.
The best foam rollers, tried and tested by us
1. P.volve Precision Foam Roller
Best overall foam roller
Specifications
RRP: $24.99 / £18.50
Color: Green
Size: 13 inches x 5.5 inches
Weight: 2.4 lbs
Reasons to buy
+
Very firm for a deeper massage
+
Easy to transport
+
Stylish design
Reasons to avoid
-
Most suitable if you've been foam rolling a while
If you pride yourself on cultivating a chic home environment, the P.volve Precision Foam Roller's stylish, high-quality design certainly won't look out of place if it's left lying around after a home workout. However, as well as being an attractive piece of equipment, it's got substance too, and features numerous ridges to ensure it will effectively activate the muscles all over your body. Additionally, it is fairly light in weight, and also features a hollow center, making it easy to transport to the gym or travel away with. Our tester loved how firm the roller felt, and particularly liked how it worked on their back. However, it may on the flip-side be a little too intense for total beginners to foam rolling. If you're looking for a bit of guidance, the roller can also be purchased with P.volve's monthly membership which allows you to stream online workouts on demand from anywhere.
2. Hyperice Vyper 3
Best vibrating foam roller
Specifications
RRP: $199 / £189
Color: Black
Size: 13 inches x 5.4 inches
Weight: 2.7 lbs
Reasons to buy
+
Vibrates for an extra effective massage
+
Can be controlled via phone
+
Varying intensity levels
Reasons to avoid
-
It's on the pricier side
This is a more luxurious choice, but one that could be well worth the investment. The Hyperice Vyper 3 emits a powerful vibrating massage that will speed up your warm-up and recovery times—so it's great if you're trying to fit a session into a busy schedule. Its contoured design, using eco-friendly materials, helps avoid pressure on your spine and other sensitive areas, while the rubber bands at each end better stabilize your roll. There are three speeds for varying intensity levels, and the roller can be easily controlled via the Hyperice App—which can also provide guided sessions and monitor your progress. Our tester was a huge fan of how slick the roller was to use, and felt that its ability to warm up leg muscles pre-workout and relieve tension after exercise was far superior to a manual roller. However, of course, the high price might not make it an option for some and, while it holds two hours' worth of power, it does also need to be charged up from time to time.
3. Decathlon Aptonia 100 Soft Foam Roller
Best budget foam roller
Specifications
RRP: $14.99 / £9.99
Color: Black
Sze: 12.9 inches x 4.9 inches
Reasons to buy
+
Ideal for beginners to foam rolling
+
Smooth surface for gentler massage
+
Great value for money
Reasons to avoid
-
Can't vary the intensity
The Decathlon Aptonia 100 Soft Foam Roller is most suitable for those still getting to grips with foam rolling. It features a gentler, smooth surface—made from environmentally friendly material with a lower C02 impact. That said, the medium hardness means the massage it provides is still very effective. Our tester found it worked particularly well on their calves. Although, one very small downside is the lack of ridges—or speed options—which means the intensity can't be varied, and is something to bear in mind if you like to mix things up or want to progressively challenge your body. Its plain black color and simple design enables it to blend well into most home gyms, and it is also lightweight enough to transport easily. The biggest plus point is, of course, its low price—so if you're a beginner and unsure whether foam rolling is for you, then this is an ideal place to start.
4. TRX Rocker Foam Roller
Best firmer foam roller
Specifications
RRP: $34.95/ £39.95
Color: Black
Size: 13 inches OR 26 inches long
Reasons to buy
+
Very firm for a deeper massage
+
Extra-long option available
+
Can target specific muscles better
Reasons to avoid
-
Best if you've been foam rolling a while
This is a foam roller with a difference—the TRX Rocker focuses on, as you might have gathered, 'rocking' rather than 'rolling' which they say is better for more targeted muscle release. Its rather unique, ridged design—while appearing a little intimidating at first—is geared towards really getting at specific areas of tension, and our tester really liked how firm and sturdy it was. The roller has also been created with three levels of intensity so you can switch up how deep you go depending on what your body needs. This foam roller is particularly ideal for those wanting to take their foam rolling up a notch, but is therefore perhaps less suitable for beginners. One of its biggest plus points to bear in mind is that it is available in lengths of 13 inches or 26 inches—with the latter longer size very suitable if you mainly foam roll over larger areas like your back.
5. Meglio Grid Foam Roller
Best lightweight foam roller
Specifications
RRP: £12.99 (UK only)
Color: Black, blue, purple, orange, red, silver, pink and black/ white
Size: 12 inches x 5.5 inches
Weight: 0.4 lbs
Reasons to buy
+
Very lightweight for transporting
+
Varying intensity levels
+
Great value for money
Reasons to avoid
-
Feels a little less sturdy than some
There is a lot going for this nifty Meglio Grid Foam Roller. For starters, the price should suit most budgets, and is a great entry point if you're new to this recovery-boosting method. Another feature that makes it a great all-rounder are the varying intensity levels. Its patterned design, which is engineered to mimic a therapist's hands—including grooves for the finger, palm and thumb—features three different textures incorporating 'matrix' technology for a range of massages. The other big plus point is that it is incredibly lightweight, meaning it can be transported very easily. However, our tester found this meant it did feel a little less sturdy than some. Meglio recommends this roller as particularly suitable for larger muscle groups, including the IT band, calves, glutes, quads, back and shoulders. Additionally, unlike other options, there are a range of color options to brighten up your workout.
6. Adidas Foam Roller
Best gentler foam roller
Specifications
RRP: £13.79 (UK only)
Color: Black/ red OR Black/ blue
Size: 14.9 inches x 5.5 inches
Weight: 1.6 lbs
Reasons to buy
+
Smoother surface for beginners
+
Slightly longer in length
+
Great value for money
Reasons to avoid
-
May not work deeply enough for some
Another option that's great for beginners is the Adidas Foam Roller. Its hollow, plastic core provides a lot of muscle-activating pressure, and makes it a very durable piece of equipment. However, its dense foam outer layer, which is largely smooth, allows for a more comfortable massage—and it's made from a material that has been devised to retain its shape, even after repeated use. However, some may find that it is still a little too spongey to work effectively, and doesn't go deep enough. It is also that little bit longer than many standard-sized foam rollers, meaning it can be effectively used all over the body. What's more, there are two color options—black and red, or black and blue—and the aforementioned hollow center, along with its relatively light weight, means that it is easy to take to the gym or travel with.
How we tested the best foam rollers
There are many factors to consider when choosing the best foam roller in order to ensure you can use it effectively and give your at-home workouts a boost. Here's what we considered when we put the top options to the test:
Function—the most important feature of any foam roller is that it fulfils its core purpose, to effectively warm up your limbs by activating muscles before a workout, and then help areas of your body properly recover after exercise by targeting the fascia. Our testers looked at the varying levels of intensity, and considered whether certain options with a smoother, spongey surface were better for beginners, while other firmer, ridged choices were more suitable for those who have been foam rolling for a while.
Design—similarly, a foam roller should be created in a way that's easy to use—and there may be additional features to help with that, like if it's extra long to cover a larger surface area or if it vibrates for a speedier session. Our testers additionally took into account whether the rollers were aesthetically pleasing for most home or gym training environments, if they were built in a durable way to last, and whether they were lightweight enough to easily transport.
Price—just like all exercise equipment, including the best dumbells, foam rollers vary in cost. While some more budget options may be better suited to beginners wanting to give foam rolling a go for the first time, others who can spend a bit more—and want to challenge themselves further—will likely be rewarded with extra features like varying levels of intensity and app connectivity. Whatever the price, our testers considered whether there was value for money.
What should you consider when choosing the best foam roller for you?
Go easy—"If you're a newbie to foam rolling it can be painful, so start with a low- or medium-density roller," suggests Anette Grasmo, a personal trainer at fitness platform Ponzu. "Once you get comfortable when using a smooth-sided foam roller—which is gentler—try using one with a ridged or bumpier texture to increase the pressure and go deeper into the muscle." She also notes that investing in a vibrating foam roller can be a smart choice, explaining: "It gives a really nice massage." Talk about great workout motivation.
Save money—But one thing's for sure, you don't need to spend a lot. "Foam rollers needn't be expensive," says fitness coach Hanna Kim. "Although, go for one that's good enough quality it won't disintegrate under pressure. Some of the softer foam rollers are made of a toughened polystyrene type material which tends to get squashed over time." In contrast, the more solid, ridged rollers will be much more durable.
Test yourself—Myers points out that you need to find a balance—one that's tough, but not too much. "If the roller is too soft you won't feel the positive effects enough, although too strong and it will be incredibly uncomfortable," she explains.
Be practical—"One of the key things to look out for is something that you can clean easily, since foam rolling incorporates moving along the ground—for this reason, I recommend staying away from anything too porous," says Vicario.
Check length—"You also want the roller to be long enough that it is easy to lie on," adds Vicario. "Placing the foam roller under your shoulder blades and lying back is an excellent way to open the chest and postural muscles and relieve some tension in the neck and shoulders." If you want to take this further, yoga for beginners can help.
---
w&h thanks personal trainer Aimee Victoria Long (opens in new tab), Antonietta Vicario, vice-president of talent and training at P.volve (opens in new tab), Rebecca Myers, personal trainer and founder of app Live Happy (opens in new tab), Anette Grasmo, personal trainer at Ponzu (opens in new tab), and fitness coach Hanna Kim, for their time and expertise.
Lauren is a freelance writer and editor with more than six years of digital and magazine experience. In addition to Womanandhome.com she has penned news and features for titles including Women's Health, The Telegraph, Stylist, Dazed, Grazia, The Sun's Fabulous, Yahoo Style UK and Get The Gloss.
While Lauren specializes in covering wellness topics—ranging from nutrition and fitness, to health conditions and mental wellbeing—she has written across a diverse range of lifestyle topics, including beauty and travel. Career highlights so far include: luxury spa-hopping in Spain, interviewing Heidi Klum and joining an £18k-a-year London gym.