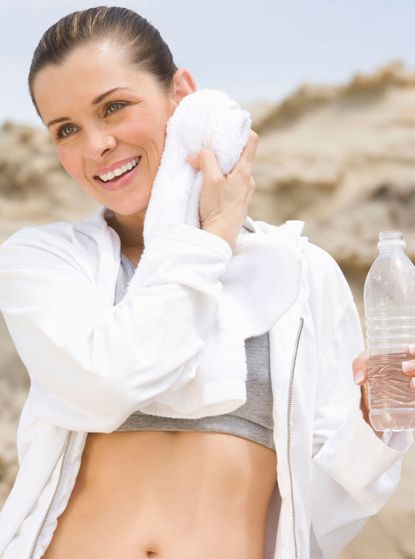 woman&home newsletter
Sign up to our free daily email for the latest royal and entertainment news, interesting opinion, expert advice on styling and beauty trends, and no-nonsense guides to the health and wellness questions you want answered.
Thank you for signing up to . You will receive a verification email shortly.
There was a problem. Please refresh the page and try again.
Tuck into the tastiest Dukan-friendly recipes today...
Fast weight loss without cutting calories is a dieter's dream - and it's exactly what the Dukan diet offers, with more than 100 foods for you to choose from.
Developed by French doctor Pierre Dukan over 30 years ago, the diet's popularity has been boosted by celebrity fans including Jennifer Lopez and Carole Middleton (who used the diet to slim before her appearance as the mother-of-the-bride before the royal wedding).
Stick to Dr Dukan's list of foods and you could lose impressive amounts of weight within days. Split into four phases, the diet starts with a protein fix (with a massive 72 foods to choose from) and then gradually increases the food groups available until you reach the fourth and final stage, which offers a template to stay slim for the rest of your life.
The Attack Phase


The Cruise Phase


The Consolidation Phase


The Stabilisation Phase
Click through to find out the simple rules of The Dukan Diet, plus 19 Dukan-friendly recipes. It is possible eat all the foods you love - and still stay slim!
Click here to buy The Dukan Diet by Dr Pierre Dukan (opens in new tab)
Dukan diet: The Attack Phase
During The Attack Phase, which can last up to 10 days, you can eat as much of the following foods as you like, without restriction: Lean meat: Beef and veal, grilled or roasted without oil or fat. Offal: Kidneys, liver, beef tongue (tip). All poultry, except duck and goose - without the skin. All fish. All shellfish. Low-fat ham, sliced, low-fat chicken and pork. Eggs. Non-fat dairy. At least one and a half litres of water.
Dukan diet: The Cruise Phase
During The Cruise Phase, you can continue to eat everything you were allowed during The Attack Phase. Now add these vegetables, alternating meals of proteins with vegetables, with meals without any veggies, until you reach your goal weight: Tomatoes, cabbage, cucumber, mushrooms, radishes, celery, spinach, fennel, asparagus, all salad greens, leeks, swiss chard, french beans, aubergines, courgettes, peppers.
Dukan diet: The Consolidation Phase
How long this phase lasts depends on how much weight you have lost, based on five days for every pound shed. For example, if you have lost 40 pounds, you have to to follow it for 40 x five days, i.e. 200 days or six months and 20 days. During this phase, you are allowed the following (including all the foods from the first two phases): One serving of fruit a day, except bananas, raisins and cherries. Two slices of wholemeal bread a day. 40g of cheese a day. Two servings of starchy foods a week. Lamb and pork roast (lean meat). Then, you can have two meals per week of whatever you choose, but also must have one day of pure proteins per week, on the same day each week.
Dukan diet: The Stabilisation Phase
This is the permanent diet that you should follow for the rest of your life to stay at your desired weight. You can go back to eating what you want six days out of seven - but keep the foods from The Consolidation Phase as your platform for choosing meals. Remember everything you have learnt in the first three phases and don't break the good habits that you have acquired. Keep one protein-only day for the rest of your life. Exercise. Take three tablespoons of oat bran every day for the rest of your life.
Dukan diet: The Importance of Drinking Water
You must drink plenty of water on this diet. The more water you drink, the more opportunity your kidneys have to eliminate waste from the foods you are burning off. Water is the best natural diuretic and, when water is combined with pure proteins, they act powerfully to reduce cellulite. You can also drink tea (green, herbal etc) and diet fizzy drinks.
Dukan diet: The Three Nutrient Groups
All food can be broken down into three groups: Carbohydrates, lipids and proteins. Carbohydrates, although very enjoyable, are the least necessary - especially white carbs like sugar, biscuits and crackers. Lipids, which are fats, are the enemy! They are the most concentrated form in which surplus energy is stored and increase your chance of gaining weight. So steer clear of foods such as hot dogs, pâtés, sausages and salami. Proteins are found in the leaner cuts of meat and are extremely low in fat. Beef is a good source, as are chicken hearts, kidneys, liver and tongue. Fish is also a good source, as are eggs and cottage cheese.
Dukan diet: Dukan For Life
Once you have reached the fourth phase of The Dukan Diet and wish to continue this as a life plan, here is a list of the foods you will be able to eat: Beef, except for ribs and cuts used for braising and stewing. Lean cuts of veal. Poultry, except for duck and goose. All fish and seafood. Eggs. Non-fat dairy products. Click here to buy The Dukan Diet by Dr Pierre Dukan (opens in new tab) Keep clicking for delicious recipe ideas...
Dukan diet: Peri-Peri Chicken Breasts with Blackened Corn Salad
With African and Portuguese roots, peri-peri seasoning is packed with spice and flavour - perfect for adding variety to a Dukan diet! Try our peri-peri chicken breasts with blackened corn salad recipe - the salad is perfect for those who've reached the The Consolidation Phase.
Dukan diet: Jerk Chicken and Coleslaw
Leave out the yoghurt and mayonnaise dressing from the coleslaw in our jerk chicken and coleslaw recipe - other than that, it's perfect for Dukan devotees!
Dukan diet: Lime and Lemon Smoked Haddock Carpaccio
Taken from The Complete Dukan Cookbook by Dr Pierre Dukan, lime and lemon smoked haddock carpaccio fits in well with the consolidation and stabilization elements of the Dukan diet.
Dukan diet: Spicy Grilled Chicken Skewers
This super-simple spicy grilled chicken skewers recipe is fast and easy - and with just three ingredients, it's perfect for whipping up whenever you're craving something to eat!
Dukan diet: Mackerel Salad with Fennel and Orange
Packed with healthy protein and oils, and with a zesty salad - you can't beat our mackerel salad with fennel and orange recipe.
Dukan diet: White Fish with Mango, Black Olive and Tomato Salsa
Satisfying and bursting with flavour but without any carbohydrates - this white fish with mango, black olive and tomato salsa recipe is a Dukan dream.
Dukan diet: Calamari Provençale
Taken from The Complete Dukan Cookbook by Dr Pierre Dukan, this calamari provençale is the ideal meal for the consolidation, stabilization and cruise phases of the diet.
Dukan diet: Easy Seafood
All fish and seafood is allowed in every phase of the Dukan Diet, which is a brilliant opportunity to try seafood you might not have had before! Try our easy seafood recipes for entertaining or dinner at home.
Dukan diet: Monkfish Kebabs with Bacon and Sage
The meaty texture of monkfish and strong flavours in this monkfish kebabs with bacon and sage recipe will satisfy any dieter's cravings.
Dukan diet: Roast Chicken Salad with Eggs, Chives and Sourdough Croutons
Dukan dieters in the early stages should ditch the croutons - but this roast chicken salad with eggs and chives recipe is so flavoursome you won't even miss them!
Dukan diet: Thai Rare Beef Salad
Clean and fresh, it's best to use tender fillet of beef for this Thai rare beef salad recipe - but you could also use prawns or cooked slices of chicken. It's a great lunch dish or a dinner party starter.
Dukan diet: Stir-Fried Garlic Prawns and Mushrooms
Taken from The Complete Dukan Cookbook by Dr Pierre Dukan, stir-fried garlic prawns and mushrooms is for the cruise, consolidation and stabilization phases of the diet.
Dukan diet: Serrano-wrapped Beef Fillet with Mixed Mushrooms
You can prepare this serrano-wrapped beef fillet with mixed mushrooms, roasted leeks and red peppers with parmesan recipe ahead - handy for entertaining!
Dukan diet: Griddled Rump Steaks with Balsamic Tomatoes
With fresh cherry tomatoes and the unmissable flavour of balsamic vinegar, you won't miss carbs in this griddled rump steaks with balsamic tomatoes recipe.
Dukan diet: Halloumi, Aubergine and Red Pepper Kebabs
Halloumi is moreish but be sure to keep to your cheese allowance - these halloumi, aubergine and red pepper kebabs are a real treat.
Dukan diet: Griddled Chicken Salad with Courgettes and Cannellini Beans
With Dukan-friendly vegetables and plenty of protein-packed chicken, this hearty griddled chicken salad with courgettes and cannellini beans recipe makes a great main meal.
Dukan diet: Sauté of Lamb with Artichokes and French Beans
Taken from The Complete Dukan Cookbook by Dr Pierre Dukan, sauté lamb with artichokes and french beans is the ideal consolidation and stabilization meal.
Dukan diet: Courgette and Goats' Cheese Tortilla
Leave out the potatoes and go easy on the cheese to transform our courgette and goats' cheese tortilla recipe into a Dukan-friendly quick supper or lunch.