Slimming World CEO Caryl Richards On Transforming Women's Lives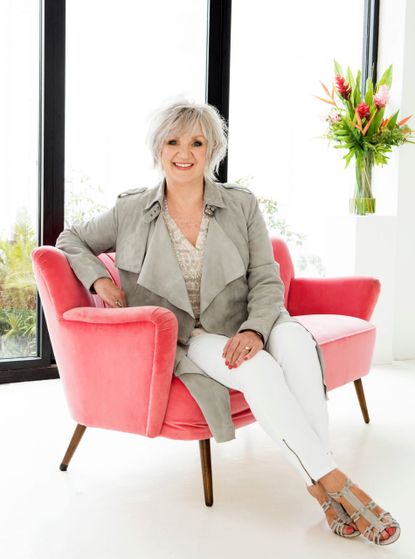 FROM MEMBER TO CEO – MY SLIMMING WORLD STORY
Like a lot of women, I first struggled with my weight in my early twenties, managing to lose a stone or two each time I gained it. Then when I was pregnant with my daughter Jane I put on four stone and felt dreadful. I lost some of the weight when Jane was born but still had a way to go. I knew all about healthy eating but didn't particularly enjoy great healthy foods like veg, lean meat and salads! I've always had a sweet tooth and always loved a glass of wine!
I heard about Slimming World through the teachers at Jane's nursery and joined my local group in Wittering, Cambridgeshire. I learned to change how I ate - to actually enjoy fresh veg and salad, and to cook fresh, healthy meals. I discovered I could still socialise and enjoy a glass of wine! Over a period of about six months, I'd lost the extra weight.
It was more than just weight loss though. By finding Slimming World, I started to find myself again. Before I had Jane, I'd left a job I loved with Cadbury Schweppes in London, and we'd moved to a new area. For a while I was unemployed, unhappy with my weight and had no friends in the area. In my Slimming World group, I found people who were understanding and compassionate - and lots of fun!
Losing weight can be more complicated for women than men. The truth is, we don't just eat because we're hungry - we eat when we're happy, sad, anxious, stressed, when we're socialising and when we're lonely. It's a deeply emotional issue for many women. Men really are much more goal-focused, and when they put their mind to losing weight, they do incredibly well. Making changes to lifelong habits isn't easy. It takes commitment and you need support. We understand the psychological as well as the physiological barriers to weight loss - and it makes all the difference.
A NEW CAREER HELPING OTHERS
I wanted to help people in the way that I had been helped. That's the way that Slimming World works - people who've been inspired to lose weight are the best people to help others do the same. So with training and support I became a Consultant and opened my own group in Peterborough, as a self-employed franchisee under the umbrella of the Slimming World brand.
I firmly believe in helping everyone realise their potential. What's important is finding people who share the same values and are genuinely motivated by helping others achieve their dreams. We look for people who have bags of empathy, who understand the ups and downs of losing weight, are naturally positive and prepared to work to make their business a success.
What's so inspiring is that nearly everyone who's part of the organisation started because they wanted to lose weight. They weren't looking for a career move - but they fall in love with the ethos and the philosophy, and find themselves running their own business in a new organisation. It's incredibly empowering for someone whose confidence was at an all-time low before they found their group and, because it's so flexible, it's a great role to have when you have a young family.
After a year I became an area manager, helping other women in Cambridgeshire to open groups and run their own business. A year later, I became a regional manager before becoming a director, and discovered what it was like to work with Margaret Miles-Bramwell, who started Slimming World in 1969. She's incredibly inspiring. It was her vision to create a new way; a company founded on empathy and understanding, and whose success would be built entirely on the satisfaction of its customers' needs. We still hold true to that vision today. This job wouldn't have been possible without my husband loving Slimming World too! Mike became a stay-at-home dad (or, more accurately, a do-whatever-it-takes-to-make-the-home-work dad!) after taking voluntary redundancy when our daughter was younger, and he's been behind me since the beginning. Slimming World is such a huge part of my life and my family's life, and I don't ever see myself leaving - there's still so much we want to do. I can't imagine any other business where there's so much passion and commitment to helping people transform their lives. It really is the best job in the world.
THE BUSINESS IS ALL ABOUT THE PEOPLE
We have 4,500 self-employed Consultants, running weekly groups, supported by 400 team developers, 50 district managers (49 are women), and 25 senior managers in the field and in our Derbyshire head office, where Margaret founded the company.
Every manager in the field has been a group member. There are five company directors - four of us women. We have 320 employed staff at head office, many of whom started their career in junior positions and now manage teams and departments. Recently, we've strengthened our home-grown team and recruited experienced managers, function heads and specialists, for instance in talent management, logistics and digital, to ensure we have the resources to achieve our long-term goals.
As CEO, one of the main challenges is getting the right people. Maintaining the company's culture as we take it forward is crucial. Our understanding of the damage that self-criticism and low self-confidence can do to an overweight person runs through everything we do in our people development. Change can only happen when people feel safe and strong, valued and included. So leading our teams in this way is essential.
The biggest challenge is helping people lose weight. It's not easy to lose weight in today's obesogenic lifestyles. Busier lives mean less time to cook from scratch. Convenience meals and fast foods are easily available. More alcohol is consumed at home, more people own cars and our lives are more sedentary. Plus, emotional and societal pressures affect our ability to manage our weight - especially for women. Weight gain is often a deeply rooted psychological issue. People find it hard to make change happen. Often they come to Slimming World after many failed attempts to lose weight or to keep it off, and are feeling very low. We have to make them believe, very quickly, that they can do this.
Slimming World's eating plan, Food Optimising, is based on the science of satiety and energy density. It helps steer people towards foods that are filling and low in calories, and naturally limits those that are high risk for weight. It's coupled with an activity programme, Body Magic, which encourages members to develop a more active lifestyle at their own pace; really important for long-term healthy weight maintenance. Both are underpinned by IMAGE therapy - Individual Motivation and Group Experience - our own unique support programme devised by Margaret 47 years ago. We have a research programme (to the value of £2 million), working with leading scientists and researchers from across the globe to identify causes of obesity and deliver the most effective solutions.
This year will see our first determined step overseas, starting with the USA. There are huge logistical challenges in opening groups in the USA, so we've developed an innovative online service, which we're very excited about.