Rosemary Shrager reveals the secret method behind dropping three dress sizes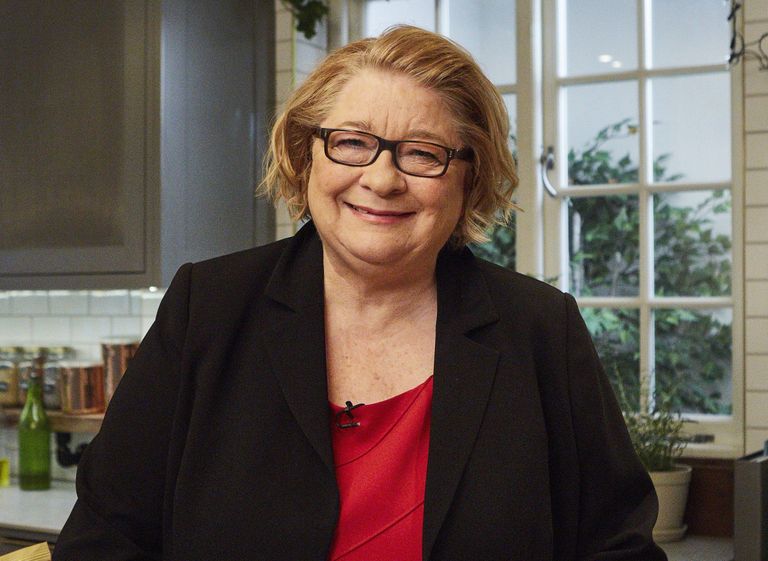 By Amy Hunt
TV chef Rosemary Shrager has shared how she recently dropped down three dress sizes, after employing one simple trick into her diet - and she looks fabulous!
The 67-year-old has starred on a variety of shows including I'm A Celebrity,The Big Family Cooking Showdown and most recently, The Real Marigold on Tour (airing tonight).
In the past, she's been open about her struggle to lose weight, confessing, "I'm never going to be thin".
But during a recent weight loss effort, Rosemary shared that she has dropped a remarkable three dress sizes, and around 14cm from her waist.
And the secret to her slimming actually seems to be pretty straightforward.
(Rosemary after her weight loss)
In a recent interview withMetro, the TV chef revealed that she has a 16-hour period during 24 hours where she fasts, meaning she only eats between midday and 8pm.
She admitted, "I don't have anything to eat until midday and I don't eat anything again after 8pm so I'm fasting 16 hours a day. It's so easy and my energy levels are totally different.
Rosemary also admitted how her caffeine habits have changed. She said, "I'm a bit of a grazer and spend all day tasting things, as you do as a chef, but I only do coffee before midday."
Previously, Rosemary Shrager has revealed that she also has another, rather unusual method of keeping her weight under control.
(Rosemary before her weight loss)
She confessed that eating prunes has been a key factor in helping her shift the pounds - revealing that she eats them "like sweets".
Rosemary shared, ""I love prunes – this is not a wind up! I seriously love them, and I have always loved them, and I eat them like sweets."
The chef also went on to reveal how much better her recent weight loss has made her feel.
"I've lost three dress sizes and I feel a lot better in myself – my skin is clearer, my arthritis has eased, everything is better."
However unusual, it seems there is actually some science behind the idea. Given that prunes are high in fibre, studies have found that they could be very beneficial if you are attempting to lose weight.
MORE: Can the Ketogenic Diet help you lose weight? We debunk the high-fat diet myths
People who want to lose weight have often been told to avoid the fruit, given the high levels of sugar found in them. Often, people who want to slim down have been told to eat only 30 grams of the stuff per day.
But a recent study from the University of Liverpool shared that prunes can help to tackle hunger.
Dr Jo Harrold, from the University, spoke about the benefits of prunes. She said, "These are the first data to demonstrate both weight loss and no negative side effects when consuming prunes as part of a weight management diet.
"Indeed in the long term they may be beneficial to dieters by tackling hunger and satisfying appetite; a major challenge when you are trying to maintain weight loss."