The best recipe boxes for quicker, healthier meals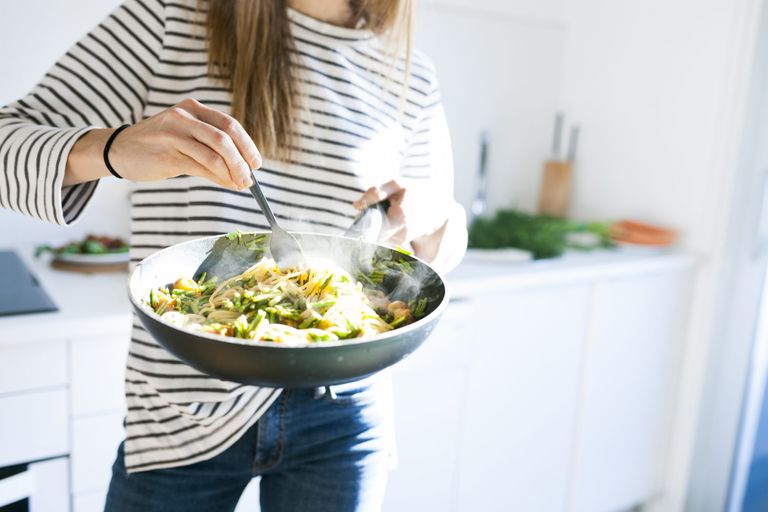 With hectic lives darting from place to place, for most of us, cooking dinner at the end of the day is usually the last thing we want to do.
Especially at this time of year, when it's darker for longer than it is light, and just stepping out of your front door feels like a walk through the Antarctic. Let's face it; slaving over our hobs can be a pretty unattractive prospect.
And when it comes to healthy meals - you can pretty much forget about it. When winter comes around, all we really want is some yummy comfort food, right?
But that's where recipe boxes come in. A super-handy way of making dinner, recipe boxes - or food boxes as they're often referred as - come complete with all the ingredients you need for each meal, and most often, already measured out into the amount you'll require.
Best of all, most recipe boxes will be introducing you to new meals that you may not have thought of cooking yourself - eliminating the need for an evening spent pouring over cook books and recipes online.
There's a huge selection of recipe boxes out there, but it's all about choosing which is best for you and your family. So which recipe box is the best?
The best recipe boxes and food delivery boxes
Gousto
Perhaps the most well-known recipe box out there, Gousto has been leading the way for years now. Their boxes, full of fresh and tasty ingredients, come in two variations. You can buy a two-person box, costing between £24.99 for two recipes, and £34.99 for four recipes.
Also on offer is a family box, which will provide two meals at a cost of £31.75, three for £42.75, and four for £47.75. Gousto advises that the family box should serve around two adults, and two/three children.
So what kind of meals will you get with Gousto? Well, you can choose the delicious recipes you get with their 'build the box' function, and can make everything from an easy king prawn linguine, to a healthy, roast veg tabbouleh, or an Indian spiced chicken tray bake - the possibilities are pretty much endless.
And it's also interesting to note that Gousto are making efforts to reduce the amount of plastic packaging used to keep the food in their boxes fresh. They revealed that they have committed to reducing 50% of their plastic by the end of 2019. Plus, the box the food comes in is biodegradable, so all the better.
Abel & Cole
For those concerned about their impact on the environment (which really, should be all of us), this one is for you. Abel & Cole recipe boxes contains only organic ingredients from local, sustainable producers.
So what kind of food can you look forward to? Customers can expect plenty of fresh, seasonal fruits and vegetables, as well as quality meats and fish. An example of one dish is venison minute steaks with honey and thyme roasted roots, while another is a speedy mushroom stroganoff. Sounds delicious...
You can also categorise by need, as there are plenty of other recipe boxes including a seasonal soup recipe box, a seasonal smoothie recipe box, a slow cook recipe box and a special Christmas edition.
Prices start from just £6 a plate. Perhaps a downside of Abel & Cole is that deliveries only happen once a week in your area, so you'll need to make sure you can be in that day to put the ingredients away. However, this is done in order to reduce fuel emissions, so we can't deny that it's a good idea.
Hello Fresh
Unlike some other recipe boxes, you can be a little bit more flexible with Hello Fresh. Instead of only being able to choose from a set amount of recipes for a certain number of people, this food box service allows you to choose how many meals you want, and how many you need to serve.
More:Learn how to make Kombucha at home with Lakeland's Kombucha kit
However, there are a few specific plans you can choose from to make picking your food box a bit easier. The family plan offers 'fuss-free' meals that the kids (and adults) will love with minimal washing up, while the classic plan offers up some more adventurous dishes. However, you can also set your preference to whatever type of food you want (low calories, veggie) to get the right meals for you.
There's also the rapid plan, perfect for the time-poor - whether you're a parent, working professional, both, or simple a busy person! These meals take less than 20 minutes to cook up, with minimal prep.
Mindful Chef
Endorsed by none other than Andy Murray, Mindful Chef food box is all about good, healthy, natural food sourced from the most ethical places possible around the UK.
According to the company's founders, "All of our meat is 100% grass-fed, our chicken is free-range, our fish landed fresh in the UK and our vegetables are cultivated in the most natural way possible. All our suppliers adhere to the highest ethical codes, and we regularly visit every one of them."
And that's not the only positive thing Mindful Chef is doing. If you're plan on ordering from them, you can be safe in the knowledge that they're also doing their bit for the wider world - donating one school meal to a child living in poverty for every meal they sell.
However if you're a fan of carbs - namely pasta, bread and white rice - this may not be the recipe box for you. Mindful Chef will never include these in their recipes boxes in their bid to reduce our intake of refined carbs.
But with delicious-sounding recipes including a yellow Thai fish curry and a pork chilli, who needs carbs?
Jane Plan
If you're looking to hit some weight loss goals this New Year and want it made a little bit easier, Jane Plan could be a perfect solution. Their food box is targeted at customers based on how much weight you wish to lose - 1 stone, 2 stone or more, or three stone or more. The plans also vary in cost from £199 - £249, with the added bonus of being able to take weekends off, in order to indulge or mix up your diet plan!
And far from being dull, healthy food - the recipes are delicious and filling. For lunch, customers can look forward to chicken arrabbiata, penne rigate, or a three bean salad.
For dinner, there's also a choice of chicken or beef casserole, a chilli con carne, or a warming cottage pie on offer. There's also a range of snacks, including a luxury chocolate bar and lemon shortbread.
And if you needed any more incentive, Woman and Home are offering £25 off your first month on the plan. Sign up now and use the code WH25 at janeplan.com, or call 020 3489 4770 and quote WH25.
Riverford
Determined to cook with more seasonal veg in 2019? Then listen up, because the Riverford recipe box might be ideal. These guys are committed to championing fresh, local produce eaten at the perfect time of year - and so they've cooked up some recipe boxes that will help you do the same.
Choose from a few different types of food box including a vegan option, vegetarian, meat, light, simple, foodie and prime cuts, and whichever you decide on, you know you'll be getting the best seasonal offerings.
Or, if you'd rather not have recipes decided for you, you can also get a separate delivery box of simply salad, veg, fruit, dairy products, meat, herbs and spice, or juicing ingredients. There's also a huge range of sweet treats, breads, baked goods, deli ingredients or drinks on offer too - where do we sign up?!
By ordering your produce this way, you can (hopefully) make sure you're receiving food that is at it's best at any given point in the year which, let's face it, saves you the bother of doing the arduous work yourself!
Boxes vary in price depending on what you want to order - so get browsing for some delicious tasty treats...
Balance Box
Staying in shape and getting healthy can be hard, even if you have made it your New Year's resolution. But Balance Box makes everything much easier, giving you a meal plan and recipes for the entire day, rather than just one meal a day, like most of the other boxes.
It's one of the most healthy boxes on offer, with things like a homemade fruit, nut and granola bar and pear and pistachio nuts included as just some of your daytime snacks.
There are two different plans: the lighter plan and the market plan. Both include breakfast, lunch, dinner and two snacks a day, and are super-healthy - with no added additives or preservatives.
More:Should we be avoiding this 'healthy' vegetable oil?
The market plan box, where users consume 1,800 calories per day, could be a great way to kick-start your healthier lifestyle, as both are still aimed at weight loss.
Balance Box also gives you a variety of choice, depending on your normal diet. Customers can choose from a classic meal plan, a vegetarian one, a pescatarian option and a free-from plan, for those who are unable to eat gluten.
The plans range from £22.99 - £27.99 a day, so they aren't cheap - but you won't need to buy any other food at all on the days you use it.
Will you be giving a recipe box a try?
Amy Hunt is an experienced digital journalist specialising in homes, interiors and hobbies. She began her career working as the features assistant at woman&home magazine, before moving over to the digital side of the brand where she eventually became the Lifestyle Editor up until January 2022. Amy won the Digital Journalist of the Year award at the AOP Awards in 2019 for her work on womanandhome.com.