Lisa Snowdon Reveals Her Fitness and Beauty Secrets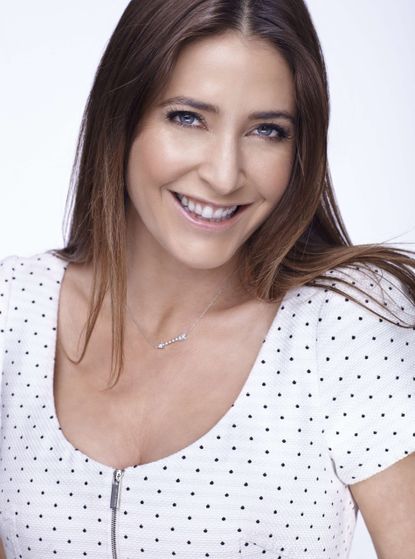 woman&home newsletter
Sign up to our free daily email for the latest royal and entertainment news, interesting opinion, expert advice on styling and beauty trends, and no-nonsense guides to the health and wellness questions you want answered.
Thank you for signing up to . You will receive a verification email shortly.
There was a problem. Please refresh the page and try again.
With the release of her new jewellery collection for QVC, 44-year-old model, radio and TV presenter Lisa Snowdon could justifiably add 'designer' to her jam-packed CV. So how does she find the time to maintain a face and figure many woman half her age can only dream of? We spoke to her to discover the inspirations behind her new collection, the beauty treatment she swears by, the exercise class she credits with keeping her in shape and the diet regime that helps her stay trim.
Can you talk us through some of the inspirations behind your jewellery collection for QVC?
My inspirations come from my travels, different cultures, colours... and nature is very inspiring. I find jewellerynostalgic so I'm inspired by pieces I've owned over the years - or coveted.
There's quite a lot of symbolism within the collection - the OM pendant, the evil eye ring - do any of these symbols have a personal meaning for you?
I have always loved symbols - from when I was a little girl. I had a horseshoe pendant that I wore for years and years, so in my first collection I designed a diamond horseshoe ring and pendant. I find symbolism really powerful and personal, whether it's wearing the evil eye and feeling some sort of protection or maybe feeing that the horseshoe may bring luck. I love including symbolism of some description in my collection so there is something for everyone's needs and desires.
Do you have a favourite piece from the collection?
That's a tough one to answer as every new collection I get excited! I have a soft spot for my rose gold wish bone watch. It's the second watch I've designed for QVC - the first was a "boyfriend" style, so a very different design. The wish bone is the perfect elegant everyday watch that works from day to night. Also the OM pendant, as its a reminder to breathe, relax and try and be mindful.
Of course, all our readers want to know how you always look so fabulous. Have you found that you've had to work harder to stay in shape since reaching your forties?
I've always been quite active but more so in my forties as I've started to enjoy exercise more. I find classes more enjoyable than the gym as you get to meet really lovely people and have a laugh learning together. I recently joined David Lloyd and they have great classes. It's easier for me to be motivated when I'm in a class. I definitely have to keep active - not only for my waistline but also for my mind.
What is your workout regime like?
I'm a big fan of Pilates reformer so I aim to go 4 or 5 times a week, depending on my schedule. Also I pop to David Lloyd and swim and then treat myself to a sauna - I love their infra-red sauna, great for sweating out toxins. I'm a big fan of walking also - I try to walk everywhere if I can.
Are you careful with your diet?
I do believe a little of what you fancy does you good. I will aim to be healthy 80% of the time but I won't deny myself that burger if I really want it! I always start my day with a juice and I'm a big believer of using up what you have in your fridge and your cupboards to experiment and make something yummy and healthy.
Do you use any last minute diet or fitness tricks before a shoot or special event?
Cutting out sugar really helps - and that obviously includes wine and any other alcohol! I find that really helps me to shed a few pounds - and my skin looks better too. Also bread and dairy - if I avoid those my tummy feels better and looks flatter. Not eating after 6.30 or 7pm makes a huge difference for me too.
Are there any beauty treatments or products you'd recommend for helping to maintain a youthful complexion?
I'm a big fan of a facial and have tried lots of different types. Right now I'm using the Ultraformer SkinLift at EF MEDISPA which is helping to lift and tone my skin and muscles - it's a serious workout for the face! I'm using Cosmedix products and also Dr Perricone - I love them both. Do you worry about getting older, or do you see it as a positive experience?
I definitely see it as a positive experience. I think you become more confident in yourself and your body.
Lisa Snowdon's latest jewellery collection is now available to buy from QVC (opens in new tab).