Being kind to ourselves can reduce our stress levels - here's how to practice it more in your daily life, according to a wellbeing expert
Important information during Mental Health Awareness Week, if you're inclined to give yourself a hard time...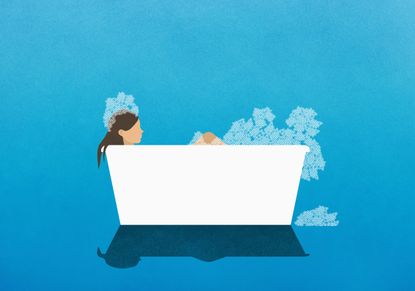 (Image credit: Getty Images/fStop)
At the moment, emotions are running high.
During lockdown, and the wider coronavirus pandemic, we've problem all experienced feelings of anxiety, worry, and most obviously, stress (opens in new tab). It's no surprise - being bombarded with daily news of the virus, as well as facing concerns for our health and our loved ones health, as well as jobs and finances, is a recipe for disaster.
And according to recent research conducted by Nuffield Health (opens in new tab), over a third (36%) of people believe their mental health has got worse since the start of the lockdown.
MORE:Why are we feeling angry during lockdown? Experts explain how to manage feelings of irritability for better mental health (opens in new tab)
We're likely putting all kinds of stressful pressures on ourselves too - to make money, to stay healthy, to be there for everyone, to be productive. But in these very strange and concerning times, it's more important then ever just to be kind to ourselves - and essentially, give ourselves a bit of a break. Kindness can also act an antidote to worry, anxiety and low mood - so it's never been so important than during this lockdown.
And it's more important now than ever. This week marks Mental Health Awareness Week - a time to really focus on our mental and emotional wellbeing.
Many of us might find it difficult to be kind to ourselves, though. But it's vital to do so - especially if we want to extend kindness to others, as so many have during this period. After all, the old adage that 'you can't pour from an empty cup' didn't come from nowhere. Here's why it's so important to know how to be kind to yourself - as well as others.
How to be kind to yourself right now
Brendan Street, Professional Head of Emotional Wellbeing at Nuffield Health (opens in new tab), has shared his advice, and explained that being gentle to ourselves at the moment is vital for physical and mental wellbeing.
"We spend more time with ourselves than anyone else, and how we relate to ourselves has a huge impact on how we feel. Self-compassion plays a vital role in our mental wellbeing and can act as a powerful antidote to many mental health difficulties," he said. He continued, saying, "Our bodies also benefit from giving and receiving kindness with positive impacts on human physiology, including the immune and cardiovascular systems, nervous system and regulation of our genes."
So how can we begin to be kinder to ourselves?
Realise that being compassionate will get you further than criticism ever will
How many times have you got annoyed with yourself after you didn't do something 'right', or didn't accomplish something you set out to?
According to Brendan, those critical feelings aren't going to be much use to you. He explained, "Being hard on yourself is actually likely to cause more harm than good. Research shows that the more people criticised themselves, the slower their progress over time was, and the less likely they were to achieve the goal they had set.
"Being cruel to ourselves is not motivating: instead it leaves us feeling threatened and demoralised."
Instead, he says, "Compassionate self-correction and self-talk, on the other-hand, boost happiness and are effective meansof enhancing our motivation, performance and resilience."
Imagine how a 'kindness coach' would tell you to speak to yourself
If you're struggling to be kind to yourself, imagine how a professional might explain things to you instead.
Brendan said, "It's not always easy to be kind to ourselves, and we can be our own harshest critics.
"A helpful tip is to try to imagine how a 'kindness coach' might help us approach the complexities and difficulties that life throws at us; they accept us 'as we are', not how we wish to be."
He continued, explaining, "For example – after eating a multipack of crisps, a critic (often ourselves) may say something like 'you're so disgusting'. A compassionate coach on the other hand would take a more encouraging approach. For example saying, "I know you ate those crisps because you are feeling bored and lonely, but now you feel even worse because you are not looking after your body. I want you to be happy and healthy, so why don't you take a long walk so you feel better?'
"We need to be that coach for ourselves."
Redefine what being kind to yourself actually means
For some reason, we seem to have defined prioritising ourselves as being selfish, in recent times. Brendan said, "It's a common misbelief that looking after oneself is selfish, it makes you 'soft' or self-indulgent - and other people are more important and should be the priority."
MORE:What to do if news of the coronavirus outbreak is causing your anxiety to spiral (opens in new tab)
But you should never be last on your to-do list - and you can only be kind to others if you have enough energy and belief in yourself first.
"True self compassion involves being honest with ourselves and fully accountable for our actions, but with an understanding of what it really means to be human and the acknowledgement that no one is perfect," Brendan said.
Recognise how unhelpful being unkind to yourself is, with this tactic
"Imagine how it would feel to spend a day with a truly negative person who constantly points out all of your faults, no matter how minor. Chances are you'd end the day feeling disheartened, lacking in confidence, and that somehow you are 'not quite good enough'," Brendan said.
"You may (wisely) think twice before choosing to spend too much time with this overly critical person recognising them as a negative influence on your emotional wellbeing."
Now, imagine if that person was you. Using this technique may demonstrate how much better it is for our wellbeing to respond kindly to ourselves.
Brendan explained, "Life is hard, but being understanding, kind and supportive to ourselves can help us get through in a way that is much more helpful than being self critical and beating ourselves up."
Amy Hunt is an experienced digital journalist specialising in homes, interiors and hobbies. She began her career working as the features assistant at woman&home magazine, before moving over to the digital side of the brand where she eventually became the Lifestyle Editor up until January 2022. Amy won the Digital Journalist of the Year award at the AOP Awards in 2019 for her work on womanandhome.com.