How many steps a day will help me lose weight?
How many steps a day do you manage? It turns out, adding in a few extra walks could really help boost your weight loss goals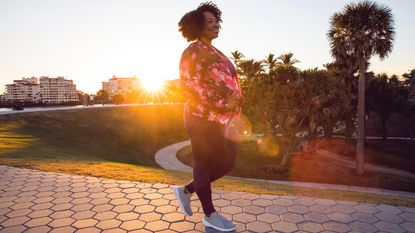 (Image credit: Getty Images / LeoPatrizi)
Knowing how many steps a day you need to take to kickstart your metabolism and burn fat is important if you're on a weight loss journey.
We often hear that doing 10,000 steps a day can help us to stay fit and healthy. But, when it comes to losing weight, there are lots of other things to consider—such as calorie consumption and the pace of your stride. Plus, let's not forget about the benefits of walking that extend way beyond burning fat.
Whether you're going for a quick lap of the park with the dog, or heading out on a long country walk, moving every day can improve your mood, boost circulation and support your joints. Walking will also lower your blood sugar, support your immune function and help you to sleep better at night. These factors have an important part to play too when it comes to getting fitter and slimmer.
The good news is with a bit of planning, motivation and a pair of the best women's walking shoes, it's possible to get walking for weight loss, improve cardiovascular health and boost wellbeing.
How many steps a day for weight loss?
The NHS recommends we should be active for 150 minutes a week to stay healthy and reduce the risk of obesity, and by adding walking to your exercise regime you will easily meet this goal.
When deciding between walking vs running to lose weight, walking may not be the most obvious choice—but it can be equally effective as jogging providing you do enough of it.
So, if you've asked yourself, "how many steps should I walk a day?" to see weight loss, a great target would be 10,000-15,000 steps, says Sam Gregory, a personal trainer at F45. While this may sound a lot, you can start with 15-30 minutes of walking per day, alternating between a leisurely and brisk pace.
"But, it is important to know that to see a result from walking, you have got to be in a calorie deficit which is the golden rule when it comes to weight loss," says Sam. This means burning more calories than you are consuming.
How many steps will burn calories?
Being able to walk 10,000 steps a day or more is a great goal to focus on but, ultimately, it's about what's right for your body.
"The number of calories you will burn through walking will greatly depend on how long you walk for, as well as your size, metabolic rate, and your sex," says Sam. However, by increasing your active steps, you will easily increase the number of daily calories you are burning and help to get yourself into a calorie deficit.
"The intensity of your walking can make a big difference to the number of calories you burn, so try to use walking as a form of HIIT training," says Sam. Do this by walking 30 seconds at a slow and steady pace, and then speed walk for 30 seconds. Repeat this for 20 minutes to half an hour and your strolls will soon become walking workouts.
You also need to consider how many calories you're eating and drinking on a daily basis. "For sustainable weight loss, you want to burn about 300 more calories than you consume each day," says Openfit trainer, Alasdair Fitz-Desorgher.
It is estimated that to lose a pound of body fat, you need to expend around 3,500 calories a week. Based on an average body weight, 10,000 steps a day is enough to help you burn this weekly amount–but in order for the calculation to be accurate, you will need to make it personal to you.
There are formulas used to work out the number of calories burned walking and how many step you need to take a day. This is based on your weight, step pace and level of intensity–and it can get a little complex. Try a helpful online calculator, or get one of the best fitness trackers to do the job for you.
How many steps a day does the average person take?
Unfortunately, most people are falling short of walking an adequate number of steps a day due to deskbound jobs and sedentary leisure time. A survey by the Alzheimer's Society revealed that the average adult walks just 2,700 steps a day with a mere 3% managing the recommended 10,000 steps.
It's easy to increase your steps however, by simply remembering to move. Going up and down the stairs, pottering in the garden and taking the bins out all count towards your daily target. "The average person can easily walk a couple of thousand steps a day without even realising it, just by getting up and moving around regularly throughout the day," says Sam.
Knowing exactly how many steps you're currently taking is key for your weight loss goals. Use a fitness tracker to input your weight, activity levels and to watch your calories—many also feature other helpful functions such as heart rate monitors. You can then track how many steps a day works for you–whether that's 10,000 steps a day or more.
How to take your walking to the next level and stay motivated
If you're not burning enough calories when you walk, there's always ways to increase the burn. You could invest in Nordic walking poles to try the technique, or tackle more challenging hills when out walking.
"Walking uphill will increase your heart rate and your muscle activation. You will be burning more calories as well as strengthening your glutes, core, hamstrings and calves," says Beachbody On Demand coach Idalis Velazquez.
Don't have a daily commute to help you get your steps in? Then it's a great idea to use your lunch hour for your daily walk, or head out after dinner to walk off your meal. Play some music or listen to a podcast to help you boost your workout motivation and you'll soon be racking up those steps.
Your chosen route can also inspire you to walk further. "Pick somewhere interesting or scenic to walk, so you can become absorbed in the enjoyment of it, rather than just thinking of it as exercise," says Alasdair.
And, finally, don't underestimate the power of a fitness tracker notification to spur you on, says Sam.
"A tracker will tell you if you have reached your step goal for the day or not and seeing the numbers is a great way to hold you responsible and accountable. You'll gain confidence and once you feel comfortable, you can increase your steps every time you go out. You will soon feel the benefits," he says.
Sign up to our free daily email for the latest royal and entertainment news, interesting opinion, expert advice on styling and beauty trends, and no-nonsense guides to the health and wellness questions you want answered.
Senior Health Writer Ali Horsfall has almost 15 years experience as a journalist and has written for national print titles and women's lifestyle brands including woman&home, Woman, Woman's Own, BBC magazines, Mothercare, Grazia and The Independent. She currently specialises in health and fitness content and loves sharing the best expert advice on staying well.