How should running shoes fit to avoid blisters?
Wondering how should running shoes fit? The experts share all...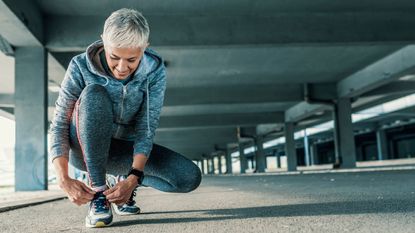 (Image credit: Gerry Images / ljubaphoto)
woman&home newsletter
Sign up to our free daily email for the latest royal and entertainment news, interesting opinion, expert advice on styling and beauty trends, and no-nonsense guides to the health and wellness questions you want answered.
Thank you for signing up to Woman & Home. You will receive a verification email shortly.
There was a problem. Please refresh the page and try again.
Take time to understand how running shoes should fit, and you'll reap the rewards when you're actually pounding the pavements.
Whether you're a newbie to running or have been pounding the pavements for a while, you've probably found yourself thinking "how should running shoes fit to avoid blisters?"
First things first, you'll need a pair of the best running shoes for women to get you started. Equally, if you're a regular runner whose trusted, well-used trainers have seen better days, then you'll need to start looking for a new pair.
With so many running specialists and activewear brands offering different styles of shoes and regular discounts, it can be overwhelming to know where to start. When it comes to choosing the right trainers, the most important aspect to consider is the fit. Poorly fitting shoes can cause injuries to your feet, including blisters, but can also cause injuries to your whole body too.
We spoke to the experts to get the lowdown on how exactly running shoes should fit and what you need to consider when looking for a pair of good running shoes.
Why you always need to go up one size
How should running shoes fit? Turns out, any expert will tell you that you need to go up a size when you're buying trainers. For instance, if you're normally a UK 5, then go up one full size or at least a half size to a UK 5.5 or UK 6. Experts also say the best time of day to try a new pair of shoes on is at the end of the day. This is because your feet swell throughout the day, so this will help to assert whether they will be truly comfortable when running.
Molly Renfer at New Balance explains, "As your feet swell when you run, you need to allow room for this to happen. The last thing you want is your toes repeatedly hitting against the end of the shoe.
"Also, it's good for your toes to spread. As well as avoiding the toes rubbing against each other, it allows for greater contact and a better feel for the ground as you're running."
What you need to know about gait analysis
As our feet are all different shapes and sizes, a perfectly fitting shoe for one runner has the potential to be a poor fit for another. If you can, stop by your nearest running shop and ask them for a gait analysis. This is when you try shoes on and run on the treadmill to see how well they fit you. Cameras record how your feet run in the trainers and will help determine whether that particular shoe is performing well for you.
"The less you notice the shoe on your foot the better," says Ashley Scott, a technical representative supervisor at Brooks. "Because running is already hard enough, the last thing you need is to be constantly reminded that a foreign object is attached to your foot."
How to avoid slip and slide in trainers
Can't get to the professionals to test out what's best for you? Then there are a few tricks you can try at home to help you determine if the trainers are right for you. Begin with checking to see if your feet slip inside the shoes while you're wearing them, and check how stable they feel as you walk, or even run in them.
Another trick, says Olly Law, Sales Director at On is to "kick your heel back when you're in the shoe, to check they are fitting correctly and there's the right amount of space at the front of the shoe."
They should also be snug around the heels and laces, says Jonathan Quint from Saucony, and have plenty of space around the toes in order to avoid any injuries.
"Black toenails are not a badge of honour and a sign of a runner," says Jonathan. "They're a sign of badly fitting shoes, normally because they're too small."
Always check your laces
Laces are a big factor too, and one you might not think about automatically when shopping for running shoes. "You don't want there to be any pinch points on your foot when lacing your shoes," says Molly. "Try to ensure the laces lay flat against the tongue, so there are no twists which may add discomfort.
"Also, make sure the laces are tight enough that your heels don't slip out. But not so tight that they cut off your blood supply."
Fitness coach Emma Kirk Odunubi, who shares some of her lacing techniques for runners on her Instagram, recommends a different lacing technique for those with wide and high instep feet. This involves re-lacing your shoes and starting from the second eyelet. It's a change that Emma says can "make a huge difference to your comfort levels when you're running".
Features of a badly fitted shoe
Aching hips and blackened toenails are just some of the results of poor-fitting running shoes. Are there any visual clues that a shoe might not fit correctly?
Appearance can tell you a fair amount, says Olly. "If there is creasing over the toes of the material they're probably too big. Conversely, if you can feel your toe meeting the end of the shoe [when you press them with your fingers to feel for room] they are likely to be too small."
You'll soon know if you have a badly fitted pair. "Blisters, black toenails, and the foot obviously bulging over the shoe are all signs of bad fitting shoes," says Jonathan. All the more reason to figure it out and get yourself a well-fitting pair of running shoes ahead of your first run.
With thanks to Molly Renfer at New Balance, Ashley Scott, at Brooks, Olly Law, Sales Director at On, Jonathan Quint at Saucony.
Sign up to our free daily email for the latest royal and entertainment news, interesting opinion, expert advice on styling and beauty trends, and no-nonsense guides to the health and wellness questions you want answered.
Sarah is a freelance journalist - writing about the royals and celebrities for Woman & Home, fitness and beauty for the Evening Standard and how the world of work has changed due to the pandemic for the BBC.
She also covers a variety of other subjects and loves interviewing leaders and innovators in the beauty, travel and wellness worlds for numerous UK and overseas publications.
As a journalist, she has written thousands of profile pieces - interviewing CEOs, real-life case studies and celebrities - interviewing everyone from Emma Bunton to the founder of Headspace.