Can dogs and other pets get coronavirus? We asked an expert
How to care for your pup in the pandemic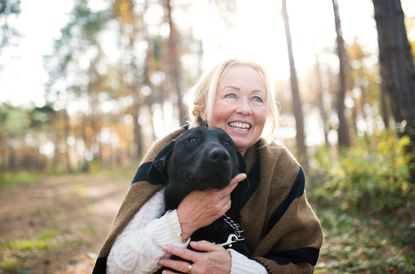 (Image credit: Getty Images)
The nation is gripped with COVID-19 concerns, so it's no surprise that dog owners are increasingly worried about their four-legged friends – in this time of uncertainty they bring joy and companionship more than ever.
But can dogs get coronavirus too? We get the expert advice about caring for dogs in the crisis.
Can dogs get coronavirus?
The good news is no. "Globally, there aren't any known cases of dogs getting sick from COVID-19 – this new type of coronavirus. There's also zero evidence to show that dogs can transmit the virus to other humans," says Bill Lambert, Head of Health and Welfare at The Kennel Club.
"If your dog is unwell then it is very unlikely that COVID-19 is the cause of their illness, but it is still important that you phone your vet to find out what is causing their illness," he advises.
But, didn't a dog test positive for the virus in Hong Kong?
This still doesn't mean that dogs can spread the virus.
"While there has been one instance of a dog being infected in Hong Kong, to date, there is no evidence that a dog, cat or any pet can transmit COVID-19," assures The World Health Organisation (WHO).
Nose and mouth samples swabbed from this dog showed a 'weak positive' result for COVID-19 and a later blood test was then found to be negative.
"The dog had no signs of disease and its blood samples were negative for antibodies. It's believed that the positive results were due to the dog breathing in contaminated air from the infected owner," says Bill. "If someone with COVID-19 touches, sneezes or coughs on a dog, the virus could temporarily contaminate them."
Caring for your dog during the coronavirus outbreak
To stop the spread of the virus, social distancing is crucial. But what does this mean when you have a dog to walk – and when that daily ritual helps your mental health too?
If you're… social distancing
"As long as you're not quarantined because you, or a member of your family, have shown signs of coronavirus symptoms, you can still take your dog for a walk," says Bill.
The current government advice is that adults should leave the house only once a day to exercise. This means if there's more than one of you in your home you can take it in turns to walk an active dog out. If you live alone however, you'll need to reduce your dog walking to once a day.
"Remember to avoid busy areas and keep at least two meters away from others. Particularly those that you think may be vulnerable," says Bill.
If you're… self-isolating
"If you do go into quarantine, you should keep your dog in as well and only exercise them in the house or garden," says Bill. This isn't ideal but is essential to keep others safe.
Ask others in your household to care for you dog while you're feeling unwell. Wash your hands well before and after feeding your dog, touching them, or touching their toys or their bedding. "It's a good idea to try to avoid them licking or kissing your face and sharing your food with them," adds Bill.
Plan ahead to make sure you have the essentials for your pet
Plan ahead to ensure you have the essentials to care for your dog. This includes medicine, poo bags and dog food and could mean changing your usual brand of dog food.
"It's important to introduce this slowly by mixing small amounts of the new food with the old. Gradually increase this over a week until you have fully swapped over. If you change a dog's diet too quickly it can give them diarrhoea," says Bill.
Alternatives to keep your dog hapy
Even if you can't take them out as often as they'd like, you can play with your dog to keep them stimulated.
Try these indoor games by the Blue Cross to keep your four-legged friend happy and healthy.
You can also sreate an obstacle course in the garden, give them new toys to chew on or teach them some new tricks.
We hope you and your four-legged friends keep each other healthy and safe!
Senior Health Writer Ali Horsfall has almost 15 years experience as a journalist and has written for national print titles and women's lifestyle brands including woman&home, Woman, Woman's Own, BBC magazines, Mothercare, Grazia and The Independent. She currently specialises in health and fitness content and loves sharing the best expert advice on staying well.