The UK has experienced an 'explosion' in anxiety since 2008 - and this study says it affects women more
The financial crash, Brexit, climate change and social media are all thought to be to blame.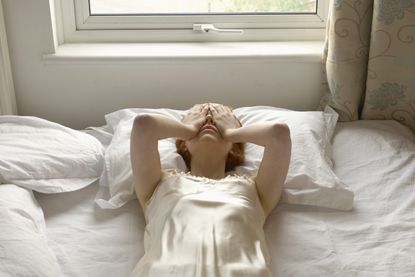 (Image credit: Getty Images/Cultura RF)
Research has found that there has been an "explosion" in anxiety cases in the UK over the past decade – with women impacted the most.
Despite a heightened awareness of the importance of taking care of our mental health – from searching out the best yoga mats (opens in new tab) to practicing mindfulness (opens in new tab) – the UK has seen a major spike in anxiety cases in the last decade.
New research shared exclusively in The Guardian (opens in new tab) has shown that the financial crash, austerity, Brexit, climate change and social media are to blame for huge rises in the mental health condition in Britain since 2008.
Anxiety cases were found to have trebled among young adults, affecting a staggering 30% of women aged 18 to 24, and have seen a spike across the board among both men and women under 55.
MORE: Bibliotherapy: Why the NHS is prescribing books to help with mental health (opens in new tab)
The findings emerged in one of the biggest studies of anxiety undertaken in the UK in recent years, which analysed diagnosis and treatment by GPs for 6.6 million patients across 795 different practices in the UK since 1998.
Where 8.42% of women aged 18 to 24 suffered anxiety in 2008, the study found that this had more than trebled to 30.33% by 2018. The proportion of women aged 25 to 34 suffering from anxiety more than doubled over that decade – increasing from 9.08% to 21.69% – while smaller increases were seen among women aged 35 to 44 and 45 to 54.
Overall, women were significantly more affected by the mental health condition than men.
Speaking of the factors that are to blame for what he calls an "explosion" in anxiety cases, lead researcher Professor Nick Freemantle told The Guardian, "The 2008 crash was characterised by unemployment, especially youth unemployment. Young people who were just starting out in adult life had the rug pulled out from under them.
"During this period [2008-2018] we had a recession, a vote to leave Europe, which was not popular among young people, social media became ubiquitous, there was increased concern about the climate, and there was a change of attitude towards anxiety disorder."
MORE: This is what hypnotherapy could do for your anxiety levels (opens in new tab)
Additionally, the study revealed a generational divide – finding that the number of anxiety cases have not risen in the last decade among those aged 55 and over. According to Prof Freemantle, this is likely because over 55s are less likely to be affected by economic factors like housing and job prospects.
But it's thought that anxiety cases are going to further increase in the wake of the coronavirus pandemic. (opens in new tab)
"Given the steep increases in anxiety revealed by this research, and the sheer number of people affected, it is now clear that Britain has a really serious and worsening problem with anxiety, which can have devastating effects on people's lives," Professor Freemantle told the paper. "And this data stopped just before the Covid-19 pandemic; we can only speculate on how they would look now."
Kate is a freelance contributor to woman&home, covering everything she loves most: fashion, fiction, and fancy face cream. If she's not working, she's probably reading, feeding her online shopping addiction, or judging the taste level of celebrity houses (10/10 for Dakota Johnson, 2/10 for Tan France).

She graduated from Central Saint Martins in 2020 with a BA in fashion journalism, and her byline has also appeared in British Vogue, The Times, and Marie Claire.