Dog and cat owners reveal one positive of lockdown for their pets
Our pets complete us...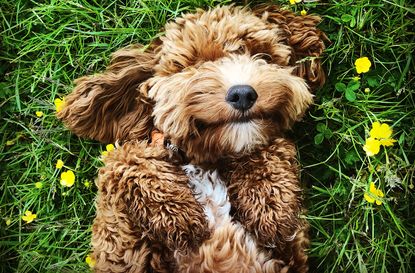 (Image credit: Getty Images)
As if we needed any more reasons to lavish love and attention on the animals we share our homes with, new research has found that 8 out of 10 of us would not have coped with lockdown if it wasn't for our pets.
The nationwide survey, which was conducted by Mars Petcare UK (the folk behind Pedigree and Whiskas), also discovered one positive of lockdown, finding that 86% of us have bonded more with our pets since quarantine began.
63% of respondents even claiming that their pet has been better company than their partner, and 30% admitting that their furry friends have given them a sense of purpose during these troubling times.
The survey also revealed that 86% believe they're happier than non-pet owners, with more than a third (36%) saying they haven't felt lonely because of their animals.
MORE: How to keep stressed pets calm while we're living in lockdown
Dog owners, especially, seemed to benefit from their canine companions, with 65% saying that a daily dog walk has kept them going.
"Pets can offer a sense of connection and the feeling of unconditional love, which is so important during these uncertain times," said Darren Logan PhD, head of research at Waltham Petcare Science Institute.
"They can provide emotional support, improve our moods and reduce levels of stress, and may even help with depression and loneliness. On top of this, they encourage us to keep active, be that through a walk outside or playing in the house or garden."
More sobering is the fact that a fifth of pet owners are unaware of the difficulties animal welfare centres have faced throughout the pandemic.
"There are over 1,200 animal rescue and rehoming centres throughout the UK, doing their best to care for thousands of homeless pets each year," said chief executive of Battersea, Claire Horton.
"The coronavirus pandemic has had an impact on virtually every single one. More than half of them have seen their fundraising cut by over 50% but there has been no let up in the number of animals that need their care."
MORE: Vets warn why you shouldn't give homemade food to your pets
"This is why we've partnered with Battersea, Blue Cross and ADCH to call on the British public to donate what they can to their local animal shelters," said Helen Warren-Piper, general manager at Mars Petcare UK.
"Forced to close to the public, operating with limited staff and cancelling vital fundraising events, animal shelters are the silent victims of the pandemic and they drastically need our help."
Debra Waters is an experienced online editor and lifestyle writer with a focus on health, wellbeing, beauty, food and parenting. Currently, she writes for the websites and Woman&Home and GoodtoKnow, as well as the Woman, Woman's Own and Woman's Weekly magazines.
Previously, Debra was digital food editor at delicious magazine and MSN. She's written for M&S Food, Great British Chefs, loveFOOD, What to Expect, Everyday Health and Time Out, and has had articles published in The Telegraph and The Big Issue.