Taking on this fitness challenge could reduce your vascular age by four years
Is doing this one of your 2020 goals?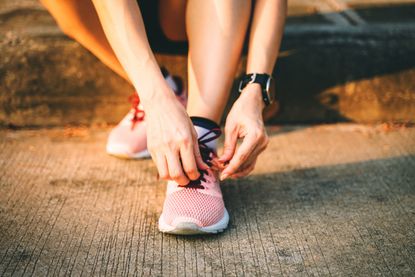 We're already a week into 2020, which could mean the motivation to achieve some of the new year's resolutions set in the highs of the festive season may be beginning to dwindle.
Maybe you've already slipped up on Veganuary or relaxed the rules on Dry Jan.
But if your 2020 goal is to run a marathon, there's a good reason to stick to it according to new research.
Findings in a new study have suggested that tackling a marathon could hugely benefit the health of first time runners.
According to the study led by Barts Health NHS Trust and University College London, you don't have to be a pro long distance runner to reap the advantages of running a marathon.
READ MORE:Is your blood pressure secretly killing you?
The research found that those running a marathon for the first time could reduce their blood pressure and lessen the stiffening of the arterial wall, reducing the risk of strokes.
The study, published in the Journal of American College of Cardiology, found that marathon training and completion could reduce vascular age by up to four years.
The findings came after 138 novice runners, who ran the London Marathon in either 2016 or 2017, were tested over six months of training. The arteries of the participants regained elasticity and blood pressure fell as much as if they had been prescribed pills.
It was also found that those who were least fit before the experiment seemed to benefit the most from the running.
Dr Charlotte Manisty from Barts Heart Centre and University College London commented, "As clinicians are meeting with patients in the new year, making a goal-oriented exercise training recommendation – such as signing up for a marathon or fun-run – may be a good motivator for our patients to keep active.
"Our study highlights the importance of lifestyle modifications to slow the risks associated with ageing, especially as it appears to never be too late as evidenced by our older, slower runners."