Experts explain why you shouldn't leave the central heating on overnight
If you're experiencing issues leaving your heating on overnight, this might be why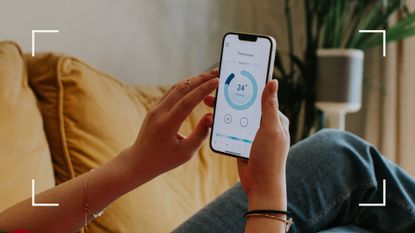 (Image credit: Getty Images)
During winter, many of us love to leave the central heating on overnight so we can go to bed cozy and wake up warm in the morning.
While there's nothing quite as uncomfortable as having to get out of bed when it's cold outside, experts warn that keeping your central heating on overnight may actually be doing more harm than good.
From answering the question of whether it's bad for your skin to leave the heating on overnight to studies revealing the increased risk of infection, here's what a variety of experts have to say about why turning off - or turning down - the heating overnight could be a better idea this year.
Why you shouldn't leave central heating on overnight
1. Makes it harder to fall asleep
Our bodies struggle to deal with the fluctuation in temperature, so as difficult as it might be, it's actually better to let your bedroom cool down before you get into bed.
Sleep expert James Wilson, also known as The Sleep Geek (opens in new tab), explains that doing so encourages the body to drop to its core temperature, which is needed if you want to sleep better and improve your sleeping environment.
He says, "Often we are told the bedroom should be 60F to 64F but that's too cold for some people, so it's better to focus instead on simply making the bedroom feel cooler than the rest of the house."
You should also consider the temperature in your bed, he adds. "The temperature of the space you're lying, between the mattress and the duvet, is also very important. This should be between
"The more important temperature for sleep is the one between the mattress and the duvet, which should be between 80F and 84F."
2. Lower quality of sleep
It's not only getting to sleep that can be a problem if your room is too warm though. Studies by Tohoku Fukushi University (opens in new tab) explain that heat exposure can increase the number of hours we spend awake during the night and reduce the amount of slow-wave sleep and rapid eye movement we experience. This means we're likely to wake up in the morning still feeling tired and important processes like memory consolidation, which is helped by good amounts of slow-wave sleep, along with emotional processing and healthy brain development won't be able to take place as effectively.
So, while we might think that figuring out the best time to wake up and fall asleep every day is important, getting the right room temperature is perhaps even more vital for a healthy night's sleep.
3. Makes it harder to fight off infections
As research by the Medical University of Warsaw (opens in new tab) explains, artificial heat in an enclosed environment can dry out the sinuses. When this happens, the layer of mucus that lines the cilia - small hairs on the insides of the nostrils - dries out and becomes sticky. As well as preventing healthy air flow through the nostrils, small grazes can form in the dry skin, leading to scabs and even nosebleeds.
Instead of using central heating at home, wrap up in blankets made of cotton or wool as these are great at regulating our natural body temperature. Some of the best women's pajamas are also made from breathable fabrics like cotton and silk.
4. Dry skin
While central heating might be keeping us warm, it's also drying out our skin, says cosmetic specialist Dr Lauren Hamilton (opens in new tab). "When the temperature drops quickly, the skin must work harder to hold onto moisture and stay hydrated which can lead to dry skin, breakouts, and inflammation. Wind and central heating also play a part as they all lead to increased transepidermal water loss, so you may find that your skin feels dry," she explains.
The fluctuations make skin ultimately more susceptible to irritation and the result can lead to painful symptoms of burning, stinging, and tightness, along with redness, dryness, and peeling.
"To help counteract this, cleanse the skin every morning and evening to prevent the build-up of dead skin cells and enhance product penetration which will brighten the skin, and apply a hyaluronic acid-based serum as this will help counteract water loss. Hydration is your friend here and layering moisturizing actives with one of the best moisturizers for dry skin can help provide a boost when applied to damp skin. For example, niacinamide is hydrating and brightening, and it helps to reduce acne which can become more prevalent when the temperature drops," she suggests.
5. Dry eyes
Similarly, just as central heating dries out the nostrils, it can dry out the eyes. "If you're indoors, central heating can be extremely drying to the eyes because heating in the air evaporates the water in it, creating a dry atmosphere," explains Dr Elizabeth Hawkes (opens in new tab), an ophthalmic and oculoplastic surgeon.
To reduce the uncomfortable effects of this, she says, "Keep your eyes clean and healthy, eat a healthy diet rich in omega-3, and don't smoke or drink alcohol. Take regular screen breaks when using the computer, a tablet, or a mobile phone, and ensure your computer monitor is at eye height to avoid straining."
If you wear contact lenses for long periods normally, she adds, give your eyes a rest from them from time to time, and if you're really struggling, invest in a humidifier at home to avoid drying out the air.
A digital health journalist with over five years experience writing and editing for UK publications, Grace has covered the world of health and wellbeing extensively for Cosmopolitan, The i Paper and more.
She started her career writing about the complexities of sex and relationships, before combining personal hobbies with professional and writing about fitness. Everything from the best protein powder to sleep technology, the latest health trend to nutrition essentials, Grace has a huge spectrum of interests in the wellness sphere. Having reported on the coronavirus pandemic since the very first swab, she now also counts public health among them.