How To Lose Weight Like Davina McCall And Still Eat Carbs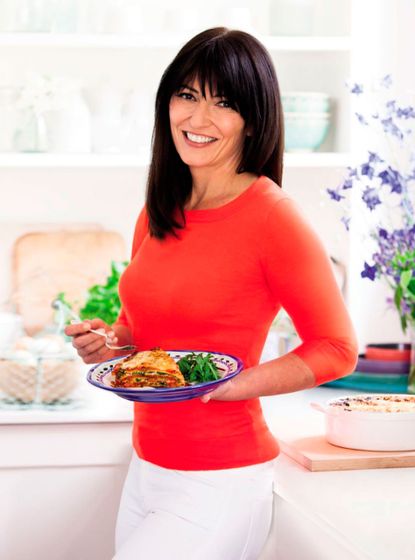 Going low-carb may be the trendiest way to lose weight in the diet world right now, but the truth is that we need carbohydrates for our bodies to function. Carb-free diets deprive our bodies of important nutrients which can make us cranky and miserable. You may find you lose a lot of weight initially (mostly water weight), but this regime is unsustainable and before you know it you'll be uncontrollably bingeing on bread and that suborn weight will have piled back on.
With Davina McCall's new 5-week plan, you can STILL eat carbs and lose weight. Sounds too good to be true? It works by ditching 'dumb carbs' in favour of 'smart carbs' - keep scrolling to learn the difference and achieve steady weight loss without going hungry.
'There's no deprivation here,' Davina writes, 'Smart carbs still have that great comfort-food feeling but they also provide us with loads of goodness and nutrients, as well as all important-fibre - and they're good for all the family.'
We've all heard that we need to increase our fibre intake; the NHS recommends that adults get 30g a day, although most of us only manage around 18g. Make the swap from 'dumb carbohydrates' - white bread, white pasta, white rice - that are stripped of fibre, vitamins and minerals to wholegrains, pulses and vegetables that are higher in fibre and nutrients.
Davina goes into detail about the two types of fibre - insoluble and soluble - that you need to incorporate into your diet. Insoluble fibre is the type that doesn't get digested and helps to bulk up faeces; soluble fibre is digested slowly, keeps you fuller for longer and helps maintain steady blood sugar levels.
What do we love about Davina's book? It's informative yet friendly, with delicious recipes including Buttermilk chicken, Seafood tagine and an ingenius lasagne that swaps carb-heavy pasta for tortilla wraps. Davina's Smart Carbs also includes the lowdown on GI and GL, as well as tips on how to deal with the dreaded 3 o'clock slump.
The best bit of all? Bread AND biscuits are still on the menu!
Click to buy Davina's Smart Carbs. (opens in new tab)