'Isolated since March, lost the will to live and has stopped eating': why we can't ignore the suffering of the elderly during the pandemic
Age UK has ramped-up its drive to help the elderly this winter as it's revealed 1 in 4 are unable to walk as far as they could before lockdown.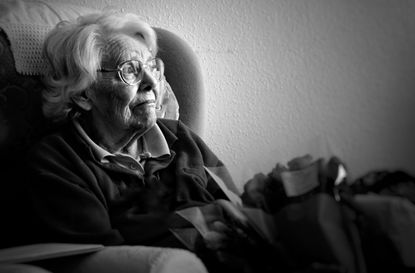 (Image credit: Alamy)
The charity has launched its Winter Resilience Campaign after research shows the drastic impact the pandemic has had on pensioners' health.
Age UK charity has laid bare the drastic impact the coronavirus pandemic has had on the health and morale of our elderly population in a bid to reduce the number of non-direct Covid-19 related deaths.
Now we've all had days when we struggle to leave the sofa, but whether it's a dash to the door to collect a takeaway or a hunt for your credit card, something gets us back on our feet.
But for a large proportion of the elderly - many of whom have been in isolation for the last seven months - it's not so simple.
READ MORE:How we can all support the elderly and vulnerable during this time
With ageing comes decreased mobility so not seeing family or friends isn't the only thing that's taken a toll on their health since lockdown.
What are the findings on the elderly and Covid-19?
One in three (34%) of respondents to its study (4.2million) said they felt more anxious.
More than a quarter (26%) (3.2 million) admitted they can't walk as far as they used to.
One in five (20%) (2.4million) confessed they are finding it harder to remember things.
While one in five (2.3 million) or 18% say they feel less steady on their feet.
Caroline Abrahams, Age UK's Charity Director, said: "This research emphasises how important it is that we all rally round the older people in our lives. The pandemic has hit the fast forward button on ageing for millions of older people. Helping them to get through this winter demands a collective effort and the right policies and support from Government, especially for those who are shielding, self-isolating or who lack a strong network of family and friends.
"The decisions the Government takes in the next few weeks will be crucial and we sincerely hope Ministers will resist the ageist siren calls to shut older people away and 'let the virus rip'."
Risks the elderly are facing - and how you can help
MUSCLE WEAKNESS
Months of being cooped up at home has led to a process called 'de-conditioning' of the muscles - and combined with a reduced sense of balance, the elderly are at an increased risk of suffering a fall.
One woman, in her early 70s, who hasn't been named, did just that. She recalled, "Lack of usual exercise has made my Osteoporosis worse, so I suffered a fractured vertebra."And the relative of a woman in her late 80s admitted she'd witnessed reduced mobility in her loved one. "Mum used to catch buses to the next town and walk across town and back home on the bus. Now she is struggling to walk down the path," she explained.
AGED UK ADVICE: KEEP THEM MOVING
Try not to let them sit still for more than one hour at a time, even if you just encourage them to move their arms and legs. Helping them to stay active will not only keep them fit and healthy, it will also generate heat to keep them warmer.
SUFFERING FROM OTHER ILLNESSES
Many, like this lady in her early 70s, are living with their own long term illnesses and have reported it being extremely challenging for them as they are at higher risk of getting Coronavirus."I have cancer. To get up day after day knowing that you can't see the people who you love is extremely hard. This might be my last summer or last year of my life and I can't do the things that make me happy."
AGE UK ADVICE: CHECK THEY'VE HAD THEIR ANNUAL FLU VACCINE
The new vaccine introduced this year for people aged 65+ has an agent which helps boost the immune system and helps fight illnesses. If you know someone over 65 who hasn't had a pneumonia jab before, they may be able to get one. Find out if they're eligible when they have your flu jab.
BECOMING DEPRESSED
The study also uncovered many examples of depression, loss of hope, low mood, lack of support for meal preparation, deteriorating physical health and increased pain due to untreated health conditions.
One elderly man claimed, "I wake up in the morning, just another day, unable to go out or have visitors, feel like a prisoner in my own home. Nothing to look forward to."
AGE UK ADVICE: KEEP THEIR SPIRITS UP
Little things can help in this tough time. Try to keep them going with hobbies or help them set up a regular call with friends or family. The most important is for them to reach out and talk about how they are feeling. If they have been feeling anxious or down for several weeks it is a good idea to get them to speak to their GP. The NHS is still open and able to provide mental health support for those who need it.
POOR DIETS
These negative feelings have impacted on some older people's appetites and diets, which in turn threatened to weaken their resilience further.The family member of a woman in her late 80s described the impact it was having on her loved one. She said, "This lady who lives alone and has been isolated since March has lost the will to live and has stopped eating."
AGE UK ADVICE: EAT WELL
If you know or suspect someone is struggling with big meals, try encouraging them to eat little and often. Something is better than nothing, even if the only thing they fancy is a slice a cake. Be sure to get them to drink plenty of fluids too.
Age UK offers the following advice on how to look after ourselves during winter.
Selina is a Senior Entertainment Writer with more than 15 years of experience in newspapers and magazines. She has covered all things Entertainment for GoodtoKnow, Woman&Home and My Imperfect Life. Before joining Future Publishing, Selina graduated from the University of Sheffield in 2006 with a degree in Journalism. She is fully NCTJ and NCE qualified and has 100wpm shorthand.