How we can all support the elderly and vulnerable during this time
The COVID-19 outbreak has put pressure on elderly and vulnerable groups more than ever...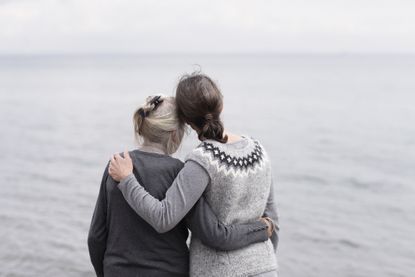 (Image credit: Getty Images)
The coronavirus pandemic has made normal living tough for everyone, but there are more serious implications for the elderly and medically vulnerable.
Health officials have explained that people over the age of 70, and those with underlying health conditions are particularly at risk with the disease, given that if they get it, they could suffer more severe symptoms and issues.
So it's now more important than ever for those of us who aren't as vulnerable to the virus to do what we can to help.
Rallying around those who need it most has never been more needed, and help and support can come in all sorts of different forms.
For people who are at higher-risk with the coronavirus, shielding is advised, meaning they cannot go outside for 12 weeks. And as well as the physical difficulties of such extreme social distancing, there's also the emotional turmoil it can through up.
How can we all help and support the elderly and vulnerable during the COVID-19 epidemic then?
Stay in touch and help out where you can
Telling vulnerable/elderly people to stay at home is all well and good, and at the moment, is considered to be an important step in protecting their physical health. But it's vital to consider how their mental health will fare too.
During social distancing, communicating through any alternative means can be a lifeline if they are left unable to see people in person. Age UK recommends, "Phone your older relatives and friends and ask if they need anything and let them know if they do, you can help out. And while you're on the phone, why don't you have a chat?
"You could set up a rota with other family and friends to make sure someone is regularly giving them a ring to see if they're OK." Sending emails and text can also be a great way to maintain contact if you can't pop round and visit.
Similarly, helping them pick up whatever they may need or running any necessary errands for them is a great way to help. Postcards to give to self-isolating neighbours have been circulating around social media - and theyare a fantastic way to let people know you are able to assist them.
The postcard includes your contact details and urges you to check a box if you can: pick up shopping or urgent supplies, give them a ring for a chat, or post mail for them. Why not drop a few in to your neighbours? Age UK also has similar printable postcards.
Do your bit to tackle loneliness in older people with these practical initiatives
There are a huge host of initiatives being run to help the UK's most vulnerable during this time.
One care home, CHD Living in Surrey, has digitised their outreach plan to help residents tackle loneliness, during the coronavirus outbreak.
Prior to the virus, they were asking for adults and children, who don't or can't see their own grandparents, to be paired with residents for companionship - but now, they are asking for virtual volunteers to 'Adopt a Grandparent', to communicate digitally with residents and send drawings, letters and poetry.
You can sign up here.
South London Cares is another organisation, working across Southwark and Lambeth, looking to tackle the issue of social isolation and loneliness during pandemic.
While they've had to suspend their face-to-face sessions for now, they're asking for donations to help enable a massive effort to "mobilise young people in our communities to support their older neighbours in new ways from afar". You can donate here.
If you're looking for a way to contribute in your local area, its worth checking the websites of care homes or elderly organisations, to see which initiatives they are running.
Help out with digital communication
Equally, if you have older relatives or neighbours, helping them to understand how to communicate online and through technology could be invaluable now.
Show them how to use Skype (over the phone, if they are isolating), or encourage them to call their loved ones via FaceTime, so they can keep in touch without leaving the house.
For anyone who may be lonely, sharing helpline numbers far and wide can also be a lifeline. For practical information and advice, they can call Age UK on 0800 169 65 65, or, for a friendly chat, they can also call Silver Line on 0800 470 80 90.
Stop stock-piling goods you don't need
The official advice from those in the know (supermarkets and the government), is that there is absolutely no need to stock-pile goods in any way. Supermarkets have reassured that there is plenty enough food and other necessary products for everyone, if "we work together", in a joint letter.
If you do feel the need to stockpile, you're only taking away goods from people who really need them.
It can be difficult, especially for older people, to travel far. And they don't have the same ability to pop to another shop or supermarket as easily as you can if something vital, like toilet paper, is sold out.
Seeing less stuff on the shelves may be worrying, but it's never been more important to take only your fair share, and trust in what the supermarkets are telling us. If you are not self-isolating, it is not a problem to revisit the supermarket when you next need something.
Consider those who may be finding this pandemic more difficult, before taking things for yourself.
Practise social distancing yourself
Another thing you can do which has direct benefits for the elderly and vulnerable is adhere strictly to the current self-isolation rules.
Social distancing is generally not for the benefit of normally-healthy people. It is being practised in order to avoid spreading the disease to people whose immune systems may be less able to cope with COVID-19.
Coronavirus can be asymptomatic, so even if you feel well, you may have the disease and could pass it on to someone less equipped to deal with it. And it could be a life or death scenario.
As such, staying out of pubs, restaurants, bars, shopping centres, and vital, as is avoiding unnecessary travel and contact.
So while you may not be stressed about getting coronavirus yourself, self-distancing is a hugely important measure in protecting the vulnerable and older population.
Donate to food banks and other causes
The coronavirus pandemic is, and will continue, to have an enormous economic impact, both on businesses and individuals. With so many left unable to work due to self-distancing measures which have left transport ill-advised and shut down pubs, restaurants and cinemas, many are facing the prospect of weeks without pay.
MORE:Best gentle hand washes that won't dry out your skin
While the government has said they are going to step in and help people and businesses, you can do something to help the elderly and vulnerable too.
The Trussell Trust is the UK's largest network of food banks, and they're more in need than ever of donations. Emma Revie, the charities chief executive, told The Guardian, "We are anticipating a significant increase in users as more people are unable to work."
You can find out how to donate to your local food bank here, including where the nearest collection points are. You can also make a financial donation if you are self-isolating. But you are also urged to get in touch with your local food bank, to find out what they need at the moment.
If you are healthy, and have the time, volunteering is also needed. The Trussell Trust have said their volunteer numbers are dwindling as the elderly and others self-isolate. The National Care Force is also looking for help, and are considering willing volunteers to help care for the nation's vulnerable.
Sign up to our free daily email for the latest royal and entertainment news, interesting opinion, expert advice on styling and beauty trends, and no-nonsense guides to the health and wellness questions you want answered.
Amy Hunt is an experienced digital journalist specialising in homes, interiors and hobbies. She began her career working as the features assistant at woman&home magazine, before moving over to the digital side of the brand where she eventually became the Lifestyle Editor up until January 2022. Amy won the Digital Journalist of the Year award at the AOP Awards in 2019 for her work on womanandhome.com.