12 Superfoods For Healthy Hair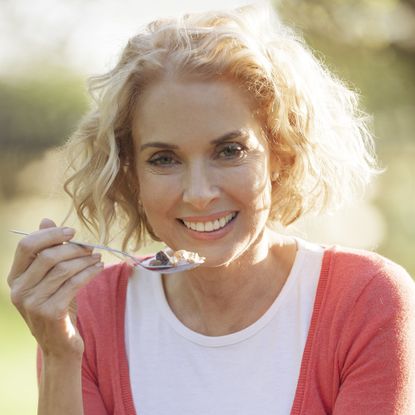 (Image credit: Rex Features (Shutterstock))
Feed your hair with the right nutrient rich superfoods for a healthy glow and strong, luscious locks...
Foods for healthy hair - can you eat your way to glossier tresses?
During the winter months, we are all guilty of constantly brushing our hair to keep a reign on windswept locks and frizz caused by the damp, windy weather; cold spells and constant hat wearing can be troublesome for our tresses. Modern day hair styling tools, such as hair dryers and straighteners, use heat to shape and mould our hair and can result in dried out, split ends, leaving hair looking lack-luster and tired.
When it comes protecting your locks to maintain strong, healthy hair, there is only so much that deep conditioning treatments and hair masks can do. The secret to long-term hair health is a diet rich in all the right nutrients. Feeding your hair with the right super foods will work from the inside out to give your hair a healthy glow.
Protein, omega-3, vitamins A and C, and iron are all essential for keeping your locks in tip-top health. If you're trying to grow healthy hair, a protein-rich diet made up of foods for healthy hair is key.
During the winter months, central heating and constant temperature change between the cold outdoors and warm indoors can irritate the scalp making it itchy and uncomfortable. There are several topical solutions and shampoos that promise to soothe and combat irritated scalps but the key to maintaining a healthy scalp is in your intake of vital vitamins. Omega-3 fatty acid is found in the cell membranes of the scalp, and makes up about 3% of the hair's shaft. It therefore goes without saying that a diet rich in omega-3 is crucial for nourished, hydrated hair and a healthy scalp.
We've picked the 12 best foods for healthy hair and a healthy scalp. To make it easier for you to incorporate these vital nutrients into your diet, we've included our favourite W&H recipes, rich in these ingredients.
Read on to discover the secrets to maintaining luscious locks...
Foods for healthy hair: Oysters
Oysters are one of the most powerful beauty-boosters on the planet. This slippery seafood delicacy contains highly concentrated levels of nourishing vitamins and minerals, which promote a healthy scalp and can prevent hair loss. Folic acid, iron and zinc help strengthen hair follicles, whilst skin-clearing selenium keeps complexions youthful and all for a relatively tiny amount of calories. With oyster season (which runs September -April) upon us, there is no better time to pop this beauty superfood into your diet. Our comforting beef, mushroom and smoked oyster pie recipe is the ideal mid-week warmer.
Foods for healthy hair: Dark Chocolate
Dark chocolate is full of flavonols - an antioxidants which increase blood flow to protect hair and skin from free radicals and UV damage. Cocoa is also proven to help reduce stress hormones, which prevents hair loss and collagen breakdown in the skin resulting in fewer wrinkles. Whilst dark chocolate clearly has concrete beauty benefits, portion control is important. If you eat a typical 100g bar, you're getting a lot more than just flavonoids-you're also getting fat, sugar and lots of unnecessary calories. Nutritionists recommend that 50g of 70% plus dark chocolate a week is all you need to reap a healthier head of hair. Satisfy your daily cravings without blowing your diet by treating yourself to two squares mid-afternoon or after dinner each day to space it out. Alternatively this crowd-pleasing dark chocolate and almond torte recipe is ideal if you're entertaining over Christmas.
Foods for healthy hair: Salmon
Packed with protein and vitamin D, salmon is a one-stop superfood for hair that shines with health. Opt for wild salmon to get the biggest omega-3 fatty acid hit. Salmon is so easy to work into your diet - try our Thai coconut salmon recipe for an inspiring way to liven up your salmon. The Thai-style marinade is perfect with green vegetables for a light summer supper.
Foods for healthy hair: Walnuts
Walnuts are the only type of nut that contain a good amount of omega-3 fatty acids. They also contain vitamin E, which can help protect hairs from UV DNA damage. These wonder-nuts also contain a trace of copper, which helps keep hair colour bright and vibrant. Try substituting olive oil for walnut oil in salads, or try our delicious pear, feta, walnut and pea shoot salad recipe. The dish has a great combination of light flavours, making it a perfect starter.
Foods for healthy hair: Sweet Potato
Carrots aren't the only source of the essential mineral beta-carotene. Sweet potato is another ingredient which provides the mineral and an antioxidant which the body converts to vitamin A. Being low on vitamin A could lead to an itchy, flaky scalp. By adding more sweet potato to your diet, this could eliminate the need to take a vitamin A supplement. Try our roasted sweet potato and almond salad recipe for a hair-strengthening meal. The sweet potato can be roasted in advance - just add the avocado before serving.
Foods for healthy hair: Eggs
Loaded with iron, eggs are a saviour for limp, lifeless locks. Also rich in biotin - an essential vitamin for hair growth - increasing the amount of eggs in your diet could dramatically affect the health of your hair. Egg rougaille recipe is a fantastic way to spice up eggs with something a bit different. Taken from Sunshine On A Plate by Masterchef winner Shelina Permalloo.
Foods for healthy hair: Greek Yogurt
Dairy products are often given a bad press when it comes to healthy eating, but these calcium-rich foods are essential for glossy hair, skin and nails. Skip sugar-loaded flavoured yogurts and opt instead for plain, natural Greek yogurt. Our mango, lime and amaratti fool recipe is an easy-to-make dessert for summer al fresco dining.
Foods for healthy hair: Spinach
It's no secret that spinach has superfood status. Containing plenty of iron, beta-carotene, folate and vitamin C, it's a one-stop-shop for healthy cuticles and a hydrated scalp. Trade the lettuce in a salad for spinach to reap the benefits. Our Roman-style spinach with raisins and pine nuts recipe is the perfect way to jazz up a plain spinach side dish.
Foods for healthy hair: Lentils
Vegetarian? Lentils are one of the best ways to give your body those essential healthy hair nutrients without eating meat or fish. Full of protein, zinc, iron and biotin, they are a diet essential. Without enough protein for keratin, hair grows at a slower rate, and individual strands become weaker. Spice up your lentils with our curried lentils recipe. Serve with plenty of spicy vegetables and brown rice for a nutritious meat-free dinner.
Foods for healthy hair: Poultry
Poultry, especially chicken, is a one of the best gram-for-gram sources of protein. Hair is virtually entirely made of protein - see lean chicken as one of the essential componants if you're trying to grow your hair. This roast chicken with lemon ricotta recipe combines the high-protein chicken with a dairy source. A hair-boosting meal if ever there was one!
Foods for healthy hair: Blueberries
Teeming with vitamin C, it's hard to beat blueberries in the superfood stakes. Vitamin C is vital for scalp circulation and supports the blood vessels that feed your hair follicles. Enjoy blueberries with our blueberry and almond tart recipe. A real showstopper, this pudding will finish off any summer dinner party with a flourish.
Foods for healthy hair: Radishes
Radishes contain high levels of vitamin C and silica: both of which are amazing at stimulating circulation. And, as we know, good scalp circulation means rapid, strong new hair growth. This shaved beetroot, radish and grapefruit salad recipe is a healthy dose of hard-hitting hair nutrients all in one meal. Grapefruits also contain plenty of vitamin C to keep your hair in great condition.