What is pumpkin sauce at Starbucks?
Want to make Starbucks' famous pumpkin spice latte at home? Here is the recipe. Plus: how many calories are in a pump of the good stuff at the store.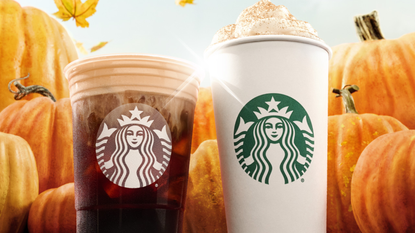 (Image credit: Starbucks)
There's just something about Starbucks' pumpkin spice latte that makes everyone go ga-ga and it probably has a lot to do with the pumpkin sauce that the chain uses to create the concoction.
Of course, the company has yet to release the exact recipe for the sauce, especially now that the Starbucks Pumpkin Spice Latte is back in stores and the chain hopes to draw as many customers on-site as possible.
Starbucks did, however, release its recipe for the famous pumpkin spice latte and it includes ingredients and guidelines to making a homemade pumpkin spice syrup. The recipe probably doesn't yield exactly what is offered in store but it's certainly a good explainer of how the creation is overall prepared.
What is pumpkin sauce made of?
According to Starbucks, pumpkin spice syrup is a mixture of water, pumpkin purée, cinnamon sticks and a variety of other spices. Here are the ingredients and measurements listed on the company's official website:
1½ cups sugar
1½ cups water
6 cinnamon sticks
1 tsp ground cloves
1 tsp ground ginger
2 tsp ground nutmeg
4 Tbsp pumpkin purée
Below, a step-by-step guide on how to make the syrup at home:
Step 1: Combine sugar and water in a saucepan and bring to a simmer.
Step 2: Once sugar is dissolved, add cinnamon sticks, ground cloves, ginger, nutmeg and pumpkin purée, and let simmer for 20 minutes.
Step 3: Remove from heat and immediately strain through cheesecloth.
These specific guidelines will yield enough syrup for 8 beverages and you can keep the mixture in your fridge for up to 7 days.
If you're in the mood to go all the way and make your very own pumpkin spice latte at home, make sure to have the following ingredients on hand as well:
1 cup whole milk
1 oz. brewed Starbucks® Espresso Roast or Starbucks® by Nespresso® Espresso Roast
3 Tbsp homemade Pumpkin Spice Syrup
½ cup whipped cream
1 pinch pumpkin pie spice (garnish)
To prepare the drink, you'll want to heat and froth the milk, brew the coffee in an espresso machine or stovetop moka pot, place the homemade pumpkin spice syrup into a mug and then pour the hot espresso on top of it. Stir everything and then fill the mug up with heated frothed milk until it is about three quarters full. Last step: top it all with whipped cream.
How many calories are in a pump of Pumpkin Spice Sauce from Starbucks?
The Starbucks website offers a pretty handy nutrition calculator (opens in new tab) that allows would-be customers to figure out details about each drink based on how they customize their orders.
According to the tool, a 12 oz. pumpkin spice latte (that would be a tall cup) is about 300 calories and that includes 3 pumps of the pumpkin sauce. A short cup of the drink (8 oz.) is usually prepared with two pumps and is about 210 calories. If opting for the 16 oz. grande, you'll get 4 pumps of the sauce and the drink will probably be closer to 390 calories. Finally, if opting for the largest size of cup available, a 20 oz. venti made with 5 pumps of pumpkin sauce, you'll effectively be drinking 470 calories.
Starbucks doesn't reveal how many calories exactly are in each pump of the sauce. However, Yahoo (opens in new tab) has calculated that each pump adds around 30 calories and 7.5 grams of sugar to your diet.
Word to the wise: ask for a simple pump of the good stuff no matter what size drink you order. It will be better for your overall health.
Anna Rahmanan is a New York-based writer and editor who covers culture, entertainment, food, fashion and travel news. Anna's words have appeared on Time Out New York, the Huffington Post, Fortune, Forbes, Us Weekly, Bon Appetit and Brooklyn Magazine, among other outlets.