The best recipe boxes for simply delicious summer dishes
Ideal for quick and easy-to-make dishes this season!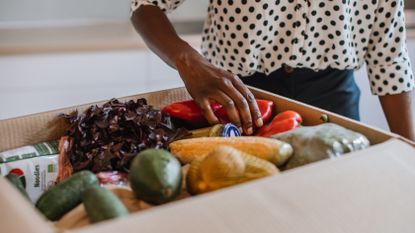 (Image credit: Getty Images)
For those of us who just don't have time to plan weekly meals, shop for the ingredients and then whip up delicious dinners after a hectic day at work, recipe subscription boxes are here to save the day.
The idea is, by signing up to a subscription service tailored to your needs, you'll choose the dishes you want to try and have all the ingredients, from fresh veggies to essential spices, delivered to your door with a recipe card telling you exactly how to rustle up the dish.
They are a super convenient way to ensure you and your family are still enjoying yummy nutritious dinners, even on the busiest of weeknights.
If you know you'll still be short on time when it comes to cooking, many subscription services offer dishes that take just 20 minutes to make, too/.
Keen to try one out? Here are five of the best recipe boxes for delicious summer meals right now.
1. HelloFresh
Whether you need a quick weeknight meal or want to wind down in the kitchen on the weekend, HelloFresh offers a wide range of plans for those cooking alone or for every lifestyle and taste. Tuck into a vegetarian option or pick from a globally inspired dish or British Classic.
Inside your box, you'll find everything you need to whip up your dish, including fresh pre-portioned ingredients for more taste and less waste, and store cupboard essentials, including spices. You can also add delicious extras like veggie sides, brunch dishes and indulgent desserts.
On this summer's menu, you'll find refreshing salads like the Beetroot, Green Bean, and Orange Salad and mouth-watering pasta dishes like the Superquick Beef Ragu.
HelloFresh boxes start at £25.99 plus £4 for delivery. And now, HelloFresh is offering w&h readers 50% off their first box and 35% off their next three boxes using the code HELLOWAH50 at hellofresh.co.uk. (This voucher is valid for new customers only and expires on 31/12/2021.)
2. Gousto
Whether you're cooking for two or the whole family, Gousto has a range of recipe boxes on offer where you can choose to have two, three or four recipes delivered every week. With over 50 recipes to choose from, you won't be short of delicious meals with this subscription box.
The options are endless, and you can choose between everyday favourites like the Sweet 'N' Smoky BBQ Fajitas, healthy choices such as Moroccan Chicken With Lemony Couscous or try one of Joe Wick's Lean in 15 dishes like Joe's Broccoli Cheese Loaded Sweet Potatoes.
Gousto boxes start at £24.99 per month with free delivery.
3. Mindful Chef
Using ethically sourced ingredients from UK farms, Mindful Chef delivers everything you need for healthy, low-carb dishes. Like the other subscription services, you can choose how many people you're cooking for and how many meals you'd like a week with loads of vegan-friendly dishes available.
Mindful Chef recipes also outline calories and macros, ideal for anyone focusing on their health and trying to increase their protein or reduce their fat intake.
This summer you can enjoy dishes such as Aubergine with Pomegranate Salsa & Harissa Yoghurt and Sri-Lankan Style Fish Curry with Cinnamon Rice—yum!
Mindful Chef boxes offer meals starting at £6 per portion for a 4-person box, with free delivery.
4. Simply Cook
Simply Cook is a little bit different than the traditional recipe meal box. While it doesn't deliver fresh produce to your door, it does provide you with flavour pots full of a unique blend of spices and herbs to help you rustle up a delicious and flavoursome meal at home.
With over 100 recipes to choose from, you'll also receive a recipe card with a shopping list of the fresh produce or store-cupboard essentials you'll need. It's a great way to take your cooking to the next level or try out cuisines you've never cooked before.
This summer you can try fan favourites like Goan Fish Curry and Teriyaki Salmon Donburi, or speedy dishes that take under 20 minutes to make like the Penne alla Rustica or Firecracker Chicken Noodles.
Simply Cook boxes are letter-box friendly containing flavour pots for four meals and costing £9.99
5. Morrisons Food Box
Morrisons food boxes are great for families who want hassle-free meals with a weekly, monthly or fortnightly subscription. The 5 Meals for 4 Box has everything you need to create five delicious family dishes and is great for weeks you just don't have time to get to the supermarket. You can also try a one-off box to get a taste of the service before signing up for the subscription.
This summer in the 5 Meals for 4 Box you'll find all the ingredients you need to make Keema Curry, Veggie Stir Fry, Veggie Enchiladas, Tex Mex Meatballs with rice and Italian Style Sausage & Mushroom Spaghetti.
The UK supermarket also offers British Food Subscription Boxes, Fruity Favourites Subscription Boxes, Vegetarian Subscription Boxes and more.
Morrisons 5 Meals for 4 Box costs £28.50 (price includes delivery).
Ciara was the former digital health editor at womanandhome.com, covering all things health & wellbeing from fitness to sleep to relationships. She's always on the lookout for new health trends, innovative fitness gadgets and must-read wellness books.
Originally from Ireland, Ciara moved to London to study journalism. After graduation, Ciara started her career at Goodhousekeeping.com. Ciara qualified as a meditation teacher with the British School of Meditation in 2020, and outside of her day-to-day now runs her own meditation school called Finding Quiet. She is all about bettering that mind-body connection but believes wellness looks different to everyone.