Easy no-bake cheesecake recipes to try at home
No-bake cheesecakes are an excellent dish to master and the woman&home food team have created some deliciously luxurious dishes for you to try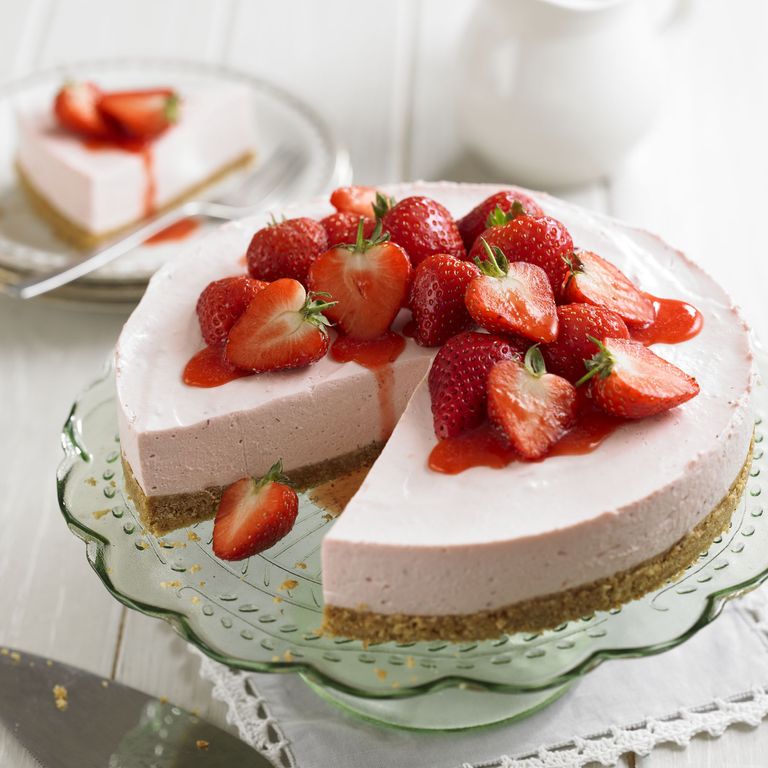 (Image credit: Charlie Richards)
No-bake cheesecakes are exactly what they sound like - cheesecakes you don't need to bake. While this definitely makes them an easier option than the trickier baked cheesecake, they're not a quick dessert option - what you save in effort you gain in chilling time - but the results are more than worth the wait.
There are two stages to most no-bake cheesecake recipes - the base and the filling - and like most cheesecake recipes, it's important to get the balance and mix of ingredients just right.
No-bake cheesecake base
This base traditionally consists of melted butter and crushed biscuit crumbs that are combined and flattened down into a springform cake tin then chilled. This base is chilled rather than baked to ensure that the base isn't too greasy, which will impact how well the filling sets.
No-bake cheesecake filling
No-bake cheesecake fillings are built around the main component of cream cheese or mascarpone but then vary depending on the recipe - some include sugar, eggs, or cream - depending on the flavour components and the weight of additional ingredients. It's very important to follow the ingredients in the recipe to ensure that the filling sets once chilled. It's also key to not over-whisk the filling as this could result in a thin mixture that won't set in the fridge.
Our experts in the woman&home food team have created a delicious array of no-bake cheesecake recipes that will suit any dinner theme or occasion. With delectable flavour combinations and simple yet effective design twists, our collection of no-bake cheesecake recipes are sure to tempt you into the kitchen.
---
Go Cook Spring Form Loose Base Tin 23cm: £11 | Tesco
Sponsored
Get your cheesecake just right with the best tools for the job. If you don't have the right equipment in or are working with old bakeware and want a bit of an upgrade, we love this Tesco loose base cake tin that is the ideal size for making cheesecakes, and comes with tall edges if you want to double up your recipe and feed more people. The non-stick coating and handy springform feature also make it a breeze to get your cake out once it's set, so that you be left with a picture-perfect cheesecake.
Our strawberry cheesecake recipe is a real classic and is a great recipe to make in the summer when strawberries are in season.
Get the recipe: Strawberry cheesecake with strawberry sauce
Cream cheese and crème fraîche form a soft base for the sharp passion fruit in this delightful cheesecake.
Get the recipe: Passion Fruit Cheesecake
We love the clean flavours in this great cheesecake, the Seville orange filling has a sharp edge to it, without being overpowering.
Get the recipe: Seville Orange Cheesecake
This light lime cheesecake is topped with mango, papaya and lightly toasted coconut which give it a tangy tropical edge.
Get the recipe: Lime Cheesecake
If you're making this raspberry cheesecake when raspberries aren't in season, fret not, you can easily use frozen instead of fresh berries!
Get the recipe: Raspberry cheesecake
This mascarpone-based cheesecake with bananas and butterscotch sauce is a full on sugary treat and perfect for those with a sweet tooth.
Get the recipe: Mascarpone cheesecake with bananas and butterscotch sauce
Switch up the base of your cheesecake using Amaretti biscuits like in this delicious recipe - and it features everyone's favourite flavour combination of chocolate and strawberries.
Get the recipe: Strawberry, chocolate and Amaretti cheesecake
This zesty orange cheesecake is topped with a layer of Pimms jelly for a slightly boozy twist. This recipe includes a delicious mint and strawberry side salad to really bring the flavours of the classic drink to the dish.
Get the recipe: Orange cheesecake with strawberry and Pimms jelly
For cheesecake like you've never had it before, try this Japanese-style recipe. It's got some really unique flavours that work really well.
Get the recipe: Yuzu and tofu Japanese cheesecake
For a great Christmas centrepiece, try this indulgent cheesecake that is laced with chunks of nougat pieces and mixed toasted nuts.
Get the recipe: Nougat cheesecake
This fruit-topped design is a great dish to wheel out at a traditional British party.
Get the recipe: A very British cheesecake
Portioning off a cheesecake into individual glasses turns it into an easy dinner party dessert - and you don't have to worry about getting that perfect slice!
Get the recipe: Strawberry cheesecake in a glass