People are going wild for this garlic peeling hack – but does it work?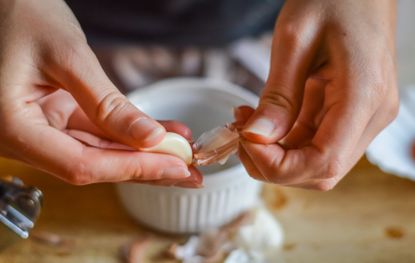 Think you've got garlic peeling down to a fine art? This viral hack has shocked foodies everywhere.
When tackling the pungent ingredient, most of us would peel it clove by clove or even smash it, but have you ever thought of using a knife?
Twitter users were in awe of @VPestilenZ's method, where she uses a knife to stab and pull each individual piece of garlic out of its skin, which peels and separates them at the same time.
She shared her video with a caption that read 'As someone who makes a lot ofKorean food, this is the best method for getting garlic peeled!'. Since uploading, the tweet has got lots of attention, reaching over 145k retweets and over 442k likes.
We're always open to kitchen hacks, as anything that makes cooking even easier can only be a good thing. This garlic peeling is definitely quicker than others we've tried, giving us an excuse to add more garlic to pretty much every dish. No complaints there.
Naturally, users were quick to share their thoughts, with most of them confused about how they'd never used this method before. Many people described the method as 'life changing', with another joking 'Time to not think about all the time I've lost peeling garlic in any other way'.
Another agreed, saying that the trick was 'oddly satisfying'. Others rushed to the kitchen to try it out, confirming to other users that it actually does work.
MORE: The best recipe boxes for quicker, healthier meals (opens in new tab)

Even YouTube cooking channel Sorted Food was impressed by the hack, proving that not even professionals have given this one a go. So you don't have to feel bad.
MORE: This 'revolutionary' chef – who counts Nigella & Ottolenghi as her biggest fans – wants us to rethink how we cook (opens in new tab)
Now that you've got a simpler garlic peeling method, why not put it to the test? We have a whole host of recipes using it, such asgarlic roast chickenorgarlic and cheese stuffed mushroomsfor any vegetarian cooks out there.
Watch those fingers though, it's always a risk when you bring a knife into the equation!
From GoodtoKnow, our sister site
Lucy Buglass is a Digital Writer specialising in TV, film and lifestyle content and has written for What's On TV, GoodtoKnow and Whattowatch.com. She's passionate about entertainment and spends most of her free time watching Netflix series, BBC dramas, or going to the cinema to catch the latest film releases. In her spare time, she writes film and television reviews for JumpCut Online and her own blog, Lucy Goes To Hollywood.