This 'revolutionary' chef - who counts Nigella & Ottolenghi as her biggest fans - wants us to rethink how we cook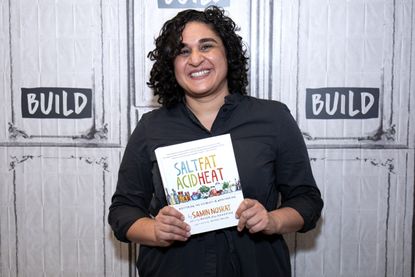 Salt, Fat, Acid, Heat has been called "essential" reading by Nigella Lawson, but despite its "revolutionary" approach to cooking, the premise is deliciously simple.
Samin Nosrat wants us to rethink the way we cook, taking it back to basics.
Samin started her career as an unpaid apprentice in her home town of California. Now she's changing the way we look at food. Her debut cookbook Salt, Fat, Acid, Heat (opens in new tab) was a runaway success. The Times named it their Food Book of the Year, Nigella Lawson called it "essential" reading and Yotam Ottolenghi declared it "revolutionary in its simplicity".
Even Prue Leith waded in, calling Samin simply "brilliant".
MORE:Everything you need to know about the woman&home Amazing Women Awards 2019 in partnership with Hotter
Her first cookery show, also called Salt, Fat, Acid, Heat debuted on Netflix in October. And now Samin has come to London to teach the art of 'elemental cooking' at Leith's School of Food and Wine (opens in new tab).
https://www.youtube.com/watch?time_continue=92&v=2oKbs4jAf7M
So what's her secret?
Well, it revolves around the four things she calls the 'elements' of successful cooking: salt, fat, acid and heat.
"Master these four elements, master the kitchen," she says. And while it took Samin almost three years to write the first four chapters of her book, the philosophy behind it is simple.
It's all about honing and trusting your instincts – and your senses – and getting to grips with those essential elements…
Salt
"Salt has a greater impact on flavour than any other ingredient," says Samin. "Learn to use it well, and your food will taste good."
But not all salts are created equal. "Taste your salts and get to know how salty they are and adjust while you cook to achieve the perfect level of saltiness," she told Stylist. "My advice is not to use more salt. It's to use salt better and to know when you're adding it and in what form."
While Samin invariably uses salt, she doesn't always use pepper. "To me, pepper is a spice and I'm really careful about which spices and herbs I'm using based on which country and which cuisine's food I'm cooking," she explains.
Fat
"Fat carries flavour," says Samin. "But how you use them will determine texture, which is just as important.
MORE:The amazing woman behind the world's first breakthrough black hole image
"Fat makes five distinct textures possible: crisp, creamy, flaky, tender and light."
Acid
"Acid balances flavour," she says. "It's the way acid contrasts with other tastes that heightens our pleasure in foods. Salt, fat, sugar, bitterness and starch all benefit from the contrast acid provides."
Heat
Heat is all about transformation. "It triggers the changes that take our food from raw to cooked, runny to set, flabby to firm, flat to risen, and pale to golden brown," she explains. "At the heart of good cooking lies good decision making."
Samin says we need to use all our senses – including common sense – to decide "whether to cook food slowly over gentle heat or quickly over intense heat".
Salt, Fat, Acid, Heat (opens in new tab)by Samin Nosrat (£30, Canongate Books) is out now.
Samantha Simmonds is a freelance journalist, content writer, copywriter, and editor based in London.
She graduated from Reading University with a First Class degree in Psychology, later achieving a Distinction in her Diploma in Fashion & Personal Styling from The London College of Style.
Samantha is currently creating digital editorial content for John Lewis, writing for The Edit's wellbeing channel. She also writes for publications including Women's Health, Top Santé, Refinery29, GoodtoKnow, Cosmopolitan, Healthy, Health & Wellbeing, woman&home, and Yahoo, and has created commercial content for brands including Berghaus, Amazon, and Regaine.