The amazing woman behind the world's first breakthrough black hole image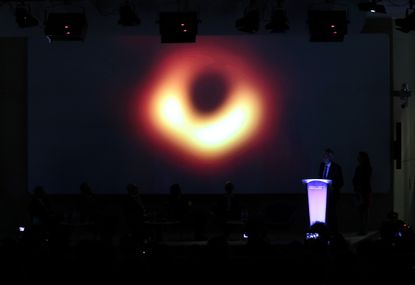 (Image credit: Getty Images)
Praise continues to pour in for the 29-year-old computer scientist who helped develop an algorithm that resulted in the world's first-ever image of a black hole.
Dr. Katie Bouman, aged 29, pioneered the development of a computer program that made the landmark image possible. The breakthrough photograph, which was released last week, shows a halo of dust and gas 500 million trillion kilometres from Earth.
Dr. Bouman's ground-breaking algorithm collected data from telescopes across the globe to stitch together a photograph of the black hole, which otherwise would have required a 10,000-kilometre-wide telescope dish. (The world's current largest telescope dish is just 1,000ft in diameter.)
MORE:Nominate an amazing woman in your life and she could win a w&h award
Preparing herself for the historic moment, Dr. Bouman was pictured on her Facebook page excitedly loading the image onto her laptop. "Watching in disbelief as the first image I ever made of a black hole was in the process of being reconstructed," she captioned the post.
A number of high-profile women have since praised Dr. Bouman's revolutionary work, including Ivanka Trump, who tweeted to her over 6.3m Twitter followers, "Today, the world saw the 1st-ever image of a #BlackHole - an amazing accomplishment made possible by Scientist Katie Bouman. Big congrats! Hooray for #WomenInSTEM like Bouman."
It wasn't long until the brilliant Dr. Bouman was getting her due recognition; having her status skyrocketed to international sensation after her name began trending on Twitter.
Popular American Democratic Party politician Alexandria Ocasio-Cortez was also quick to praise Dr. Bouman.
If you know an amazing woman who is also making an incredible contribution to society, be it big or small, nominate her for our Amazing Women Awards 2019.
"Take your rightful seat in history, Dr. Bouman!" she Tweeted out to her followers. "Congratulations and thank you for your enormous contribution to the advancements of science and mankind. Here's to #WomenInSTEM!"
Dr. Bouman began work on the algorithm three years ago while she was a graduate student at the prestigious Massachusetts Institute of Technology (MIT).
"This is just the beginning of being able to have another window into what black holes can tell us about our laws and physics," Dr. Bouman said about her revolutionary discovery in a video posted on Instagram. "But already we've learned so much."
Words by: Kate McCusker.
Sign up to our free daily email for the latest royal and entertainment news, interesting opinion, expert advice on styling and beauty trends, and no-nonsense guides to the health and wellness questions you want answered.