These are the best value Lidl wines you need to try this November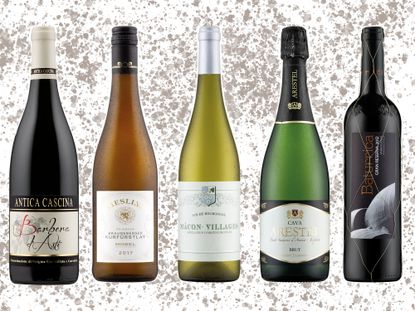 Lidl's wine expert Richard Bampfield has handpicked five of the best value wines you need to try this November - and they all cost under £6.
As we head into the festive season, we're all starting to think about the tipples you want for Christmas day and you may even be stocking up for your New Year's Eve parties.
To help you make the best choices, wine expert Richard Bampfield has handpicked five of the best value wines from Lidl's range that he thinks you should try this November.
Each of the wines cost less that £6 a bottle and it's worth giving them a try as you may just find a new favourite. We've got our eyes on the impressively low-cost white Burgundy and the Cava Brut, which is made in a similar way to Champagne.
Five Lidl Wines to try this November
Mosel Riesling, £4.99
Richard says: "Great to find this depth of flavour in a relatively light wine. Refreshingly fruity and moreish - easy to drink on its own or with spicy soups on a wintry evening."
Macon Villages AOP Blanc, £5.99
Richard says: "Astonishing value for a Burgundy, a classic well-rounded white, very versatile and perfect for a cosy night in."
Barbera d'Asti, £4.99
Richard says: "Just the sort of red to be served by the carafe in an Italian restaurant with pepperoni pizza and pasta dishes."
Batturica Tarragona Gran Reserva, £4.99
Richard says: "My ultimate favourite festive tipple, ripe, ready, and at a price you really can't say no to. "
Cava Brut NV, £5.29
Richard says: "Made in a similar way to champagne, this has good depth of flavour with a refreshing lime-scented finish. Great for cracking opening a bottle with friends on Bonfire night."
If you'd like to learn more about Lidl's wine range and how to make more informed decisions when choosing your wine, they have recently launched a series of dark wine tastings, led by Richard himself.
The tastings take place in total darkness to try and prevent people from making an assumption on wines based on the appearance of the bottle.
Research from Lidl found that more than half of Brits choose their wine based on whether it is a cork or screw top.
Tickets to the tastings cost £4 with a 90p booking fee and all proceeds do to the NSPCC to help keep children in the UK safe. They can be booked here (opens in new tab).
Inside Lidl's Chateaux Noir Pop-up
There will be a limited number of walk in tickets available on the day, so it's best to book ahead to avoid any disappointment.
What are the biggest factors you consider when buying wine? Is it the price, label or top? We'd love to hear your thoughts - head over to our Facebook page and let us know!
Jessica is a Senior Food Writer at Future and is an enthusiastic, self-taught cook who adores eating out and sharing great food and drink with friends and family. She has completed the Level 1 Associate course at the Academy of Cheese and is continually building on her knowledge of beers, wines and spirits. Jessica writes food and drink related news stories and features, curates product pages, tests and reviews equipment and also develops recipes which she styles on food shoots.