Women's Suits Are Making A Comeback, Here's How You Wear One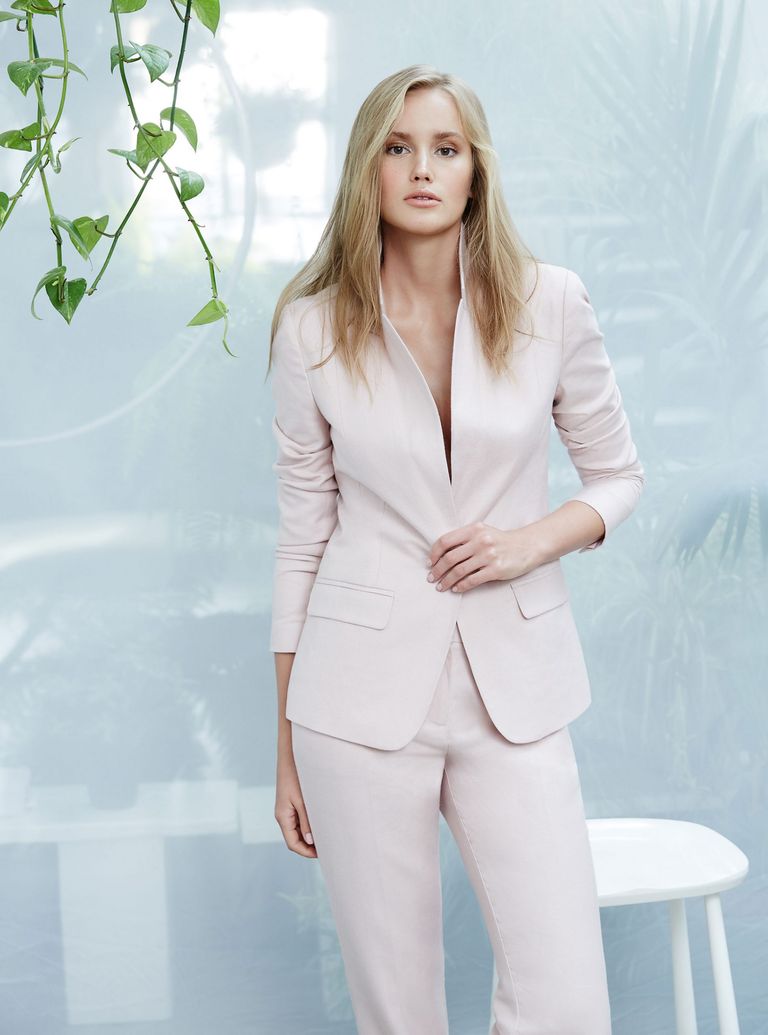 Meryl Streep is a big fan, as is Helen Mirren, and Victoria Beckham is championing them too... we're talking about the trouser suit.
A powerful duo of a matching jacket and trousers is the thing to be seen in this season, making its way down from the catwalks to the supermarket aisles.
Embracing a more androgynous style can feel daunting, but there are plenty of options to ensure you aren't venturing too far from your own personal style. From patterns and textures to block colours and classic cuts, there are options to suit all tastes - and price ranges.
But our latest inspiration comes from none other than Kate Garraway, who rocked a stunning powder blue suit live on Good Morning Britain.
The presenter chose a gorgeous Zara two-piece, giving her a polished professional look perfectfor kicking off a new week. Kate's outfit choice is a little on the expensive side, with the blazer selling for £79.99, and the trousers at £39.99 - but trust us, it'll be worth the investment.
Shop Kate's suit and our ultimate suit edit, and shake up your style for the season ahead...
Blazer and trousers, Zara
The flared trousers in this blush blue combo are flattering on any shape, while the oversized, double-breasted blazer is as stylish as they come. Make like Kate and be brave, by pairing the suit with a bold, colourful pair of heels, or a metallic choice.
Jacket - BUY NOW from Zara for £79.99
Trousers - BUY NOW from Zara for £39.99
Jacket and Trouser Set, Sainsburys
This suit caused a furore online in recent weeks, selling out as soon as it hit the online shelves. And it was so popular, it even accounted for 43% of Sainsbury's online sales that week! It's available now but probably won't be around for long, so make sure to grab yours today...
Jacket - BUY NOW from Sainsburys for £35
Trousers - BUY NOW from Sainsburys for £28
Turner Trouser Suit, Reiss
Pinks are back this year, which means this burnt rose shade is right on point. Ultra feminine, it's great for workwear or more formal occasions - just accessorise for the event.
Trousers - BUY NOW from Reiss for £130.00
Blazer - BUY NOW from Reiss for £235.00
Trouser Suit Zara, £29.99
Grey suits don't have to be bland. Try pairing this sleek trouser suit with a pale pink camisole or bright accessories for a chic, modern finish.
Blazer with Shoulder Pads - BUY NOW £29.99, ZaraSkinny Trousers - BUY NOW from Zara for £19.99
Gardenia Suit Set, Hobbs
Be brave and bold in these floral suit pieces. Make sure you stand out from the crowd with this look, but make sure to put it together with simple shoes and a simple white top, in order to make sure the look isn't too much.
Jacket - BUY NOW from Hobbs for £229.00
Trousers - BUY NOW from Hobbs for £129.00
Textured Suit, Reiss
If you want to stick with traditional tones of blue or black, consider adding texture; it brings another dimension to an outfit while instantly making it look more high-end. We think this sophisticated navy combo oozes luxury.
Indis single breasted blazer - BUY NOW from Reiss for £230.00
Reiss Indi Tailored trousers- BUY NOW from Reiss for £125.00
Flowing Blazer and Ankle Trousers Set, Zara
This jacket and loose trouser set is perfect for the warmer evenings, and would be ideal to wear to a formal family dinner or a relaxed work event. Pair it with a strong high heel for a dazzling look.
Trousers - BUY NOW from Zara for £25.99
Blazer - BUY NOW from Zara for £49.99
Mono Jacquard Jacket & Trousers Set
If you're feeling bold, move away from plainer trouser suits with this eye-catching monochrome print. To lift the look, layer a colourful blouse underneath or go for a full on (on-trend) print clash with a printed top.
Harlow Textured Mint Suit Set, Reiss
Smart, simple and elegant pretty much sums up this gorgeous mint suit piece from Reiss. The jacket is fitted and tailored ensuring a sophisticated look, and the ankle length trousers make the perfect pairing for some nude heels.
Jacket - BUY NOW from Reiss for £225
Trousers - BUY NOW from Reiss for £120
Co-ord, Whistles
If you're going for an ultra sharp and chic look, this coord ticks all the right boxes. The high-rise trousers with a slight kick flare nod to the 70s trend without going all-out retro.
Blazer - BUY NOW from Whistles for £175.00
Trouser - BUY NOW from Whistles for £150.00
Structured Cotton Blazer, £89.99, Mango
Flares are making a comeback in a huge way this year. This trouser suit embodies the trend in a contemporary style. The baby-blue shade is great for injecting colour into your wardrobe in a fresh, subtle way.
Flared Cotton Blend Trousers - BUY NOW from Mango for £49.99
Cotton Blazer - BUY NOW from Mango for £89.99
Longline Jacket and Trousers Set, M&S
Aim for a subtle and sophisticated look with this set. Mixing up your clothes lengths is the height of fashion at the moment, and this gorgeous cream jacket coat and cropped trousers will help you do just that.
BUY NOW from M&S for £45 - £79
Now you've had a taster of what the high street has to offer, it's time to switch up your formal dress code and bring a little added power to your personal style with a feminine suit.