Which Hat Is For Me? The Styles To Suit Everyone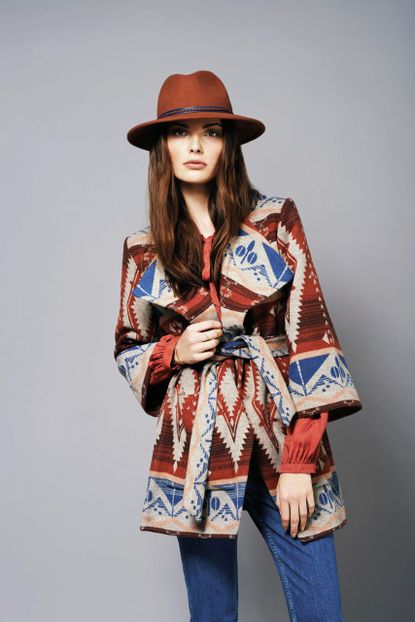 We round up the most stylish hats to buy this winter.
From floppy hats to fedora hats, cosy beanies to stylish berets - hats are an obvious winter essential, but choosing the right one can be a tricky task - which is why we've done the work for you, and rounded up the best ones available this season. A well-chosen hat can give even the most basic outfit that all important edge. And if you want to make a statement, hats are most definitely the way to go.
The golden rule to remember when wearing a hat is to have fun. Do not take it off, hold it in your hand, or put it away in your bag. When it comes to wearing a hat, confidence is key.
In terms of finding a flattering fit, floppy ridges will soften out any edges which is great for square shaped faces, while taller fedoras will lengthen out a round face. If you have an oval face, you're very lucky, because you can wear just about any style of hat with ease, but beanies and berets are especially flattering.
The right hat can also keep you cosy through the chilly winter months, not to mention save you from a bad hair day. Simply pop onto your head, tuck your hair underneath and voila - instant glamour and no one will know will know anything. So there you have it. Whether you're a trilby wearer, or more of a pom pom queen, the right hat is guaranteed to inject style into any outfit…and here are 10 of the best hats available to buy on the high street now.
Hat availabe to buy from Monsoon (opens in new tab).
French Connection
For an unusual take on the trilby, try this purple version (opens in new tab) from French Connection. Its medium brim will flatter a heart shaped face by drawing attention to the eyes and balancing out a narrow jaw line.
Reiss
Made from a blend of merino wool and cashmere, this navy hat (opens in new tab)is the ultimate winter accessory. More good news - a pom pom hat will look good on just about any face shape.
And Other Stories
Add a pop of colour to your outfit with this pretty turquoise beanie (opens in new tab), which will flatter anyone with a high forehead.
M&S
Ooze French elegance in this bright red beret (opens in new tab), especially flattering for heart and square shaped faces. Tilt it to one side for optimal results.
And Other Stories
The definition of cute...in a hat (opens in new tab). If you have a heart shaped face, then this is the beanie for you.
DVF
Feeling indulgent? This pom pom hat (opens in new tab)is a unique buy, and will also work well for most face shapes.
Rag and Bone
If you're after an investment buy, then invest in this hat (opens in new tab) - you won't regret it. It's also a great option for round and oblong faces.
Whistles
If you're in need of a good quality faux fur hat (opens in new tab), then look no further. This will look especially becoming on those with heart and round shaped faces.
ASOS
Liven up a weekend look with this charming floppy fedora (opens in new tab). Featuring a large brim, this hat is another great option for oblong and round faces.
Anthropologie
With its bottle green hue this playful hat (opens in new tab) is bang on trend, and looks good on everyone.