We take style lessons from Camilla, Duchess of Cornwall, after appearance in joyous patterned scarf
Gorgeous in green once again!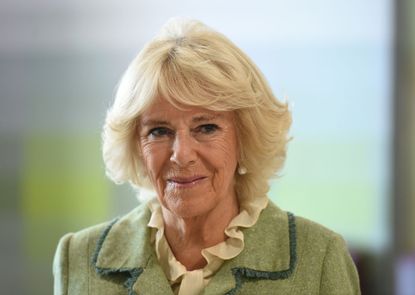 (Image credit: Getty Images)
Once again Camilla, Duchess of Cornwall is upping the fashion stakes. On a rainy autumnal day, she visitedEbony Horse Club andDwaynamics boxing club in Brixton, London.To hear about how both places have been coping during the pandemic.
Sheltering from the rain with a large Fulton umbrella she wore a joyouspatterned scarf with a green tartan skirt, black blazer jacket and block-heeled knee-high boots - we think they're the same ones she wore the other day too! Not forgetting her leather gloves, which have become a bit of a staple for her and pearl earrings. A lesson in style for all of us.
MORE:Why Duchess Camilla was 'trembling like a leaf' when she first met Prince William
The Duchess is President ofthe horse club, which is a community-riding centre that aims to help children learn new skills and take on new responsibilities. While it may be in Zone two of London, it is home to eight horses and provides opportunities for 140 people.
As with most things during lockdown, people were unable to visit however the charity still managed to support families by arranging weekly video calls, allowing participants to virtually visit competition venues. They also adapted their space and became a hub for the National Schools Breakfast Club, allowing them to distribute provisions for 80 local children per week, every Thursday - quite a feat!
MORE:Duchess Camilla opens up on loneliness in heartfelt video
At the boxing club, she watched some action inside the ring and was greeted bychief executive Lorraine Jones, whose son Dwayne Simpson was stabbed to death at the age of 20. Following his death, Lorraine wanted the world to be a better place and so she continued his legacy with the Dwaynamics boxing gym to help young men avoid violence.
Rachel is a freelance contributor to woman&home, covering news as well as books, lifestyle and travel. Her byline has also appeared in The Independent, The Financial Times, ELLE Magazine, VICE, Glamour Magazine and others. She loves nothing more than talking with people to share their stories. When she is not writing you will definitely find her nose in a book or magazine, or perhaps training for the next half marathon, practicing yoga or eating in London's best restaurants.