The Snuggliest Slippers For Happy Feet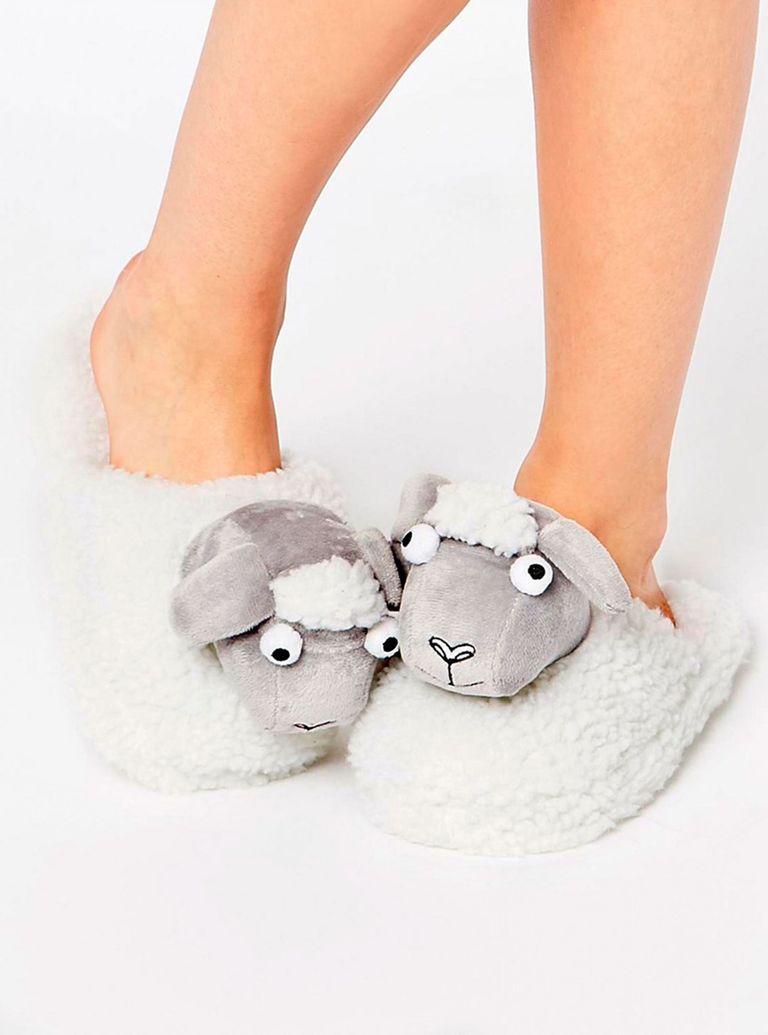 Add the finishing touch to your lounge look with our pick of the loveliest slippers
It's that time of year again to get comfy. It's freezing outside, raining buckets (and sometimes snowing them, too) and all we want to do is keep warm, both outside the house and in. Shops are full of gorgeous coats, fluffy jumpers and hats, scarves and gloves; all in the trendiest patterns and materials. But we also need to stay warm and cosy when snuggled up on the sofa with a glass of mulled wine. Just because we're staying inside doesn't mean we want to look any less fashionable, so lovely pyjamas and lounge clothes are a winter must.
But to complete your lovely lounge look, you will need the perfect slippers. Feet can be one of the coldest parts of our bodies when it gets chilly, so make sure your toes are kept warm while looking stylish at the same time.
With so many colours and styles to choose from, we give you our run-down of the very best slippers on the high street. From slip-ons to boots, from chestnut brown to magenta pink, we've got something to suit everyone. The slippers also range from £12.50 to £75 so you'll be able to find the perfect pair no matter your budget.
This adorable pair of sheep slippers are £14 from ASOS, and are perfect for any animal lover or for someone who just really likes getting comfortable.
So whether you're looking for yourself or hoping to find a perfect present, keep clicking for even more snuggly slippers...
Toms Blue Green Wool Women's Slippers, £39.99
These wool slippers from Toms are super stylish with their wintery green print. For every pair of shoes you buy from Toms, they buy a new pair of shoes for a child in need - so you can snuggle up knowing that you're doing good, too.
Freestep Maisie Heritage Slippers, £16
If you want slippers fit for a queen, look no further than this silky pair from Freestep at House of Fraser. The subtle rose print is absolutely divine.
M&S Pug Ballerina Slippers, £12.50
Dog lovers will absolutely love these pug slippers from M&S. In a ballerina style, these are perfect for those who don't like having their feet too warm.
Cath Kidston Woodland Rose Sheepskin Mule Slippers, £42
How adorable are these Cath Kidston slippers?! The sheepskin is so soft you'll feel like you're walking on clouds, and the summery print will add a bit of sunshine to a cold Winter's day.
Next Moccasin Slippers, £14
For practical, yet chic slippers, this Next pair are brilliant. We absolutely love the bright magenta - it makes them just a little bit different.
UGG Scuffette II Slippers, £75
UGG Australia are famed for their sheepskin shoes, and these slippers are classics. Although a lot pricier than some of the other slippers, they are excellent quality and really worth the investment.
White Stuff Bobble and Stripe Slipper Socks, £22.50
If you don't like a sturdy slipper, these slipper socks from White Stuff will still keep your feet snug. The funky spot and stripe design makes them extra cute and will look perfect with any pyjamas.
Debenhams Red Knitted Slipper Boots, £16.50
Boot slippers are great because they keep your ankles warm as well. This Debenhams pair are so Christmassy and fun that we will be living in them this December!