The Best Plus Size Party Dresses On The High Street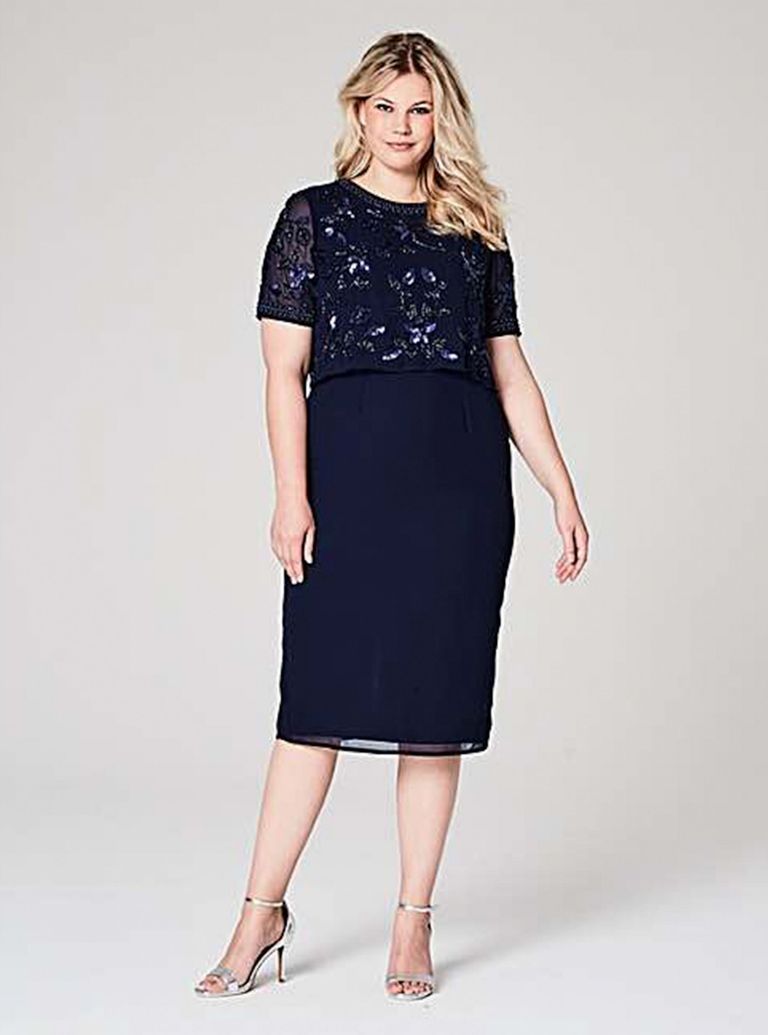 Party season is officially in full swing. December is packed full of office parties and family gatherings - not to mention Christmas Day and New Year's and of course you'll need a different dress for each, (this is the season to treat yourself after all).
There are so many festive plus size dresses on the high street, from sparkly sequinned numbers to luxurious lace there's something to suit every taste and festivity!
It's great to know your body shape when shopping for a party dress. If you're looking to flatter your tummy, opt for wrap dress styles. Or perhaps you want to show off your marvellous pins? In that case, a skater style dress will work in your favour. It's important to feel body confident whatever the occasion and our selection of dresses are specifically designed by plus size retailers to flatter your body to the max.
Here's our pick of the best plus size dresses on the high street right now, so you can look a total knockout whatever the festive event.
Bardot Prom Dress, £65.00, Simply Be
Embrace your inner 60s prom queen with this super-chic off the shoulder dress. The embossed fabric gives the dress a sense of occassion and an extra festive feel. Pair it with glittery accessories for a winning Christmas outfit.
BUY NOW for £65.00 from Simply Be
Joanna Hope Embellished Ombre Dress, £140.00, JD Williams
Upgrade your party dress collection with this dazzling shift dress. The ombre effect is a beautiful blend of green and black sequins and the light-reflecting properties will boost your complexion too!
BUY NOW £140.00 from JD Williams
Black Lace Bodycon Dress, £63.00, Evans
The perfect evening dress for party season, this lace dress is cut to flatter to the max, with its three quarter length sleeves, v-neck and waist band contrast. The semi-sheer sleeves and neck are elegant finishing touches that make this number incredibly chic.
Omni Dress, £69.99, Chi Chi London
You can't go wrong with a winter floral and this dress goes one step further with its metallic sheen - making it perfect for festive events. The skater style fit is great for drawing attention to your waist and legs. Be sure to pair it with heels to elongate your legs to the max, for a knockout party outfit.
BUY NOW for £69.99 from Chi Chi London
Joanna Hope Contrast Lace Dress, £32.50, Simply Be
Embrace lace this party season, with this ultra-elegant piece. The scalloped detailing and three-quarter length sleeves are beautiful touches that make the dress super feminine. The skater style is also incredibly flattering on the figure as it skims the hips and legs.
BUY NOW for £32.50 from Simply Be
Metallic Wrap Dress, £22.99, New Look
Metallics have been one of the biggest trends of 2016. If you haven't indulged in the trend already, party season is prime time. This stunning metallic wrap dress is a show-stopper and is designed to flatter your figure to the max by drawing attention to the smallest part of you (your waist).
BUY NOW for £22.99 from New Look
Grace Navy Side Gather Dress, £55.20, Evans
You can't go wrong with some beautiful feminine lace. Plus, the clever gathered side design is incredibly flattering, so you can feel body confident whatever your festivity.
Beaded Overlay Dress, £66.00, Simply Be
Joanna Hope's collection has a fabulous range of plus size dresses available from sizes 16-32. We adore this stunning overlay dress, the dazzling embellishment gives the dress a dressed-up festive feel but maintains a simple, sophisticated design.
BUY NOW for £66.00 at Simply Be
Burnout Stretch Velvet Dress, £63.00, Ronni Nicole at QVC
Embrace the biggest trend of the year this party season with this super-sleek velvet dress. Perfect for family gatherings or Christmas cocktails, this versatile dress will see you through the festive season.