Styling Tips: 10 Miracle Workers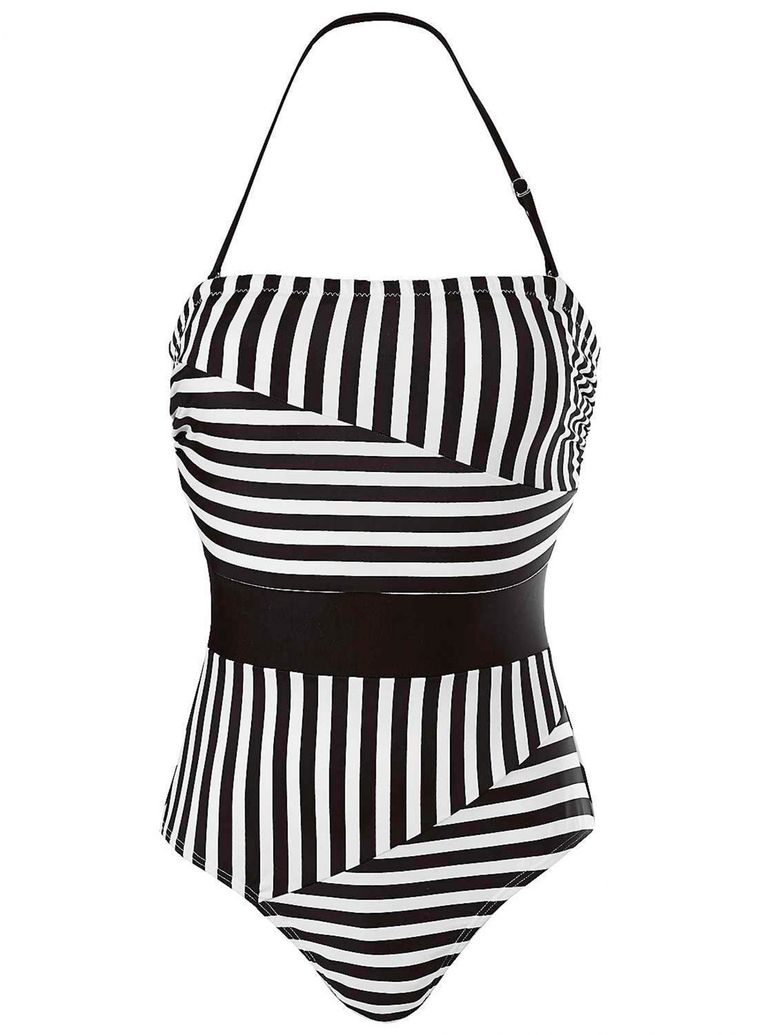 Discover how to style yourself slimmer...
Ever feel like you have a wardrobe full of clothes but nothing to wear? With a few clever buys and expert styling tips you can completely transform your closet and boost your body confidence in minutes!
From strategically-placed ruching, to magically sculpting fabrics and optically flattering prints, we're spilling all the style secrets to looking slimmer and defining your shape without stepping one foot on the scales.
Sometimes it can be as simple as undetectable curve-control shapewear or well-cut lingerie, other times it might be a flattering neckline or carefuly positioned accessory that helps to balance your figure and highlight your best bits.
From affordable waisting-cinching swimwear to sneaky sheer sleeve-inserts and everything in between, we've got your slimming solutions sorted. Meticulously selected by our Fashion Editor, these ten wardrobe wonders will pull you in and boost you up in all the right places whatever the occasion. Prepare to re-shape and flatter your figure with this season's smart buys and styling tips…
First up is swimwear. It's that time of year again, when we have to de-robe and reveal our wobbly bits to the nation (or at least that's what it feels like when we settle down next to other holiday makers lounging in the sun). Every summer we ambitiously vow to lose what could be mistaken for half our body weight and every year, unsurprisingly we fall short. But help is at hand! The medley of asymmetrical stripes on this bandeau swimsuit £35, (available in size 10-22), create an hourglass optical illusion - taking the focus away from areas we'd prefer to hide and empathizing the curves we're happy with. What's more the timeless monochrome print will never go out of fashion!
Styling Tips: Joesph Ribkoff sheer sleeves, £105
Clever sheer sleeves can be worn under anything to add extra coverage for those worried about baring their arms. Joesph Ribkoff, £105, available in sizes 8-22.
Styling Tips: Playtex Contour Perfection Set, from £14
This innovative bra has sculpting padding up top, perfect for reshaping a bust that might have lost its fullness or for those with a smaller cup size. Playtex Bra, £32, 32B-42E; briefs £14, 10-20.
Styling Tips: Item M6 Shape pants, £49.90
If you've got a tight skirt or dress to get into this summer, then thigh-slimmers are your secret weapon. Item M6 shapewear pants, £49.90 will smooth your legs and hug your hips for the ultimate silhouette.
Styling Tips: Gorgeous Couture Dress, £149
Draping and ruching cover a multitude of problems. Figure-hugging dresses with a deep V-neck are most flattering for hourglass figures and help define curves. We love this one by Gorgeous Couture £149
Styling Tips: Very Peplum Top, £27
Tops with layering and peplum details are super slimming and will skim perfectly over rounder middles. Choose fluted sleeves like this one from Very for added arm cover. £27.
Styling Tips: Spanx The Slim-X Jeans, £109
Your denim saviours! With flattering seams and in-built shaping support, these Spanx jeans, £148 will hold you in, in all the right places.
Styling Tips: M&S Collection Light Control Body, £18
This Marks & Spencer lightweight body, £22.50 is perfect for contouring and smoothing your silhouette without being too bulky.
Styling Tips: Boden Skirt, £59
A-line skirts are a flattering choice for most figures. They skim over wider hips, balance out a bigger bust and wide pleat details will cover up a rounder middle. This monochrome print by Boden will never go out of style.
Styling Tips: Tabitha Webb Scarf, £95
A pretty scarf will cleverly catch your eye when you want to divert attention away from your tummy. Throw on this Tabitha Webb scarf over any outfit to keep the focus up top.