Meghan Markle represents Britain by wearing a Victoria Beckham blouse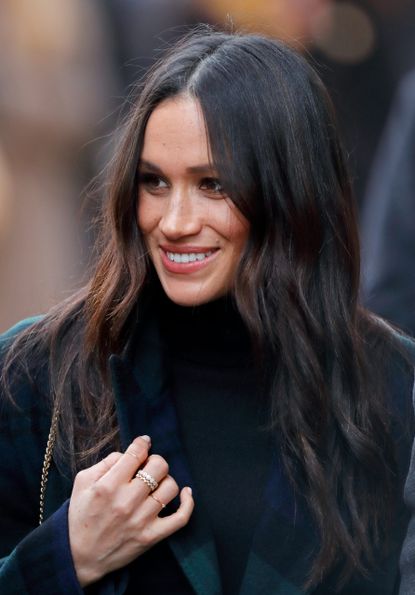 Meghan Markle wears a gorgeous Victoria Beckham blouse for the second time as she video calls into the season finale of America's Got Talent, from her immaculate home.
It seems Meghan Markle is still wanting to represent her ties to the United Kingdom and she is doing this through fashion. For the second time in 48 hours, Meghan was seen wearing the same blouse, in differing colourways, by British fashion designer Victoria Beckham.
The pointed collar shirt is made from 100% silk and is cut elegantly with long sleeves and buttons up the front.
Meghan made a surprise appearance on America's Got Talent to cheer on the contestants and chose the shirt in a beige hue. Just hours earlier, she wore the same £570 shirt but in a Chesnut colour as she appeared alongside her husband, Prince Harry, to encourage US citizens to register to vote ahead of the November election.
A fan of the brand, it seems, last month Meghan also wore a white shirt by Victoria to distribute supplies, clothes and nappies at a drive-through run by Los Angeles charity Baby2Baby, which provides basic necessities for families in need.
Victoria is a friend of the family as she attended Meghan and Harry's wedding.
Meghan sent well wishes to singer Archie Williams on America's Got Talent. "Hi, Archie. I just wanted to let you know that we have been so moved by your story and we have been cheering you on every week… Not just because we're partial to the name." She said on a video link.
Archie, aged 59, was convicted of rape and attempted murder in Louisiana when he was aged 22, imprisoned for 12 years, his case was later overturned as the fingerprints found at the scene of the crime matched a serial rapist and not his.
Meghan said, "Archie, we are proud of you and are rooting for you. We can't wait to see what you do. We're in your corner. Have a good night."
We particularly love Meghan's pairing choice with the shirt, of leather leggings. Very chic. And yes, we spotted the Diptyque candle behind her too!
Rachel is a freelance contributor to woman&home, covering news as well as books, lifestyle and travel. Her byline has also appeared in The Independent, The Financial Times, ELLE Magazine, VICE, Glamour Magazine and others. She loves nothing more than talking with people to share their stories. When she is not writing you will definitely find her nose in a book or magazine, or perhaps training for the next half marathon, practicing yoga or eating in London's best restaurants.