These gorgeous Marks and Spencer shoes are sold exclusively online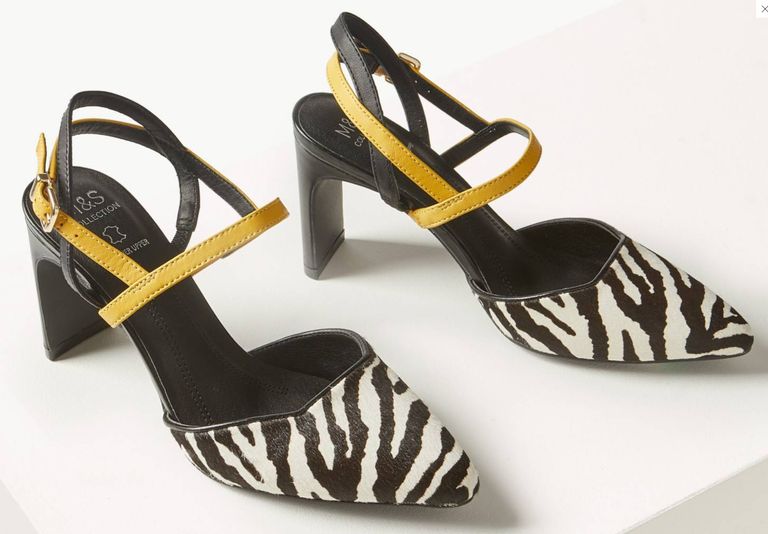 Whether you're looking for a pair of comfortable work shoes, or some jazzy stilettos, you're guaranteed to find the footwear you're after in popular high street fashion store, Marks and Spencer.
But with Marks and Spencer selling some of their shoes exclusively online, it's easy to miss a pair of must-have shoes.
We have selected some of our favourite Marks and Spencer shoes that are sold exclusively online so they won't pass you by!
MORE:The M&S Dress of the Week and our other favourite M&S dresses
We'd hate for you to miss out...
These leather almond toe court shoes are only £45 and they come in sizes 3 to 8, with half sizes included.
One very happy customer said, 'I love these snazzy zebra print shoes. The splash of yellow adds the finishing touch, and as an added bonus they are superbly comfortable for someone like me who doesn't normally wear heels.'
These funky shoes would brighten up any outfit! You can buy the shoes from here.
If you're looking for something more practical, these wide fit patent tassel loafers could do just the trick.
At only £29.50, these navy loafers are described as 'versatile enough for weekend wear and days at the office' because whilst being fairly smart, they look lovely with a pair of jeans.
They are also vegan friendly!
For those of you who are lucky enough to be escaping for some Easter holiday sun, you might be interested to hear Marks and Spencer is selling a variety of sandals and wedges. These cross over mustard strap sandals are only £25. We can never have enough mustard in our wardrobes!
If you'd prefer another colour, the sandals are also available in navy, tan and gold and you can find them here.
Spring time is upon us, and we think a pair of leather flatform heel mules would be the perfect addition to your spring wardrobe.
The sandals are available in both black and white and cost £45. The simple design means you can pair these shoes with almost anything, making them quite the wardrobe essential.
We do however have some time to wait before the lovely weather kicks in so a pair of trusty ankle boots might come in quite handy.
These Marks and Spencer suede western ankle boots are one of Holly Willoughby's must-have items making them even more desirable!
The boots cost £49.50 and would look lovely with both dresses and jeans.
For those very fancy occasions, you might want to add some bling, and we think we have found just the pair.
These £45 satin kitten heel trim court shoes would be ideal for an evening do!
Will you be having a look online to update your shoe collection? We're a little bit spoilt for choice…
Happy shoe shopping!