Make a meal of it: This lovely new trend is the perfect daily pick me up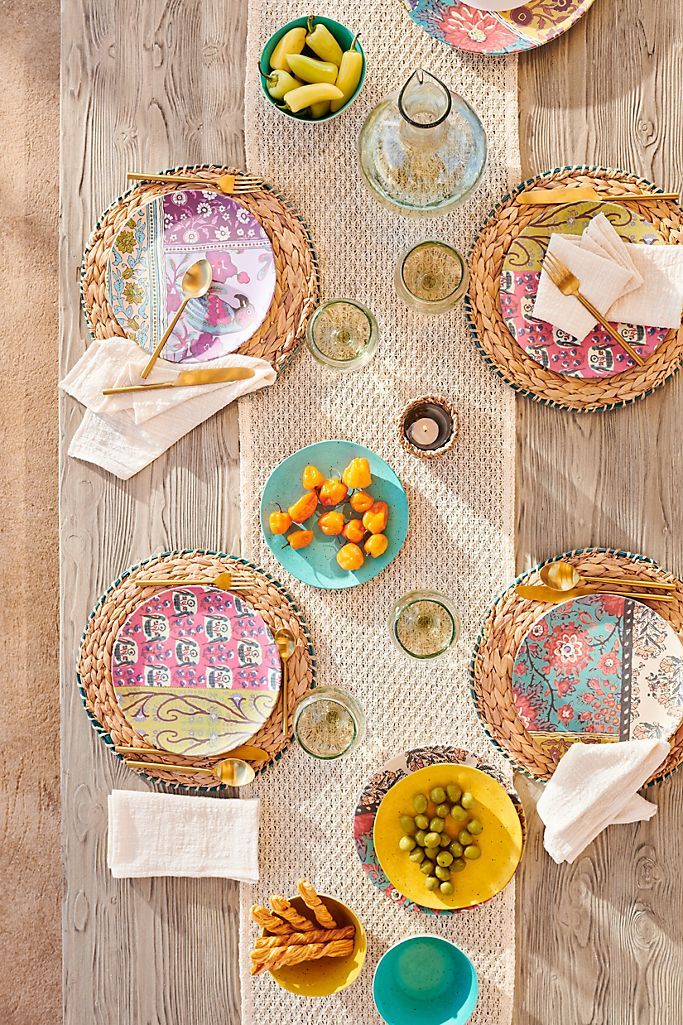 During the past few months most of us have never spent more time at home than ever.
Perfecting banana bread, nurturing that sourdough starter and recipe swapping have swept through the nation, but there's another foodie trend that's really inspired us to lay the table.
#Makeamealofit is the instagram hastag devised by influencer Laura Jackson, which encourages us to set a beautiful table once a day for breakfast, lunch or dinner. Laura says, "This is a time full of uncertainty, but setting the table punctuates the day and makes meal times memorable and positive."
We couldn't agree more!
So if you, like us, feel in need of a daily pick me up, rather than reaching for the ice-cream (or gin) simply glamming up your dinner setting can turn a basic pasta meal into a memorable night.
It doesn't have to be fancy - even if you're having leftovers, putting things on platters or arranging in pretty bowls with a sprinkling of herbs or drizzle of oil gives them a new lease of life.
The rules of #MakeAMealOfIt
Rule number 1 and the most important. NOT everything has to be matchy-matchy – it's great to have tableware that tells a story
Think texture – fancifully shaped bowls, hand painted or speckled crockery, ribbed glass, woven natural fabrics all work wonderfully together.
Lighting is important – a candle makes things atmospheric, and ones in different hues will change up your tablescape
Be playful with coloured tumblers and glass – from tea light holders to dessert coupes these add pretty hues and texture to the table. Etsy has a wonderful selection of vintage glasswear.
Use nature. Rather than cut flowers, bring your pot plants over to the table, or gather strings of herbs from the garden – these are wonderful as place settings and make the table smell wonderful
Don't get bogged down with the food being perfect, rough and rustic is just perfect.
Small touches such as freshly ironed napkins, unusual vintage cutlery, name places and napkin rings can make all the difference.
This period of self-isolation is a good chance to experiment with table settings. Nothing can make you happier than a colourful and eclectic table, and laying the table once a day can really help give your day structure, giving you something to look forward to, even if you're cooking the simplest of meals.
Many of us are already sitting on buried treasureS so now is the time to get in the loft and dust off those heirlooms. And if you're a table-laying novice there's never been a better moment to stock up on gorgeous, crockery, linens, glass wear and more….Here's our edit from just £2.50!
Our favourite buys to glam up your dinner setting
Clare V. for Anthropologie Maisonette Dessert Plate
£16 each, Clare V for Anthrpologie
VIEW NOW: Clare V. for Anthropologie Maisonette Dessert Plate
EAST END PRINTS Cork Backed Fruit Design Coasters, Set of 6, Multi
£10, East End Prints, John Lewis
VIEW NOW: EAST END PRINTS Cork Backed Fruit Design Coasters, Set of 6, Multi
Marks & Spencer Set of 4 Nautical Pasta Bowls
£14 (was £17.50), M&S
VIEW NOW: Marks & Spencer Set of 4 Nautical Pasta Bowls
La Redoute Interieurs Nala Napkin Rings (Set Of 4)
£5 (was £10), La Redoute
VIEW NOW: La Redoute Interieurs Nala Napkin Rings (Set Of 4)
Sous Chef Curved Cabbage Leaf Dish 25cm
£15, souschef.co.uk
VIEW NOW: Sous Chef Curved Cabbage Leaf Dish 25cm
Debenhams Lucy Tiffney - Multicoloured Botanical Print Oval Serving Plate
£20 (was £25), Lucy Tiffney at Debenhams
VIEW NOW: Debenhams Lucy Tiffney - Multicoloured Botanical Print Oval Serving Plate
Graham and Green Aloe Vera Ceramic Candle Holder
£24.95, Graham and Green
VIEW NOW: Graham and Green Aloe Vera Ceramic Candle Holder
The White Company Porto Stoneware Heart Side Plate
£15, The White Company
VIEW NOW: The White Company Porto Stoneware Heart Side Plate
Rick Stein Cork-Backed Coves of Cornwall Placemats, Set of 4, Blue/White
£30, John Lewis
VIEW NOW: Rick Stein Cork-Backed Coves of Cornwall Placemats, Set of 4, Blue/White
Habitat Atkinson Pink stoneware 12 piece dinner se
£40, Habitat
VIEW NOW: Habitat Atkinson Pink stoneware 12 piece dinner se
LSA International Gio Gem Tumbler Glasses, Set of 4, 310ml, Amber
£35, LSA at John Lewis
VIEW NOW: LSA International Gio Gem Tumbler Glasses, Set of 4, 310ml, Amber
H&M Patterned tablecloth
£12.99, H&M Conscious Home
VIEW NOW: H&M Patterned tablecloth
Set of 4 Blockprint Teaspoons
£30, Anthropologie
VIEW NOW: Set of 4 Blockprint Teaspoons
Oliver Bonas Camila Green & Gold Ceramic Bowl Small
£6.50, Oliver Bonas
VIEW NOW: Oliver Bonas Camila Green & Gold Ceramic Bowl Small
La Redoute Interieurs Cancun Printed Anti-Stain Tablecloth
£20.80 (was £26), La Redoute
VIEW NOW: La Redoute Interieurs Cancun Printed Anti-Stain Tablecloth
Truly Pom Pom Serving Platter
£20, truly.co.uk
VIEW NOW: Truly Pom Pom Serving Platter
MITTBIT Table-runner, black beige/white35x130 cm
£5, Ikea
VIEW NOW: MITTBIT Table-runner, black beige/white35x130 cm
Oliver Bonas Amara Pink Heart Bowls Set of Three
£32.50, Oliver Bonas
VIEW NOW: Oliver Bonas Amara Pink Heart Bowls Set of Three
Graham and Green Fluoro Candles
£3, Graham and Green
VIEW NOW: Graham and Green Fluoro Candles
John Lewis & Partners Round Cotton Mix Ombre Placemat, Blue/White
£10, John Lewis
VIEW NOW: John Lewis & Partners Round Cotton Mix Ombre Placemat, Blue/White
Set of 4 100% cotton gruppera napkins
£2.50, Ikea
VIEW NOW: Set of 4 100% cotton gruppera napkins
Nkuku Uma Cane T-Light
from £9.95, Nkuku