Lorraine Kelly wows with fabulous Mango jumpsuit available for under £70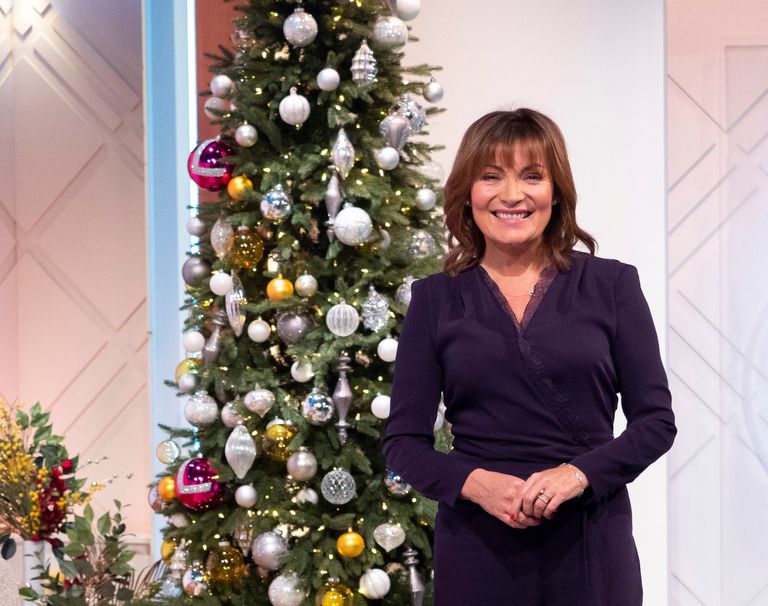 Lorraine has dazzled viewers every morning with a variety of outfits this festive season, and Wednesday was no different when she stepped out in a purple Mango jumpsuit.
This affordable jumpsuit is a must for Christmas parties but can also be worn during the day making it a handy item to have in the wardrobe!
Part of Mango's new collection, the jumpsuit has a lacy crossed v-neck, long sleeves with buttoned cuffs and to top it off some stylish shoulder pads. The outfit also has a slimming waist belt which allows for a flattering look. And what's even better, comfort is key with this design due to its 'flowy' fabric!
So, what to wear with this beautifully simple jumpsuit? Bold accessories of course!
Wearing a solid, block colour for your outfit allows for some flexibility with the rest of your accessories. Lorraine matched the jumpsuit with a pair of funky silver stilettos from Dune London, which work perfectly in our opinion.
In fact, Mango themselves even recommend a pair of silver boots.Gold accessories, such as a necklace, bangles, or earrings, would also jazz up this outfit for an evening do.
The jumpsuit went down well on social media with fans sharing their love for Lorraine's purple number.
One fan said, 'Stunning as usual' while another said, 'You look lovely.'
Lorraine has stunned viewers with a variety of ensembles this winter, but the high-street jumpsuit appears to have gone down especially well with her supporters.
Certain fans believe it to be a particularly complimentary option for Lorraine with one saying, 'That is a fab look. Very flattering. Great colour. Best in a long time.'
Another fan agreed saying, 'Much nicer than recent outfits, really lovely.'
The jumpsuit, fromMango, costs £69.99 and comes in sizes XS, S, M, L and XL. You can buy it here.
The lovely Lorraine turned 59 recently and we have to say she is looking incredible! Her fabulous style cannot go unnoticed and every morning we look forward to seeing her outfit of choice!
Will you be popping some purple into your wardrobe?
Words by: Rachel Howatson