Joules makes gift buying even easier with its new 'one stop' shopping destination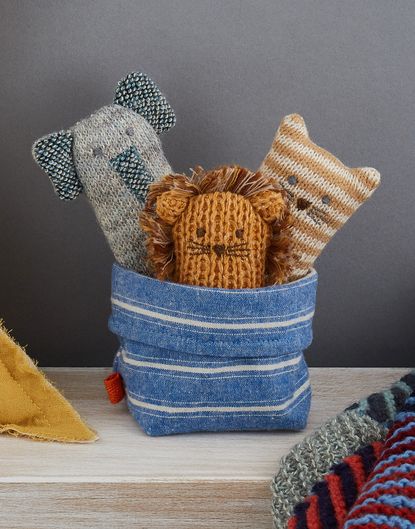 (Image credit: Set of Three Wild Animals Baby Rattles By Albetta £22.50)
Seeking out the perfect piece for your home or garden takes time - something we all seem to lack today!
So we're exited to reveal that well-loved British brand Joules have brought together everything a countryside-loving shopper could possibly need, in their very own virtual one-stop-shop.
Marking their 30th birthday, Joules is partnering with a plethora of hand-picked British brands to bring you thousands of perfect products for all the family (even four-legged friends!)... all in one place.
The founders of Joules describe the brands they've partnered with as "people and businesses we have got to know well and are now proud to call ourfriends.
"We've travelled from shire to shore, carefully curating a variety of products from some of Britain's most creative and contemporary people andbusinesses."
So what can you expect from Joules' online marketplace?
From plant wax candles and natural toiletries, to handcrafted, unique homeware items, you'll find everything you need for a contemporary country lifestyle at Joules' online marketplace.
We might even start ticking a few items off our Christmas lists (it's never too early to be organised!)
Seedball seed bombs are an easy way to breathe new life into your garden and have a positive impact on the environment.
Simply scatter over soil or compost and watch the wildflowers grow. Prices start at £6 for a seed bomb tin.
MORE:Brilliant gift ideas for your daughter's 21st birthday
For hostesses, we love Lottie Day's unique screen-printed napkins £35.
And in true country style these plush dog toys, £19 from Mutts and Hounds, are a great gift for pampered pooches.
Head over to friends of joules to start browsing now.
Leicestershire-based brand Joules have proved to be a popular choice with shoppers, their retail offering going from strength to strength. Chief executive Colin Porter revealed earlier this year that online sales count for half the brand's revenue.
He said the group's success was "again underpinned by the strength of the Joules brand" and "our growing and loyal customer base".
Hannah Hughes is Group Fashion Editor at Future Publishing. Her work appears in woman&home, Woman, Woman's Own, and Woman's Weekly magazines.

She is a fashion creative with over fifteen years of solid experience in editorial, commercial, and celebrity styling. She has an in-depth knowledge of the luxury, mid and high-street fashion sectors, which she developed over a decade spent as Fashion Director at some of the UK's most widely read women's magazines, including You Magazine and Look Magazine.