Is This The Best Selling Dress Of The Summer? This Is How You Can Still Get Your Hands On It...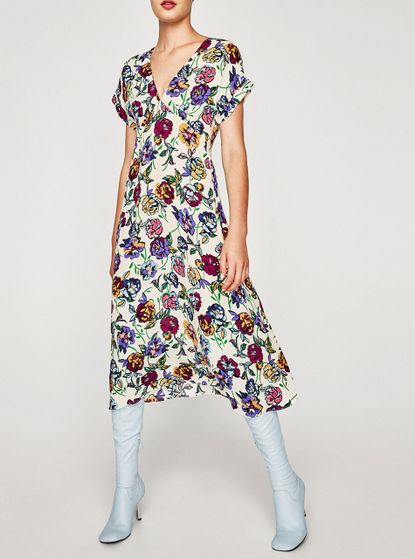 The tech bods at Zara in the USA have revealed that this bestselling floral midi dress is THE dress of the summer. We can certainly see why - its universally flattering cut and classically stylish print make it the ultimate suits-all solution for day-to-night dressing. The 'fit 'n' flare' cut is perfect for enhancing or creating curves, whilst its midi length makes it both work and wedding appropriate. The dress's 'v-cut' neckline will add length for a slimmer silhouette without revealing too much cleavage, whilst generously cut short sleeves will keep you cool whilst concealing any upper arm bugbears. The best news, though? It's still available in the UK... and it's only £25.99.
Shop the Floral Print Midi Dress here for £25.99 (opens in new tab)
Florals are (both literally and metaphorically) huge this season, so you'll be in good company if you do decide to tap into the trend. Just look to the stunning Erdem outfit the Duchess of Cambridge sported on the recent royal tour of Poland, and the flattering floral frocks our favourite daytime TV presenters have been flaunting on screen. Whether you stuff it in your holiday suitcase, top it off with a fascinator for a day at the races, or team it with nude courts for work, we guarantee this will be no one-wear wonder...
Floral prints will be sticking around for autumn too, making it a bona fide investment purchase. With a few simple tweaks, the 'it' dress can easily be styled up for duller days - simply layer it over knee-high boots and a roll neck top.
Shop the Floral Print Dress here for £29.99 (opens in new tab)
Shop the Multicoloured Stripes Dress here for £25.99 (opens in new tab)
Shop the Midi Shirt Dress here for £29.99 (opens in new tab)
Hurry, though, because we don't think this particular dress will be sticking around for long... If you can't get hold of it in your size, check out the rest of Zara's range. A floral shirt dress is a great alternative to the ubiquitous wrap dress for work and holiday wardrobes. Fancy something a bit different? This bold striped style is just as flattering as everyone's floral favourite, but packs even more punch in the style stakes. Get clicking, ladies!