How To Wear This Season's Must-Have, The Pinafore Dress, If You're Over 40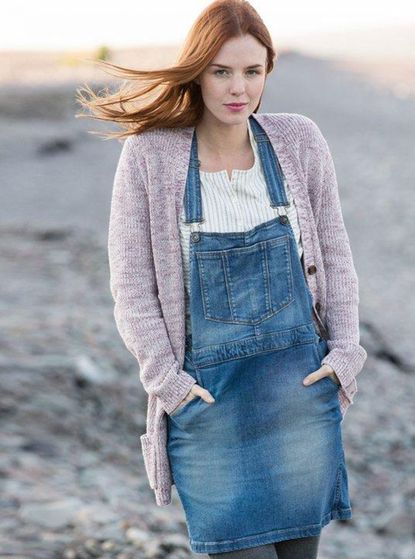 Occasionally, a trend arrives that we love, but just don't know how to wear. The pinafore dress is just that. They're stylish and cool, but a little - dare we say it - young?
Well, put aside any thoughts of kids in school uniforms or the twentysomethings you see running about in them and crop tops these days, and embrace the pinny for what it is: a fashion-forward, flattering wardrobe buy that will see you through summer in style. With a few clever styling tips and some well-chosen tops you'll look and feel great in one.
Let's tackle the biggest issue first. What do you layer with one to avoid revealing too much? Because it has such a clean, structured cut, the pinafore dress, is best paired with simple pieces. Look for neat fitting t-shirts, crisp, tailored shirts and fine, slinky knitwear. You want tops that are figure skimming with high necklines and a bit of a sleeve to create a nice base. Which is good news because you probably already own something that fits that description.
And now for our edit of the best pinafore dresses currently on sale...
Denim pinafore, £145, J.Crew at Net-a-Porter (opens in new tab)
A classic denim buy will never go amiss in your wardrobe, and this longer midi-length is flattering on most body types. Keep it feminine and pair with a bardot-neckline top and sandals. Oversized old-school Hollywood sunglasses optional!
Floral pinafore, £18, F&F (opens in new tab)
This season's pinafores come in all manner of patterns and colours, and we particularly love this floral style. At just £18, it's an affordable buy that's flattering due to its shift dress shape and practical colour palette.
Suede pinafore, £60, Warehouse (opens in new tab)
Experiment with textures for a grown-up take on the trend. This structured suede style from Warehouse will smooth over any bulges to slim your silhouette. Layer over a ruffled blouse and add loafers to finish the look. And when the season switches, pull it on over a poloneck jumper.
Stretch-denim pinafore, £535, Stella McCartney at Net-a-Porter (opens in new tab)
Pure white looks wonderful in summer, which is why we were drawn to this Stella McCartney number. Sure it's expensive, but the stretch-denim fabric is comfortable for all-day wear and the seams are cleverly positioned to minimise your waist. This is one of the few pinafore styles that we actually think could be worn alone, but if you want an under layer we recommend a simple black or navy t-shirt.
Maxi dress, £60, ASOS (opens in new tab)
Proof, if it was needed, that pinafores can work as eveningwear, too. This stunning floral print maxi looks stunning layered over a pale pink silk blouse. Add heels for extra height, but keep accessories to a minimum otherwise.
Oversized pinafore, £45, Simply Be (opens in new tab)
Oversized doesn't have to be frumpy - and this style is a lovely option for a summer picnic! Just add slider sandals and you're good to go (and eat as much as you want!).
Suede pinafore, £312, MIH at Very Exclusive (opens in new tab)
This pinafore ticks off a multitude of trends including 70s and suede. The tie detail is great too because it nips in waists. Style this up with bare legs, a crisp white shirt and a floppy brimmed hat.
Embellished pinafore, £285, Needle & Thread at Very Exclusive (opens in new tab)
Pinafores can work for occasionwear just as well as they do for everyday wear. Just look for styles encrusted with embellishment, like this dress from Needle & Thread. If soft pink isn't to your taste it comes in a monochrome colour palette too.
Denim pinafore, £20, George (opens in new tab)
Affordable and easy to wear, this indigo-wash denim pinafore is a great option if you want to delicately dip your toe into the trend. Add comfy espadrilles and a handy backpack to finish the look.
Gingham pinafore, £26.25, Dorothy Perkins (opens in new tab)
Gingham is another summer staple from our youth, which is why we like this style from Dorothy Perkins. The oversized pattern modernises it, it would look fabulous with a plain white t-shirt and the shoe style all the fashion editors are wearing this season, heeled mules.
Denim pinafore, £45, Fat Face (opens in new tab)
A simple denim style may not look much when it's laid out flat, but as the main image shows, it really comes into is own when layered with a t-shirt and cardigan. Add comfy boots to finish the look.
Abigail Malbon is a journalist who has written for the likes of CN Traveller, Evening Standard, Red and Cosmopolitan. She likes pina coladas and exploring new places.