How to wear lace this summer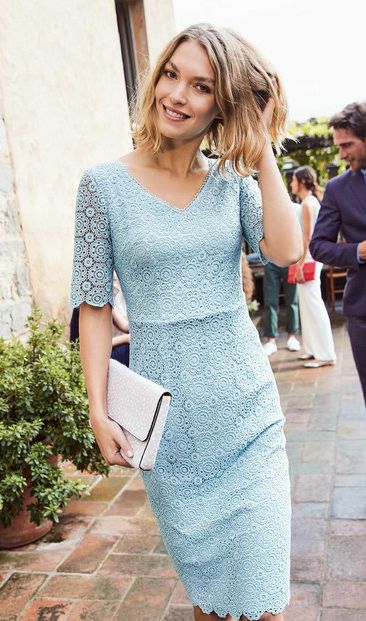 Lace is the essential summer fabric that is a great go-to for occasion dressing.
From soft pastel tones, to deep reds or striking black, lace looks great in any colour. Always on-trend, investing in some great lace pieces will help your through any style rut.
From a casual summer dress to bright and bold seperates, this style will never let you down. Another amazing thing about lace is that it allows you to reveal and conceal all at the same time.
Lace sleeves give you all of the coverage of normal sleeves, but still exposes some dabs of skin, like this blue dress from Boden for £160 (opens in new tab). Same with shorter hems on skirts with a lace lay over the top - it adds that sex appeal in a very grown up way.
Scroll down for our favourite lace buys...
Yellow is the colour of SS17, so what better way to stand out at your next event by wearing this bright-as-can-be shade. We're loving this yellow skirt from M&S. The black band at the top will emphasise your waist. Partner with a white blouse and black heels for a very chic look.
Buy now for £45 at Marks and Spencer (opens in new tab)
Totally stand out with this eye-cathing red dress from Warehouse. The shorter hem with the lace over-lay means you can show off some flesh without feeling too exposed. Gold heels with this is a must.
Buy now for £89 at Warehouse (opens in new tab)
Go on, be daring when it comes to your style! You'll be the envy of everyone with these lace cullots. This black pair from See by Chloe will look incredible teamed with a crisp white blazer and metallic sandals.
Buy now for £275 at See by Chloe at Net-a-Porter (opens in new tab)
This pink top from Zara will look great over white flared trousers. Perfect for curvier hips, as the ruffles on the top will keep all eyes upward and away from any areas you're worried about.
Buy now for £25.99 at Zara (opens in new tab)
Throw over this cute cardigan from Ted Baker on a chilly evening on holiday. The lace around the top will still show off bronzed skin.
Buy now for £140 at Ted Baker (opens in new tab)
This navy dress from Whistles can be worn for any season, not just for summer. Undo as many buttons as you dare up high or down low. Pile your hair up as high as you can and style it out with statement earrings.
Buy now for £195 at Whistles (opens in new tab)
Got a top or dress that's too low? Not to worry, layer this cami from H&M underneath.
Buy now for £19.99 at Mango (opens in new tab)
Cinch in your waist to the max with this full skirt from Coast. Although it's large, the fabric is totally light and won't weigh you down. Mix it up and wear with a cashmere knit.
Buy now for £109 at Coast (opens in new tab)
If you're not that into feminine lace, then this top from Monsoon will ease you in slowly. Black is the perfect colour that goes with everything. Wear it over skinny jeans and some wedged heels for drinks with the girls.
Buy now for £59 at Monsoon (opens in new tab)
Samantha Rnic is a fashion stylist and writer from Colchester. She has worked for titles such as Grazia, The Sun and Look magazine. She is currently studio bookings manager at Matches Fashion.