Finally! We've Found The Perfect Pair Of Wide Calf Boots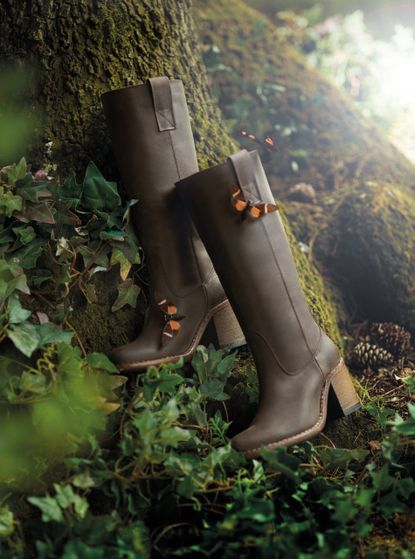 Always on the hunt for that perfectly-fitting pair of wide calf boots? Ted & Muffy have solved all your woes with their new collection...
If you stay away from buying longer length boots each year, as you can't face the fear of not being able to get the zip up when trying them on in the shop, you're not alone. Despite long length and over-the-knee boots being a huge trend season after season, the high street still doesn't cater for all calf sizes - leaving us opting for ankle boots every time instead.
But, thanks to new luxury boutique label Ted&Muffy, you can finally find your perfect pair of wide calf boots that will last forever. The brand describes their 'mission' as: 'To create drop dead gorgeous boots that fit like a glove, so you never have to settle for anything less than perfection. Ever.' Sounds exactly like what we've been missing!
So how does it work? The brand offers a wide array of calf and width sizes, so you can find your 'fairytale fit'. But, unlike many other 'made-to-measure' brands, Ted&Muffy offer gorgeous wide calf boots that are as stylish as any you'd find in the high street shops, and made from the highest quality materials. The 172-piece range offers everything from knee-length to over-the-knee, flat to high heeled - and all in a selection of gorgeous colours, so you can be sure you won't be stepping out in exactly the same style as everyone else.
Designed in England and expertly crafted by carefully selected European makers, the autumn/winter collection features smooth calf leathers, soft suede, natural dyes and gorgeous finishes. Plus, each pair of boots is hand finished - so it really is like picking up a bespoke buy!
Ready to finally find your perfect pair of wide calf boots? Click through to see our edit, then shop the collection at www.tedandmuffy.com...
Ted & Muffy Phaedra Boots, £350
If you only splash out on one pair of great boots, we reccommend these Phaedra ones. The over-the-knee design is stylish - not in the least bit risqué thanks to the almost flat heel. Wear with jeans and a cosy oversized jumper at the weekend, or mix things up and pair with an A-line skirt and turtle neck.
Ted & Muffy Lucina, £350
Now, THESE are some stand-out boots if ever we saw them! Sumptuous suede in sexy red with a lust-worthy heel - yep, we've well and truly fallen for this style. Be sure to wear with longer length dresses or trousers to keep the look chic.
Ted & Muffy Ismene, £275
Berry tones are the colours to be seen in this season - so seventies, and so comfortable too, thanks to the block heel. A gorgeous cherry leather paired with a wooden heel equals the ultimate boho boots pairing.
Ted & Muffy Irenie, £250
For boots that make even the most self-conscious of women feel great about the shape of their calves, look no further than these. The rounded toe adds a more casual edge that makes them acceptable for daywear, despite the stiletto heel.
Ted & Muffy Freia, £375
Now these are some serious showstoppers! We'll be wearing with a floaty midi dress to really up the mystery factor.
Ted & Muffy Draco, £300
Flat suede boots are the perfect winter daytime option. These will look great at weekends worn over boots and paired with a cosy cardigan and coat.
Ted & Muffy Althea, £300
Who says your investment pair of boots has to be black? If you tend to favour lighter colours, grey is a great option that will match with your wardrobe just as well as black does. This tone looks particularly great with a colourful dress.
Ted & Muffy Quest, £325
Go for a classic leather style with a sturdy sole that will see you stylishly through even the harshest of winter weather. These Quest boots have room for breathing thanks to a slit at the back of the knee.
Ted & Muffy Flare, £275
Love the boho trend that's making a comeback? These boots are the perfect choice for you, thanks to the vintage style. And don't be afraid of pairing with black - navy and black pairings certainly don't have the bad reuptation that they used to!
Abigail Malbon is a journalist who has written for the likes of CN Traveller, Evening Standard, Red and Cosmopolitan. She likes pina coladas and exploring new places.